Key points
Under the wholesale business strategy, Amazon sellers purchase products from other brands and suppliers in bulk at a discount and resell them at a higher price.
Wholesaling can be very profitable if you choose the right products to sell.
You can wholesale products on Amazon. However, some countries require sellers to obtain a wholesaling license before starting a business.
To start a wholesaling business on Amazon, you will need to create an Amazon seller account, choose suitable products, find suppliers and negotiate contracts, add products to your Amazon account, promote them if necessary, and monitor business metrics to ensure success of your venture.
Today, everyone knows about Amazon's success in the world of e-commerce. And while over 2 million sellers are already taking advantage of Amazon's benefits and growing their businesses, more and more people are starting to think about building a business selling on the platform. Amazon offers lots of highly profitable ways to make money, and one of them is the wholesale business. Wholesaling on Amazon provides a great way to expand your business after retail arbitrage or start a completely new company. Without a doubt, Amazon wholesale business model offers a lucrative opportunity, but it also comes with its own set of challenges. So before you get started, read this article for a step-by-step guide on how to begin a wholesale business and avoid potential mistakes.
What is Wholesaling?
The wholesale business strategy is similar to the arbitrage model in that it involves purchasing low-cost or discounted goods and then reselling them at a higher price. However, wholesalers buy products in bulk rather than search for individual units. So if you're interested in wholesaling on Amazon, you need to find authorized suppliers or manufacturers and purchase large quantities of products to resell. With a wholesale business model, you don't need to create your own brand because you can still make a significant profit from products from other brands that you purchase in bulk. For example, you can buy electronics or toys in large quantities at a bulk discount and then sell them on Amazon.
The Difference Between Wholesale and Other Business Models
As mentioned above, wholesaling is similar to other business models. However, there are many aspects that distinguish this strategy and make it unique.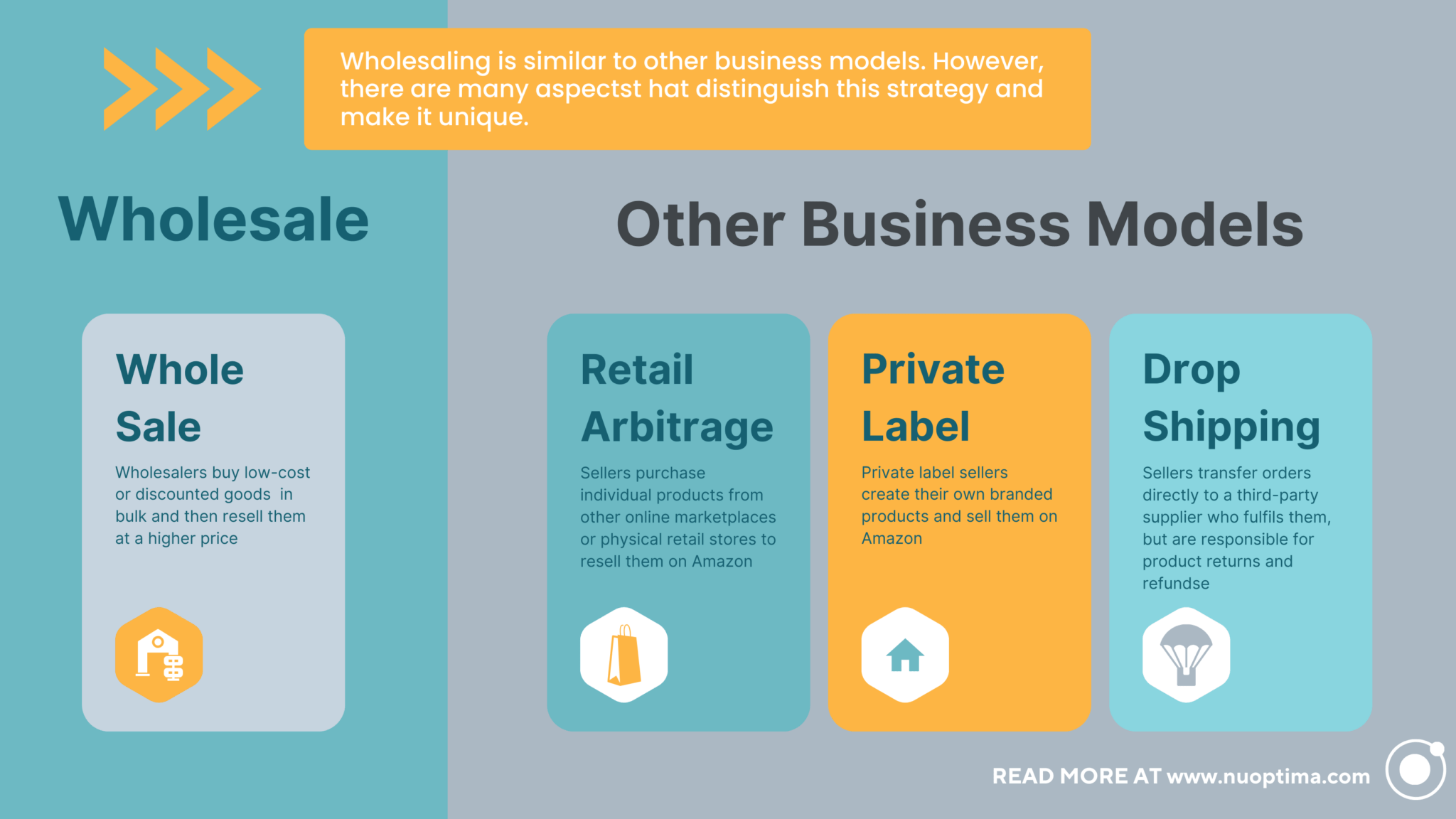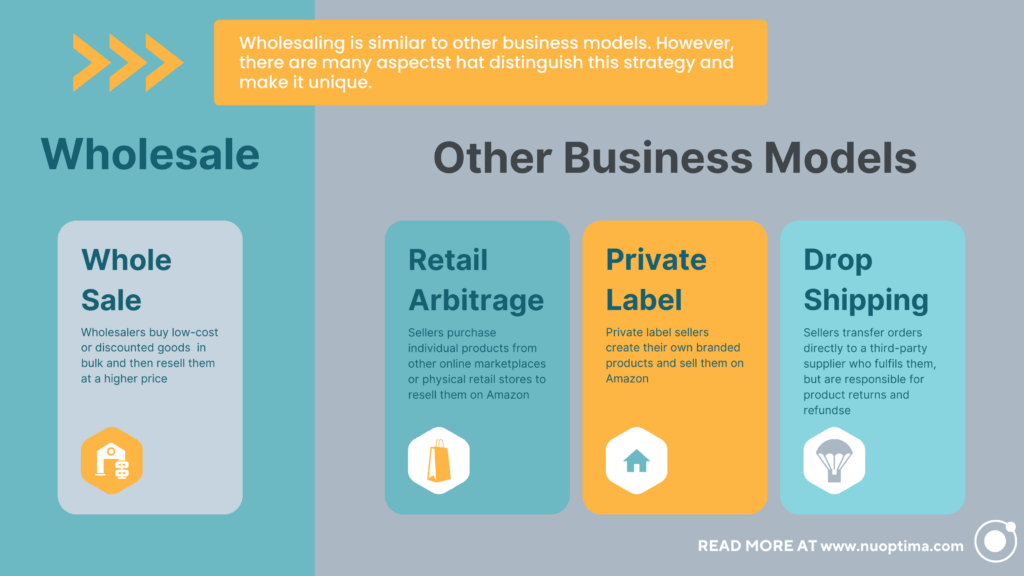 Online or retail arbitrage. Sellers uses this method to purchase individual products from other online marketplaces or physical retail stores to resell them on Amazon. The difference is that wholesalers buy products in bulk and usually communicate directly with suppliers, whereas arbitrage sellers buy discounted products from retailers.
Private label. Private label sellers create their own branded products and sell them on Amazon. If you are an experienced seller, you can buy products from manufacturers and rebrand them with your own private label. However, wholesalers do not need to develop brands or create new product listings because they sell items from other companies. Running a successful private label business requires more time and effort than wholesaling.
Dropshipping. Dropshippers do not keep physical stock in their warehouses and instead transfer orders directly to a third-party supplier who fulfils them. Dropshipping sellers are not required to store or deliver products, but they are still responsible for product returns and refunds. On the other hand, wholesalers own their inventory and are also in charge of order fulfilment.
Getting Started: How to Wholesale on Amazon
To begin wholesaling, you will need to go through a few steps:
Set up an Amazon Seller Account
First and foremost, you will need to register on Amazon Seller Central. The procedure is not difficult, but if you need help, read our article on how to create an Amazon seller account.
When registering, you will need to choose between two types of Amazon seller account plans: Individual and Professional. There are some key differences between the two plans:
Individual
Select an Individual account if you are:
New to Amazon and still figuring out your sales strategy.
Not interested in using advanced tools just yet.
Professional
Choose a Professional account if you:
Want to use premium tools offered by Amazon.
Are confident in the viability of your business strategy.
Have sales experience.
Are willing to pay $39.99 per month to receive Amazon bonuses.
Of course, you can start as an Individual and then advance to the Professional selling plan if you want.
Wholesale License
In some countries, wholesalers must obtain a wholesale license, also known as a business license. It is a tax-exempt form that varies depending on where you live. To avoid future problems, we recommend that you check wholesale license requirements in your country before listing your products on Amazon.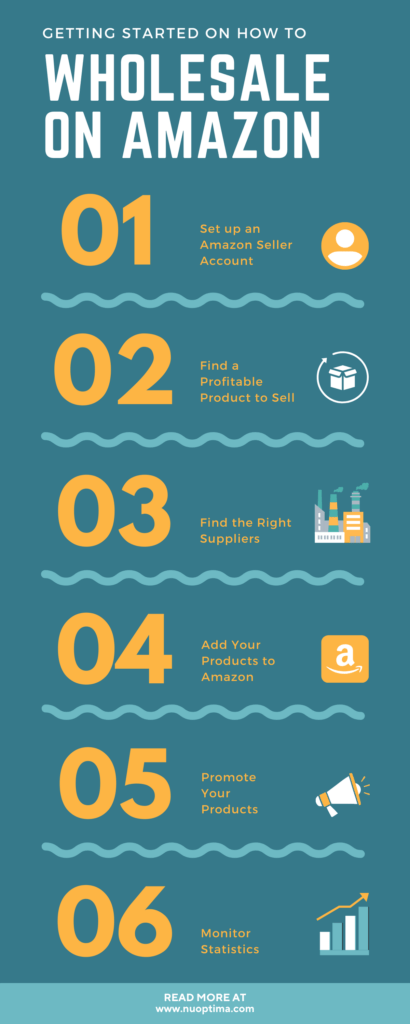 Find a Profitable Product to Sell
Once you've created an Amazon account, you can begin looking for products to sell on Amazon. Keep in mind that it is not enough to simply find a product that seems profitable to you; it is also wise to monitor statistics and analyze data. There are two common methods for selecting products:
Research items offered by suppliers.
Find the most profitable products on Amazon and then select the best suppliers who sell those products.
However, it is preferable to look for products that are not sold by Amazon or private label sellers. If you choose items that Amazon sells on its platform, you will be less likely to beat the competition and win the Buy Box, which is critical to becoming a successful seller. Furthermore, private label sellers dislike it when other people sell similar products, so they frequently prevent competitors from using their product listings.
Here are a few tips for selecting products to wholesale on Amazon:
Choose products from established brands to save time and money on promoting a company that is not yours. Popular brands do not require extra promotion, so take advantage of it.
Rather than looking for popular items with high competition, try to find items with little competition and no track record of success. It may appear risky, but it is an excellent strategy. Products with little competition can help you become the category leader and even win the Buy Box.
Another strategy is to find a high-competition product and sell it at the lowest possible price. Amazon strives to convert every customer, which is why low-priced products are prioritized. This strategy will help you stand out from the crowd and gain more visibility.
Some strategies are very effective for attracting new customers, but they can cause your business to fail if your profit margins are too low. This is why you must calculate the profit margins of the products you intend to sell, as well as all additional fees that you may incur.
Before purchasing in bulk, always request product samples from the manufacturer. Evaluating the product's quality and functionality in person is the only way to discover flaws or issues that may interfere with the normal selling process.
It is best not to choose items that are extremely seasonal, such as Christmas decorations, because you will not be able to generate high profit margins all year long.
Find the Right Suppliers
After you've decided what kind of products you want to sell, the next step is to find a reliable supplier. Since you are planning to sell an existing product with a well-established brand, you should go directly to the brand owner to negotiate a deal for purchasing inventory in bulk. Now, you may be wondering why a big brand would want to talk to you, an aspiring business owner. But you should remember that you are the brand's chance to increase sales, especially if they don't sell their products on Amazon yet. You can offer your assistance in attracting thousands of new customers to their brand, as Amazon is one of the largest online marketplaces with millions of potential buyers. Cooperating with brands is a good strategy, and it has a lot of advantages:
You can avoid doing business with Chinese manufacturers. Cooperating with Chinese suppliers presents some challenges in terms of response times because they live in a different time zone, and it takes a while to negotiate with them. Long shipping times present another difficulty. But if you work with local brands, you won't have to wait weeks or months to receive inventory, and you won't need to worry about customs and international shipping issues.
You will not need to deal with the issues that come with creating your own brand. As mentioned above, wholesalers don't need to devote their time to developing and marketing their products. The key is to find a product that already has a positive reputation.
A good place to start searching for a supplier is to simply go to Google search and type in the brand name with which you want to work. You can go to the company's website and find their contact information to immediately get in touch with them. Alternatively, you can conduct more research to see if they are likely to be a suitable supplier for you. Here are some tips on how to choose a good supplier and conduct negotiations:
Ask about their minimum order quantities and the prices they can provide. Find out if they can urgently produce a limited set of products if an unexpectedly large order comes in.
Don't be afraid to negotiate with suppliers to get the best deal possible.
Feel free to ask additional questions. You can check the company's business license and set up a Zoom meeting to go over all the contract details, deadlines, and plans for future cooperation. Every partnership carries some level of risk, and you must be well-prepared for all the potential dangers. So don't forget to discuss payment methods to avoid fraud and order product samples to assess the products before signing a contract.
Do not use generic email addresses. Using a domain name with its own email account for your company is far more professional.
Develop a business plan. Brand representatives can easily tell whether you have a solid business plan in mind, so try to tell a comprehensive story about your selling strategy and why the partnership you're proposing will be successful and beneficial for both sides.
Add Your Products to Amazon
Once you've decided which products you're going to sell and made arrangements with suppliers, it's time to list them on Amazon. All you have to do is sign into your Seller Central Account, select the "Inventory" section, and click the "Add a Product" tab. Next, search for each item by name or ASIN number. In most cases, it will already be listed on Amazon, so you will not need to create a new listing from scratch.
Promote Your Products
If you feel that it's necessary, you can create a marketing strategy to increase the visibility of the products you're selling and therefore increase your profits. One of the best ways to do this is to set up an ad campaign, as it will drive more customers to your listings, and you will only have to pay when a user clicks on your ad. Monitor your ACoS, try different ways of driving conversions, request positive reviews from customers, and promote your products outside of Amazon.
Monitor Statistics
Once you have established your business strategy, it's not time to relax. Your work is only beginning because it is time to track your expenses and other business metrics. There are numerous Amazon tools available to monitor metrics, conduct analytics, track your sales numbers, profit figures, Amazon transactions, and so on. Keeping track of all aspects of your business can be difficult, but it is the only way to remain successful and grow your business.
Final Thoughts
Wholesaling on Amazon is a profitable business model, but there are a few obstacles to overcome. You may face challenges trying to select the right product at a competitive price, calculating the capital needed, and finding enough time to build a successful business. Thus, it's a good idea to consider hiring a professional agency to assist you in developing your Amazon business. This way, you can avoid a lot of stress associated with building a business and have someone guide you to success. Sign up for a free discovery call with one of NUOPTIMA's Amazon experts today!
Talk to an Amazon expert
We work with 100+ businesses. Book a slot now to talk to one of our experts.
---
FAQ
What is a wholesale seller on Amazon?
Wholesalers buy low-cost or discounted goods in bulk and then resell them on Amazon at a higher price. You can start a wholesale business by finding authorized suppliers or manufacturers and purchasing large quantities of products to resell.
How much does it cost to start wholesaling on Amazon?
You will need at least $5,000 to start a wholesale business. This includes storage and inventory costs. This may appear to be a large sum of money, but keep in mind that wholesaling is about purchasing products in bulk.
Is it cheaper to buy wholesale?
Yes, purchasing products in bulk is always less expensive than buying a single unit, so you can build your business around this market phenomenon.