Key points
Many business owners who already successfully sell their products on their websites, social media pages, and other platforms feel hesitant about expanding their operations to Amazon.
The biggest concerns people have regarding selling their products on Amazon include sales cannibalization, loss of control over customer experience, and the need to dedicate additional time and resources to Amazon.
Taking everything into account, it's often more dangerous not to sell your products on Amazon than to expand your operations to the platform.
If your brand is not on Amazon, your competitors can take out Amazon ads for keywords associated with your brand, and your company's reputation can be hurt by third-party sellers who distribute your products or their counterfeit copies.
Did you know that nearly 50% of all e-commerce sales in the US happen on Amazon? With numbers like this, Amazon is clearly a force you have to consider if you sell your products online. But for many companies, this is a difficult dilemma. If you already run a successful business by selling your products on another e-commerce platform, in a brick and mortar store, on your own website, or on social media, should you add Amazon as another sales channel or avoid the e-commerce behemoth? In this article, we will try to help you find the answer to this difficult question.
Common concerns brands have about selling on Amazon
When business owners first start considering selling their products on Amazon, they have several main concerns. Below, we will talk about some of these concerns and help you understand how you can use these potential issues to your advantage.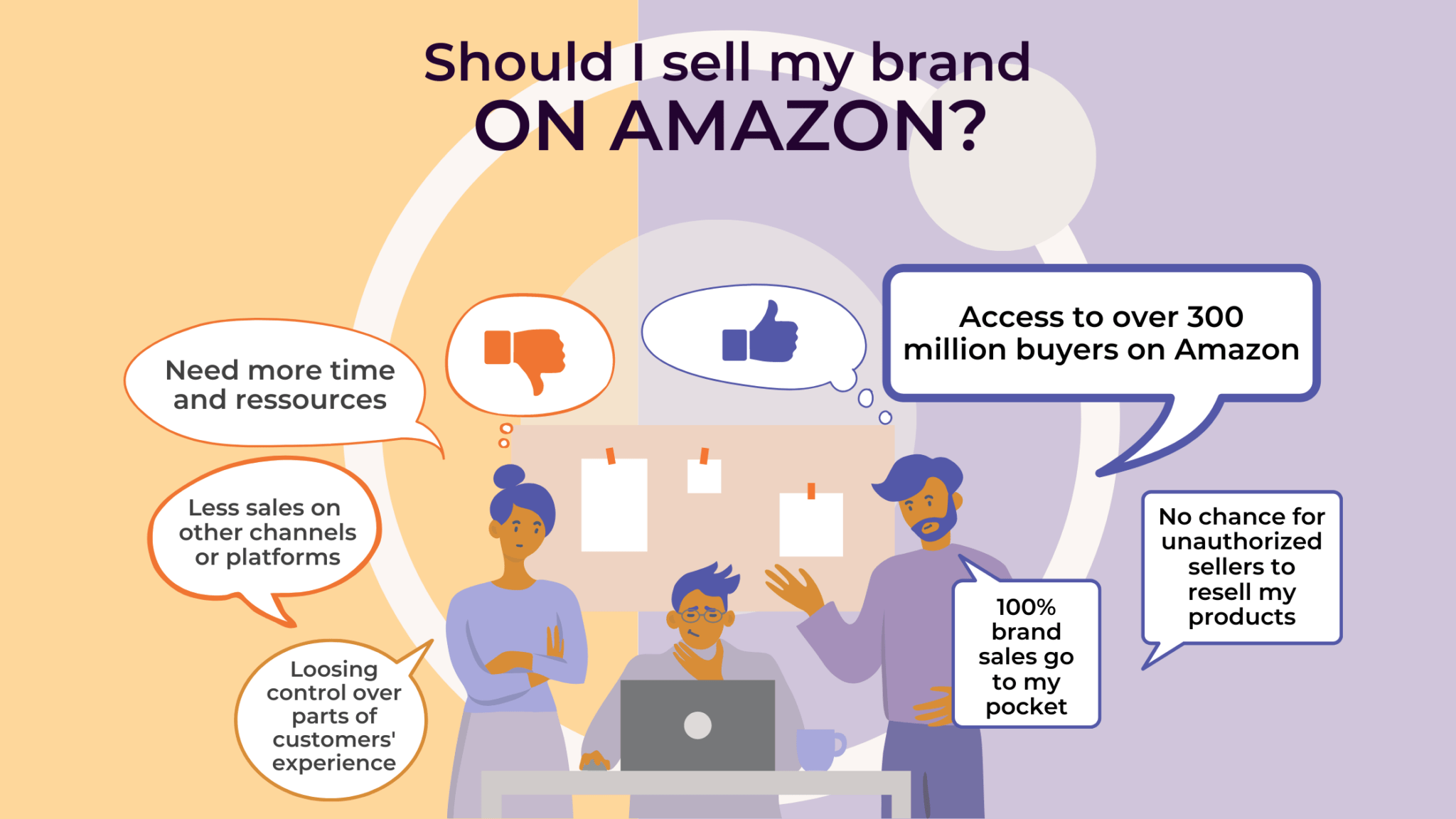 Sales cannibalization
When thinking about expanding their sales to Amazon, many sellers worry that this will cannibalize a portion of their sales from other channels, whether it is their brick and mortar stores, website, social media platforms, etc. Naturally, this is a valid concern, and the truth is that expanding your business to Amazon will likely lead to a reduction in the number of sales you make on other platforms. However, there are two sides to this coin. The truth is that Amazon has such a huge share of the e-commerce market and so many customers in the US, UK, and worldwide that you're likely missing out on a lot more sales simply by not being on the platform.
In fact, the current cannibalization concerts regarding Amazon sales are similar to the arguments many business owners made in the early days of the internet when online stores were only starting to appear. However, by starting your expansion to Amazon today, you can secure a place for your company on the platform, start building a reputation on the marketplace and protect the future of your business. After all, Amazon is clearly not going away any time soon. So think carefully about what the bigger risk is: having your website or offline sales cannibalized by your own Amazon sales or missing out on the chance to offer your products to over 300 million Amazon customers?
Time and resources needed to run a business on Amazon
Some business owners who already have their hands full with the tasks they need to accomplish to successfully sell their products on other platforms hesitate to expand to Amazon because they think they simply won't have enough time or resources to do it. But in reality, setting up and running operations on Amazon is much easier than creating your own website to sell products. For instance, you can use Amazon's FBA (fulfilled by Amazon) program to handle all the day-to-day tasks such as storing, labeling, shipping products, answering customer inquiries, and processing returns. Plus, Amazon already has a huge customer base, so you won't need to spend time setting up advertising to attract customers, unlike when you sell products on your own website.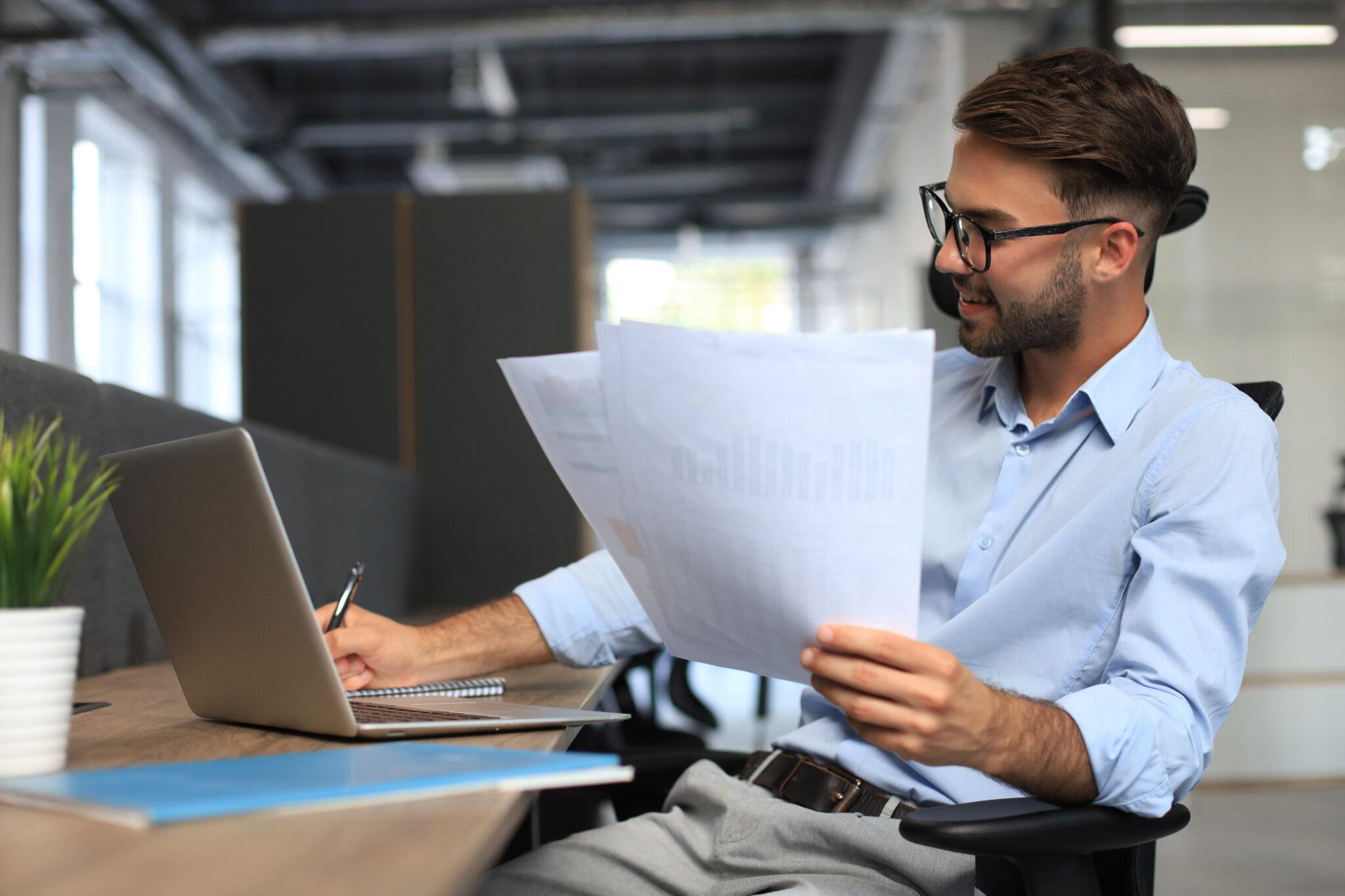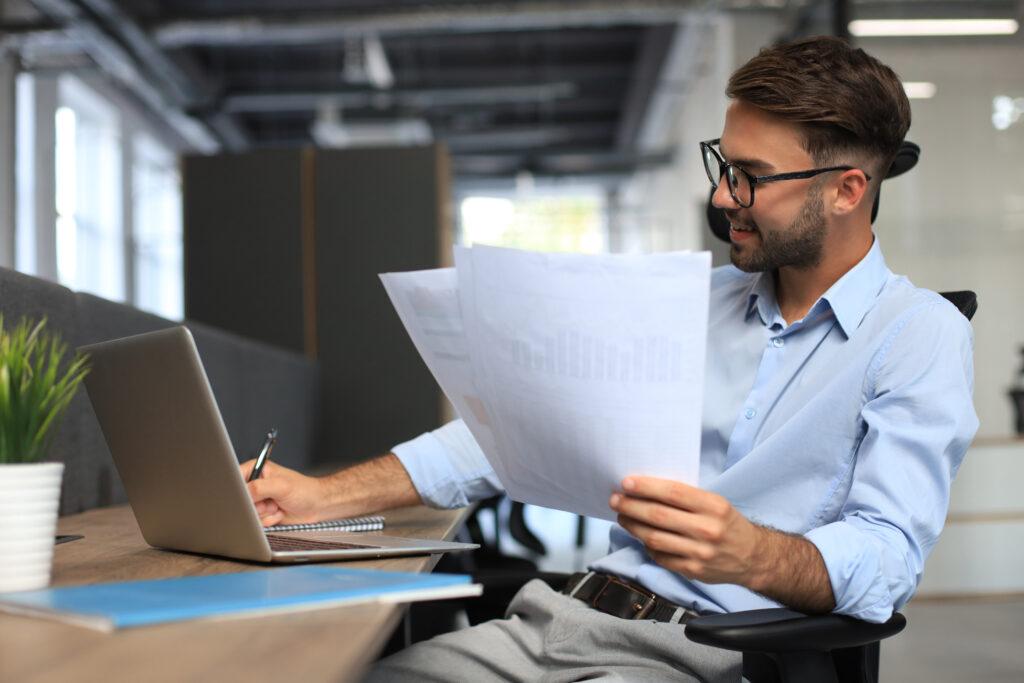 Sure, your Amazon business won't grow and flourish on its own even if you sign up for the FBA program. And even if you have time and resources you can dedicate to it, becoming a successful Amazon seller is not an easy task, especially if you don't have a lot of experience with the platform. Fortunately, NUOPTIMA offers premium business consulting services to people who want to take their Amazon business to the next level with the help of an experienced professional team. Schedule your free discovery call with one of our consultants today and start your journey building a successful Amazon business that doesn't require a ton of your time and effort.
All things considered, it's much easier to start selling your products on Amazon than to create and manage your own distribution channels.
Giving up control over the brand
Some business owners who have worked tirelessly for many years to create and shape their brand don't want to give up control over some parts of the customer experience by starting to sell their products on a platform they don't own and control. Of course, this is a valid concern, but you can take steps to minimize risks in this situation.
For instance, you don't have to dive in headfirst and add all your products to Amazon. Instead, you can start with a few positions to gain an understanding of how selling on Amazon works, what adjustments you need to make, and what steps you can take to protect your brand's reputation and ensure the best experience for your customers. Plus, you can get a better feeling of the benefits Amazon can provide for your business. In addition, by selling just a few products on Amazon, you can still maintain exclusivity with the rest of your product catalog.
It's also important to realize that many businesses only sell a portion of their product selection on Amazon, masterfully leveraging the exposure they get on the platform to attract new clients.
While Amazon doesn't allow you to have complete control over the customer experience, you can still tailor product pages to align with your brand's style and philosophy. Plus, if you join Amazon's Brand Registry program, you will be able to create your own storefront with a unique design, product images, videos, and more.
The dangers of not selling on Amazon
Even if you're completely happy with your company's existing sales and don't see any need to expand your business or search for new sales platforms at the moment, the dangers associated with not being on Amazon are still enough to make most business owners reconsider their decision.
For instance, if your brand is reasonably well-known and customers often search for it by name on Google and other platforms (such as Amazon), your direct competitors who are selling on the platform can buy ads for your brand's keywords. This means that when someone searches for your brand on Amazon, they will see listings from your competitors at the top of the page and buy their products. But if you were selling on Amazon, that sale would most definitely go to you.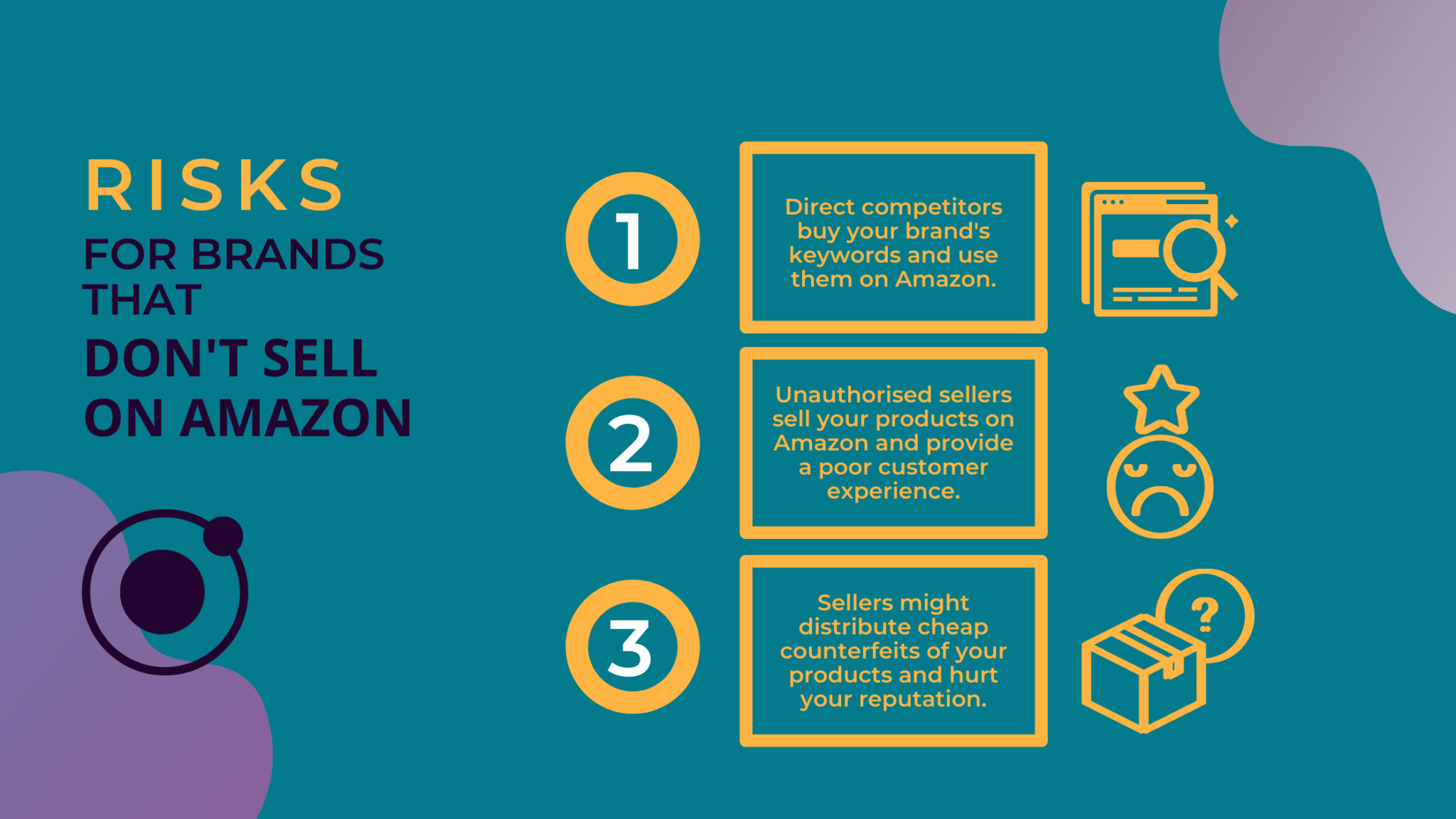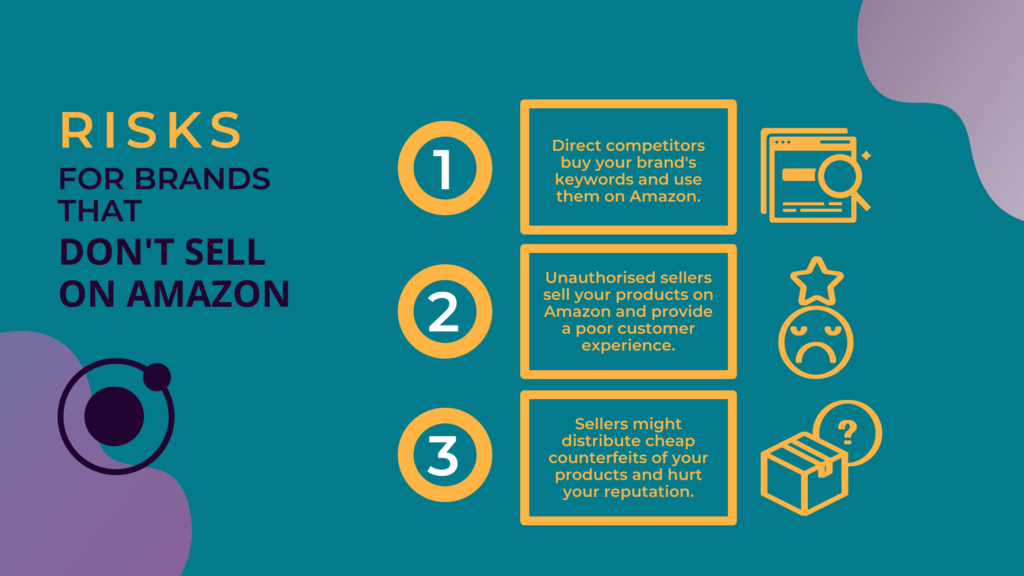 Another danger is presented by authorized and unauthorized distributors who see your products on the platform. After all, these people most likely don't care about the brand's reputation you've worked so hard to build, and they can easily ruin in by selling knockoff products or providing a poor customer experience, answering user questions incorrectly, listing wrong information in product descriptions, etc.
It's also worth mentioning that while Amazon does have an anti-counterfeiting policy, the company doesn't really go out of its way to stop third-party sellers from marketing and selling poor-quality knockoffs on the platform. They will only get involved if a client reports that they've been sold counterfeit goods, and even then, there's no guarantee that the complaint will lead to anything. At the same time, companies that sell on Amazon and are certified under the Brand Registry program have much stronger protection from Amazon.
Things that can set your brand apart on Amazon
Before you start selling products on Amazon, you need to understand what is important to Amazon shoppers so you can create an effective strategy for working on the platform. Generally, people who shop on Amazon choose it for its low prices, good customer experience, and fast shipping. The key thing to remember is that you'll need to compete with Amazon on all of these. So if you're planning to sell a product that Amazon itself already sells on its website, you will need to make sure that your average price on this product is lower than Amazon's.
Final thoughts is selling on Amazon worth it?
All things considered, our opinion is yes, you should definitely expand your brand's sales to Amazon. It will help you gain access to over 300 million Amazon shoppers and secure your place on the platform before your competitors or resellers of your products can swoop in and take away your sales or even ruin your company's reputation. While there are some difficulties that may make you apprehensive of the idea of selling on Amazon, the advantages of expanding your business to this platform strongly outweigh the drawbacks.
Talk to an Amazon expert
We work with 100+ businesses. Book a slot now to talk to one of our experts.
---
FAQ
Is it profitable to sell on Amazon?
Yes, you can definitely make a profit while selling on Amazon. In fact, over 60% of sellers start turning a profit during their first year on the platform.
Is selling on Amazon worth it in 2021?
Definitely! If you have a good product that solves a problem for the customer, you can quickly build a profitable business by selling products on Amazon.
Is FBA difficult?
While it may take you a little time to make sense of all the aspects of the Amazon FBA program, once you do, it won't be difficult. After all, millions of people participate in the Amazon FBA program, so how difficult can it really be?
How much do Amazon sellers make a year?
The amount of money people make selling on Amazon varies greatly on their product, profit margins, reviews, the amount of time they've been on the platform, and other factors. According to some reports, new Amazon sellers who participate in the FBA program make between $26,000 and $810,000 per year.