LinkyThinks Conversion Rate Soars By 41% From Listing Refresh
50 Days Before Listing Refresh

50 Days After Listing Refresh

23 Days for Return on ROI
41% Conversion Rate Increase
155 New Sales In 50 Days
About Linky Thinks
LinkyThinks is a brand selling educational learning tools and games for children on Amazon. Their main product line is word wheel games which are designed to help improve children's writing, reading and communication skills while keeping them engaged and having fun.
When we first started communication with the Linky Thinks team – namely Daniel, CEO, and Oliver, COO – they were concerned about conversion rates across their product line. They wanted NUOPTIMA to employ a strategy to improve conversion rates, and ultimately their sales.

We noticed improvements could be made across their listings, so we advised LinkyThinks to take our full listing optimisation package, which includes a complete revamp of the title, bullets, image gallery and A+ content.
Team
Responsible LinkyThinks Team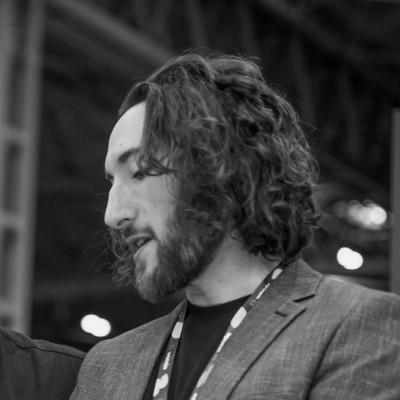 Daniel Rosenberg
CEO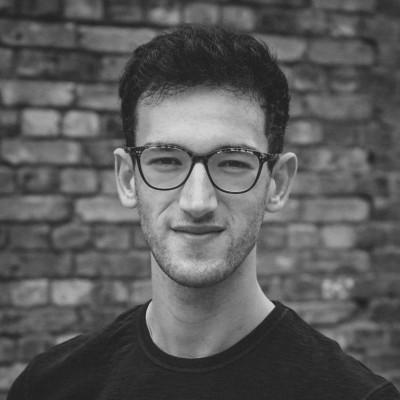 Oliver Rosenberg
COO
Responsible NUOPTIMA Team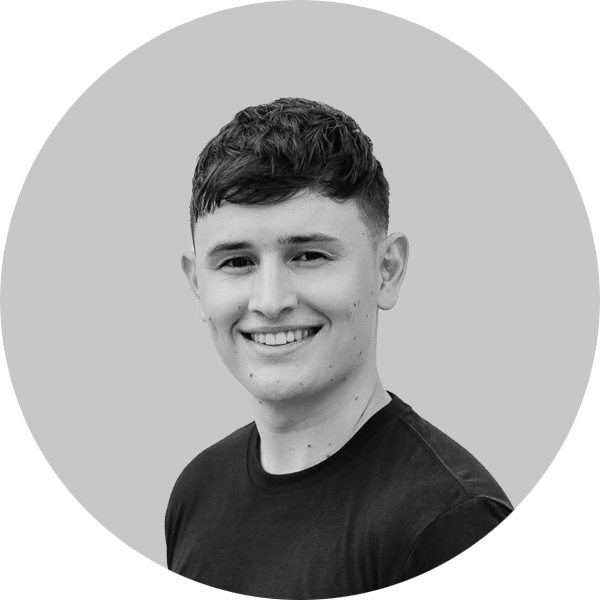 Rob Sloan
Growth Manager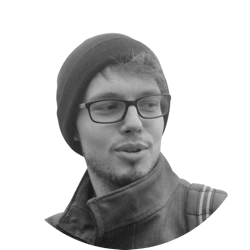 Oleg Chizhevskiy
Brand Manager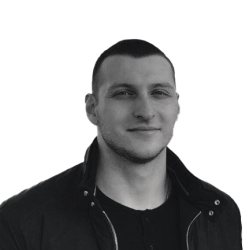 Dmitry Goliak
Amazon Listings Expert
Action Plan
When we first analysed LinkyThinks's listing, we noticed they didn't have A+ Content and they were missing infographics. While these elements are important for all Amazon sellers, it was markedly pertinent for LinkyThinks to strongly execute these creatives. This was because, firstly, their word wheels are unique and most of their customers won't have come across a product similar before, meaning they need to visually display use cases, how to use instructions and show what's included clearly so the customer can make an informed purchase. Secondly, LinkyThinks can't run PPC as they are categorised within the book category, which means their listing needs to attain the best score possible to maximise Conversion Rates (CVR) and in turn, sales.

Due to PPC restrictions, we needed to also ensure Click Through Rate (CTR) and Search Engine Optimisation were maximised to their fullest potential. We planned to achieve this by creating an enticing main product image, a clearly structured and defined title and high-quality concise bullets that include all exact and relevant keywords.
The Image below gives you a taste of the changes we made, before going into more detail further down the piece: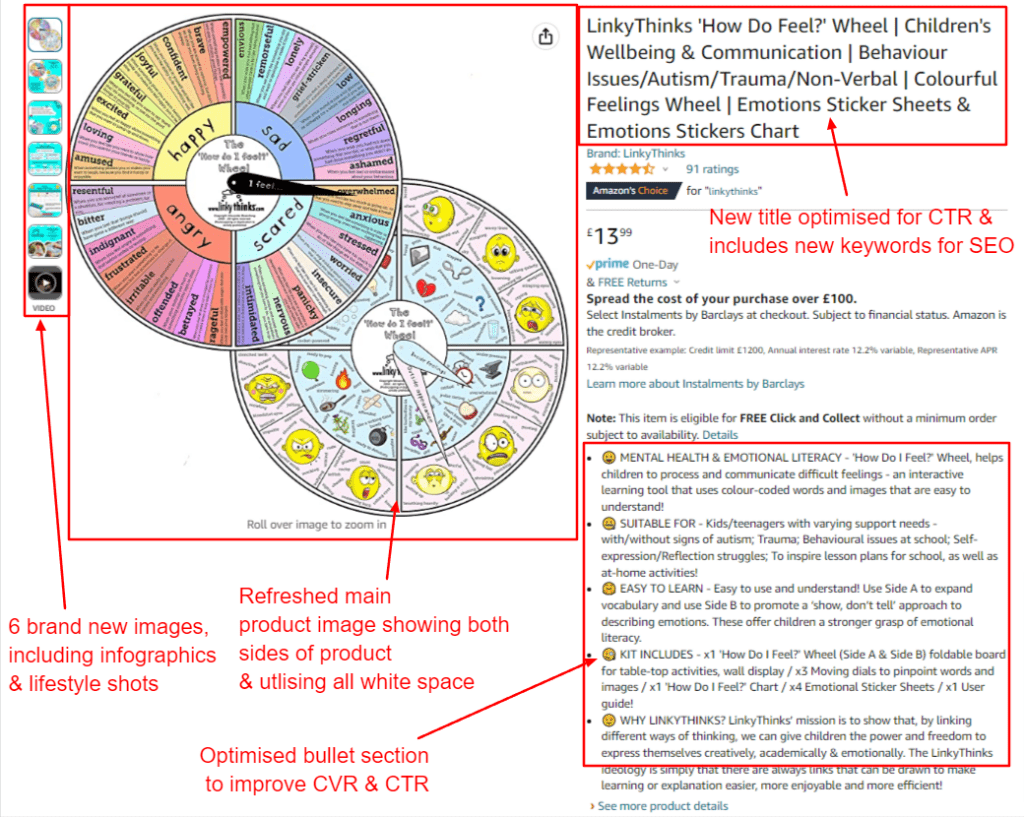 SEO, Title and Bullet Creation
Title
The title is your opportunity to entice customers to click on your product and improve your click-through rate (CTR). Customers have an abundance of products to choose from, so an eye-catching title can go a long way to set you aside from your competition.

It's also your opportunity to include the main keywords associated with your product, which in turn, will help improve Search Engine Optimisation (SEO).

Below is LinkyThinks's optimised title.
LinkyThinks 'How Do Feel?' Wheel | Children's Wellbeing & Communication | Behaviour Issues/Autism/Trauma/Non-Verbal | Colourful Feelings Wheel | Emotions Sticker Sheets & Emotions Stickers Chart
We implemented a clear five-part structure with LinkyThinks's title, which included the main product name, the product's use case, who the product is for, what the product looks like and a bonus feature. We split each section with vertical dashes and included capitalisation for each word, so when the customer is searching through a range of products, they could easily scan the title and dissect the key features of LinkyThinks's product.

Product name: LinkyThinks 'How Do Feel?' Wheel

Use case: Children's Wellbeing & Communication
Target user: Behaviour Issues/Autism/Trauma/Non-Verbal

Product appearance: Colourful Feelings Wheel
Bonus feature: Emotions Sticker Sheets & Emotions Stickers Chart
In terms of SEO, we purposely take a hands-off approach. We find that if you focus too much on prioritising SEO, you can run the risk of keyword stuffing and worsening the readability of your title. As long as you include the main keywords associated with your product, SEO will be optimised effectively.
Bullets
Your bullets section is crucial for improving conversion rate (CVR) and SEO. It's your opportunity to explain in more detail what your product is, who it is for, how it solves the customer's pain point and why the customer should buy from you rather than your competitors.
While SEO is important, the bullets section should be optimised for readability first, ensuring the writing is clear, concise and avoids overly technical language. Once you're confident your bullets are high-quality, you can then double-check to make sure all main and relevant keywords are included.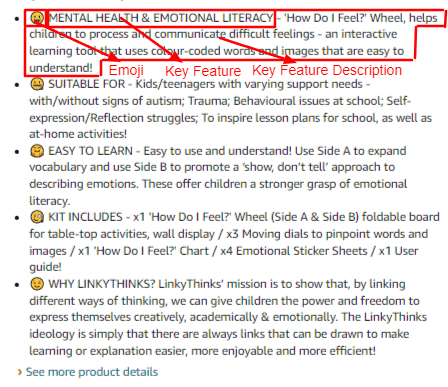 We included a three-part structure for LinkyThink's bullets – an emoji at the beginning, followed by the key feature and then further details about the key feature.
An emoji at the start helps visually convey the message of the bullet. While this won't produce any significant results, it can help attract the customer to the bullets section and entice them to read on.

After the emoji, the key feature is identified in full capital letters. This is helpful for the customer as if they don't want to read the full bullets section, they can scan across the bullets section and efficiently pinpoint each key feature.
Then, the key feature is described in more depth. This is where you can provide further details and tap into your target customers' buying psychology, which will hopefully convert the reader into a new customer.
It's important to note that the first bullet should always describe the main use case for the product and why it can solve the problem the consumer is facing. In LinkyThinks's case, we explained the product is used to help children process and communicate difficult feelings.
Gallery Image Creation
Your image gallery is crucial for your conversion rate. Evidently, it's your opportunity to show off your product and attract customers to buy, but often sellers forget it should also be used to educate your customers by exhibiting information visually with infographics. Furthermore, the first image in your gallery is the number one factor for increasing CTR. This is because when customers are scrolling through hundreds of listings, your product needs to visually grab their attention and entice them to click.
As LinkyThinks's product is unique, we knew the biggest barrier to converting new customers was educating the consumer enough to ensure they were confident in their purchase. We needed to clearly display how you use the product, what's included, how you assemble and why it can help your child/ren clearly within LinkyThinks's gallery to make sure we improved conversion rates. This is why we placed a heavy emphasis on infographics – below are the finished results:
Image 1: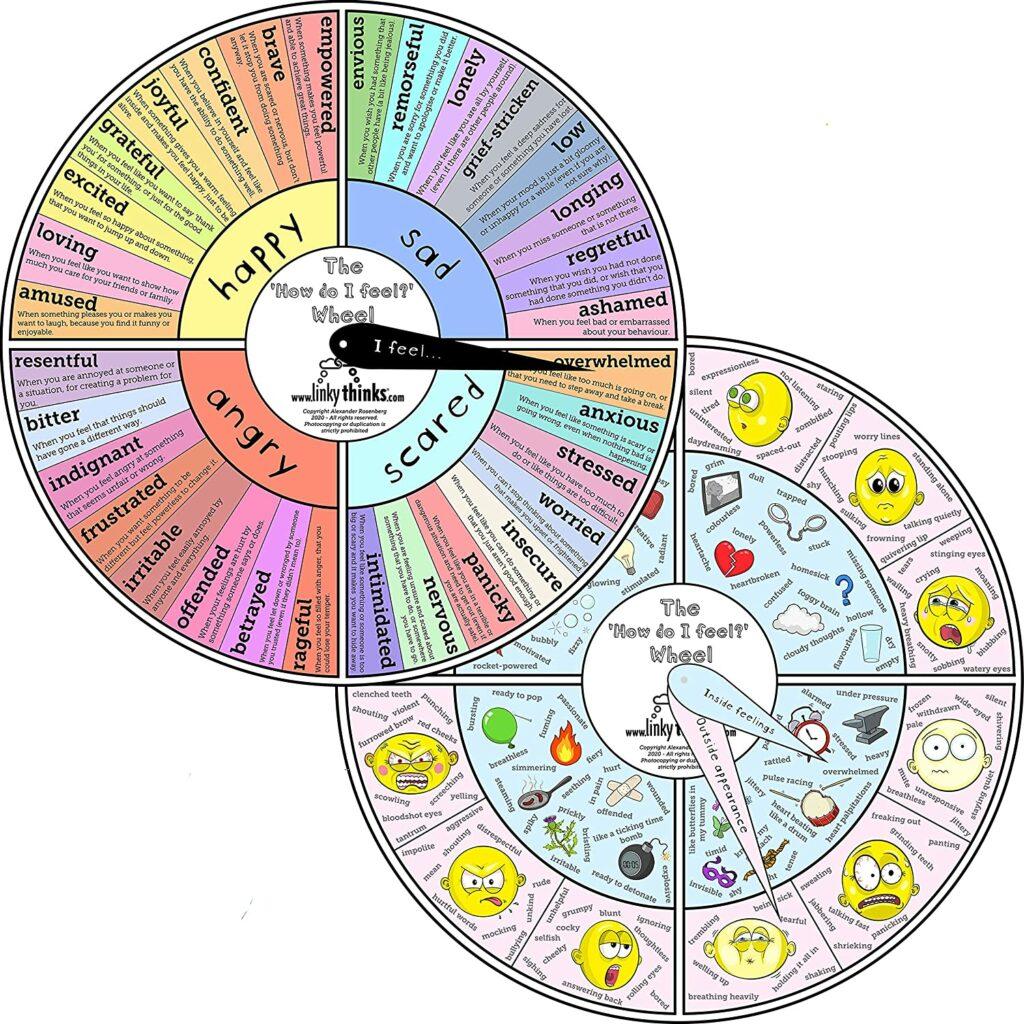 As the wheel is double-sided, we wanted to make sure we showed as much of both sides as possible without leaving much white space. Both sides of the wheel are colourful and intriguing, so naturally, we knew if we positioned the images correctly, we would attract customers to click and maximise CTR.
Image 2: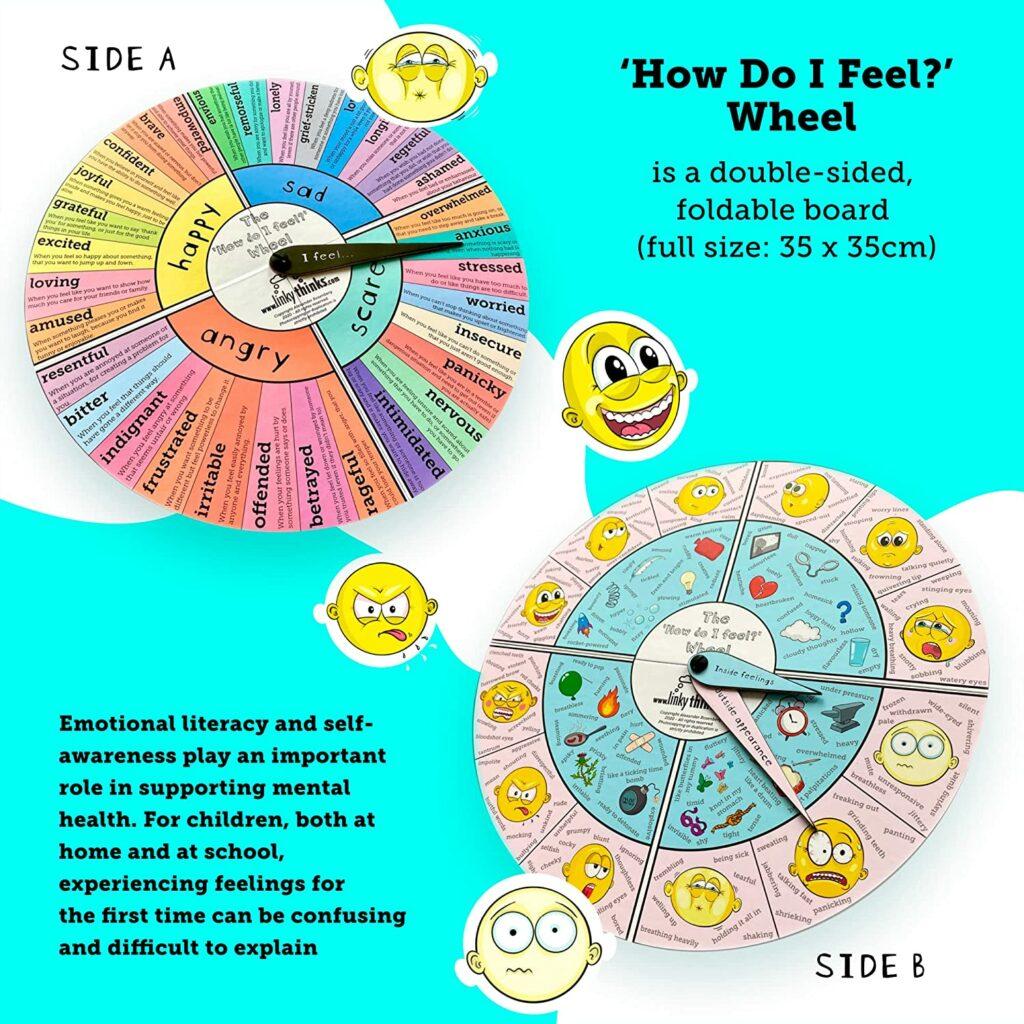 In the second image, we wanted to provide more details about the wheel while keeping the design fun, light-hearted and on-brand. We displayed the dimensions, showed each side of the wheel in full view and reiterated the problem the consumer is facing that the wheel solves. Our in-house graphics team created an attractive background that fitted with the brand's colour scheme and used the emojis that are included as stickers for visual effects.
Image 3: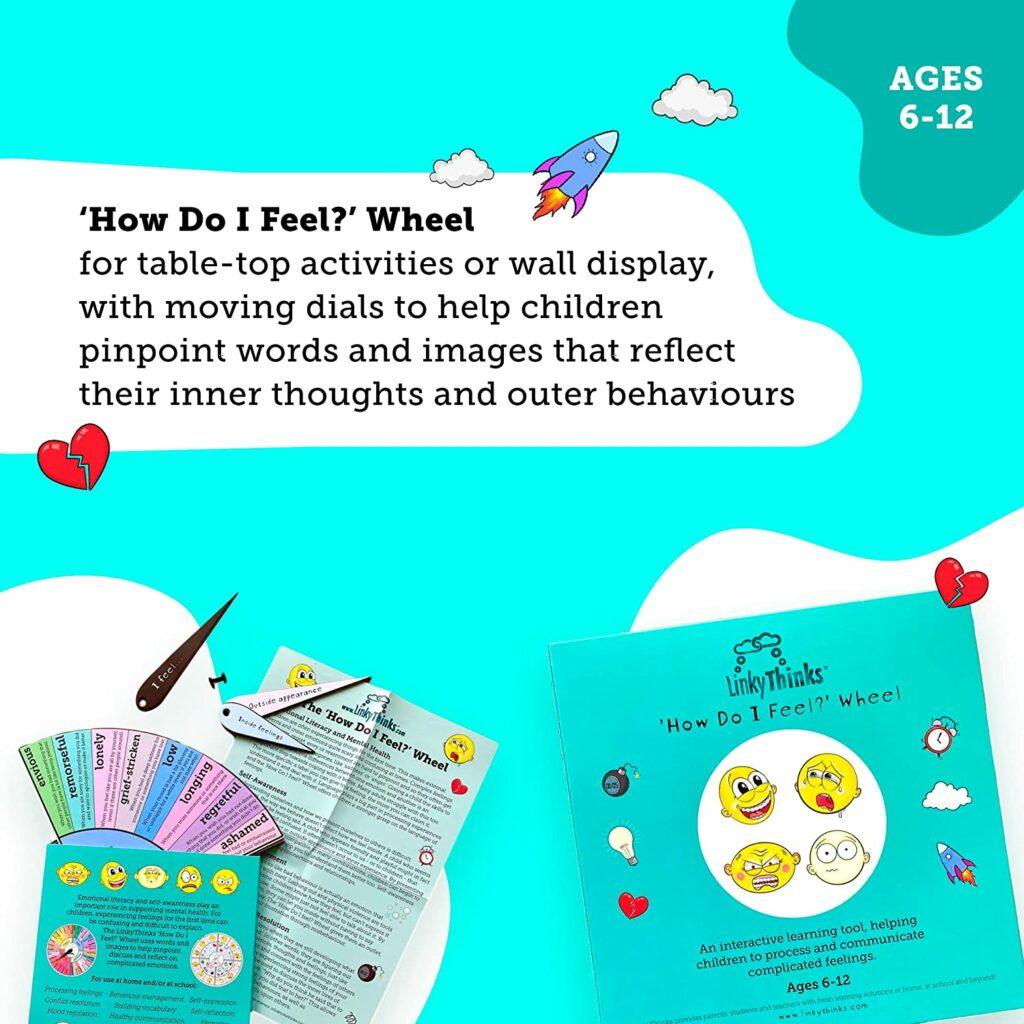 For the second image, we used a colourful background and graphics that matched LinkyThinks's brand image. We included text to reiterate who the product is and what it is used for. At the bottom of the image, we showed customers the packaging and what comes inside the box.
Image 4: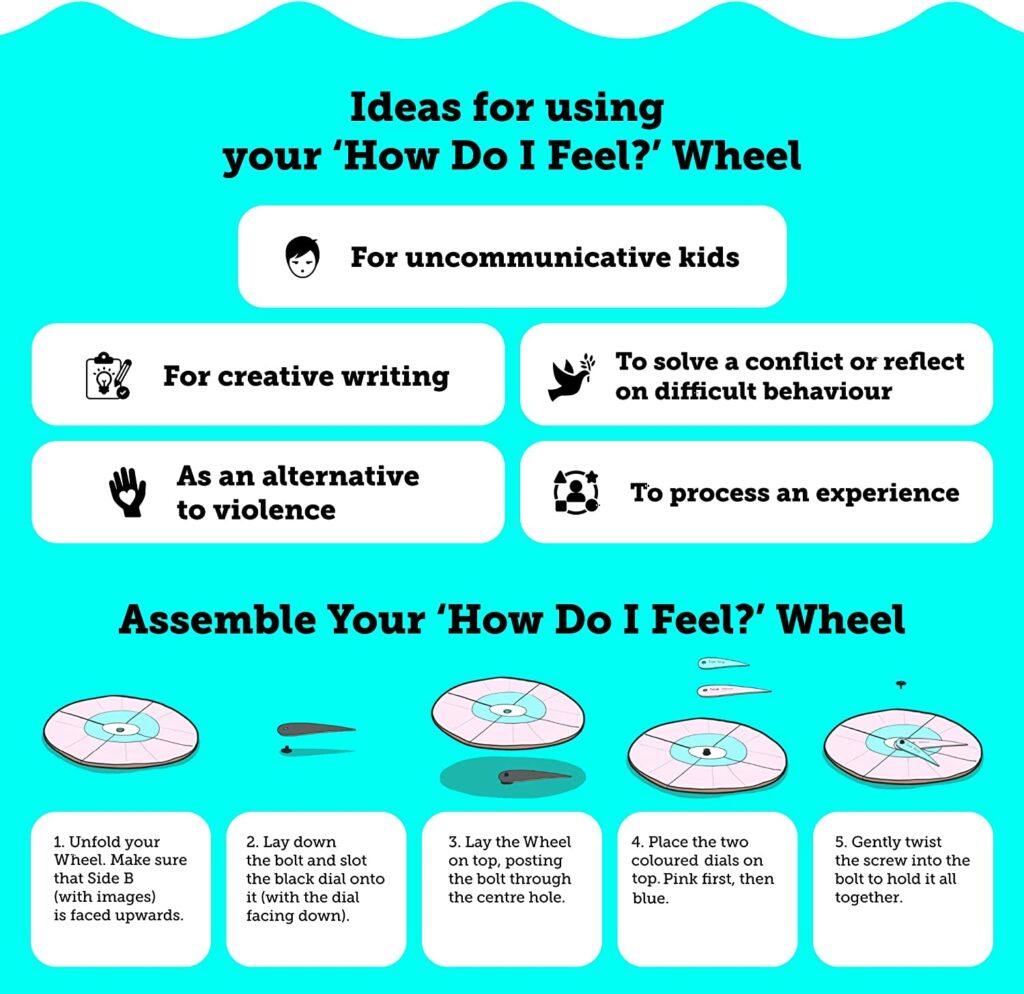 As explained earlier, we wanted to ensure customers fully understand what the product is and what it is used for. So in our third image, we gave customers ideas 5 ideas for why they would use the product with their children. At the bottom of the image, we also showed customers the steps of assembly to show it was a simple and easy process.
Image 5:
With the 4th image, we focused on the bonus 'How Do I Feel?' chart that is included in the package. In a text box on the right of the image, we explained how you use the chart. The background shows the chart in full view, and in the bottom left corner of the image, we showed the real-life printed version along with the stickers.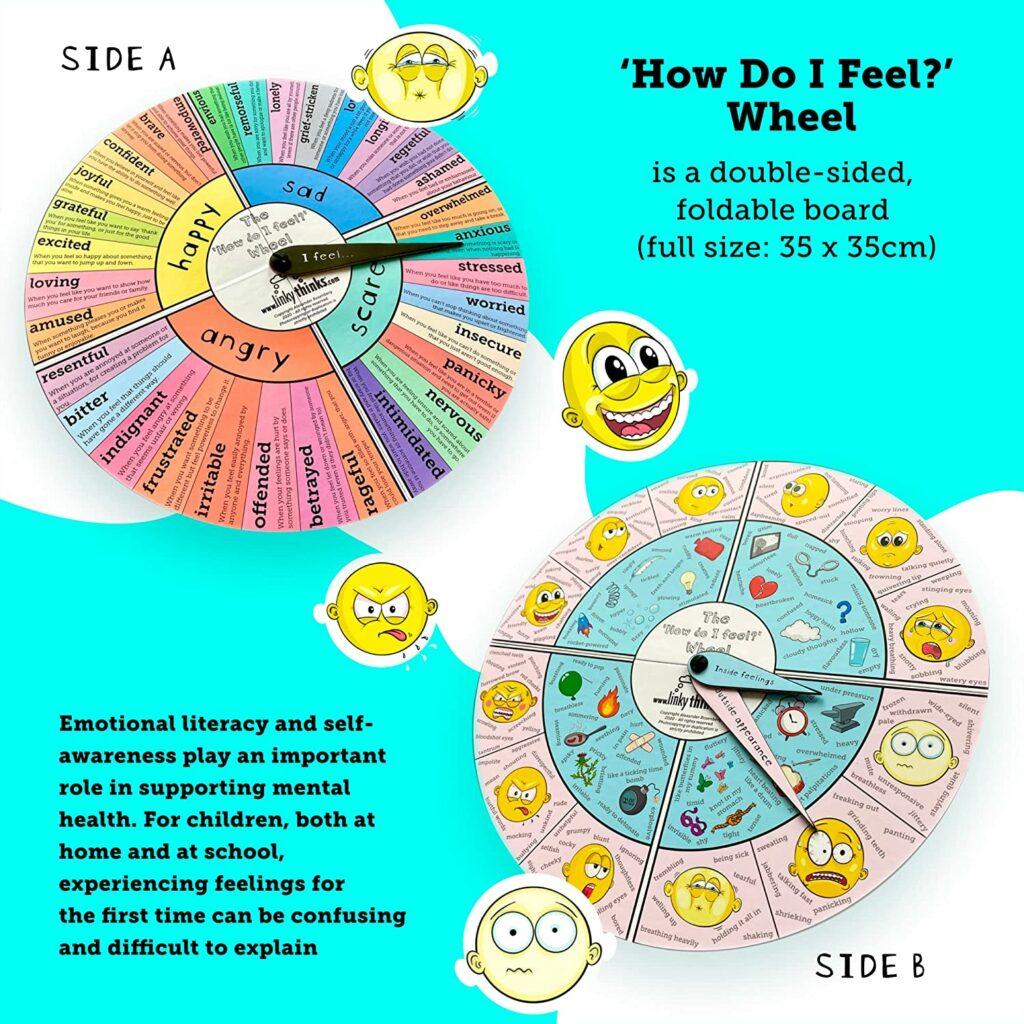 Image 6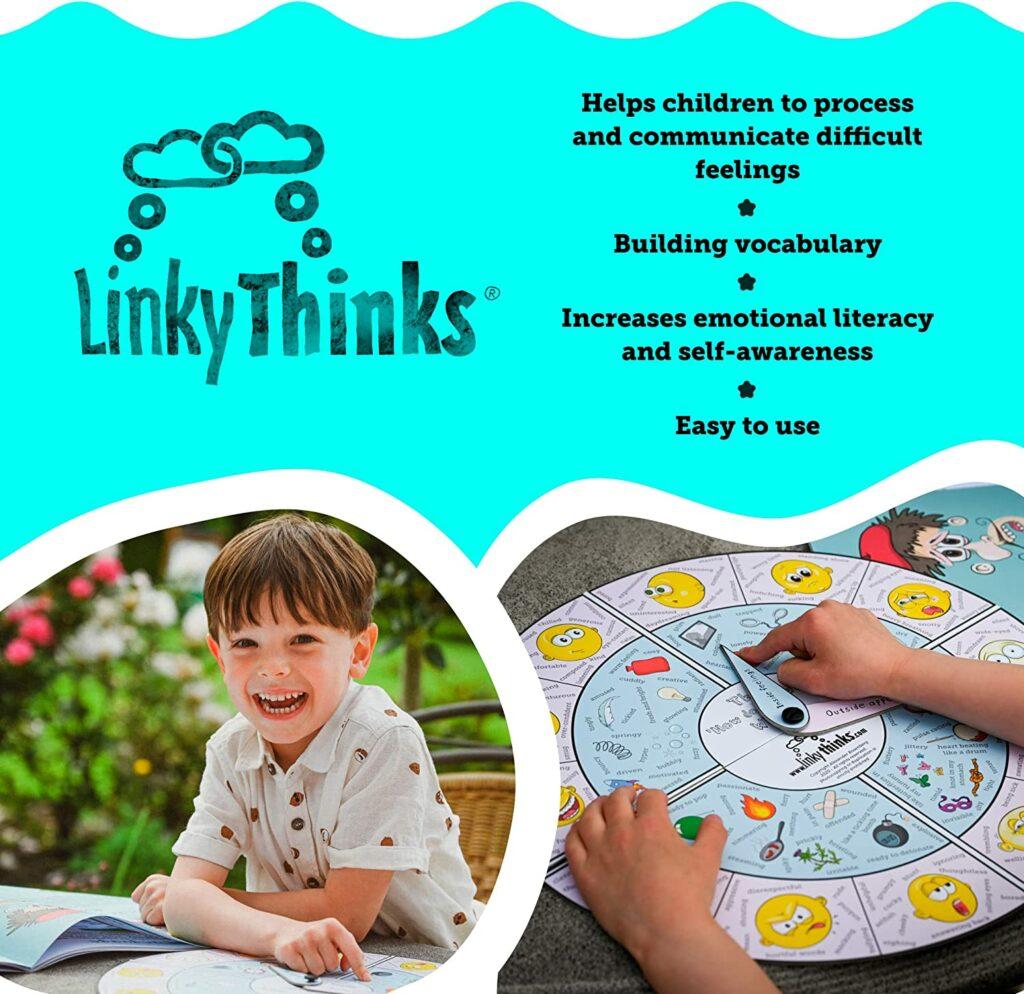 In the final image, we gave some additional use cases for the product and showed high-quality lifestyle images of children using the product. This helps relate and tug on the heartstrings of the target audience. Parents will now picture their own child using the product and will be more likely to convert.
A+ Content
It can be difficult to communicate your branding on Amazon as consumer psychology on the platform has a tendency to be focused on the product rather than the brand. But A+ content gives you an opportunity to alleviate this fear by customising your listing with more brand-centric content. It's also your chance to take up more real estate on your listing and drive home your product mission. And if executed well, it can greatly improve your conversion rate and help you solidify your brand image despite selling on a third-party platform.
With LinkyThinks's A+ Content, we wanted to show off the uniqueness of the brand for helping children learn and communicate better while having fun. Using a vibrant colour scheme, amusing emojis and graphics and new lifestyle images of children using the product, we were able to create an impressive centrepiece that captured the essence of the LinkyThinks brand and what they are trying to achieve.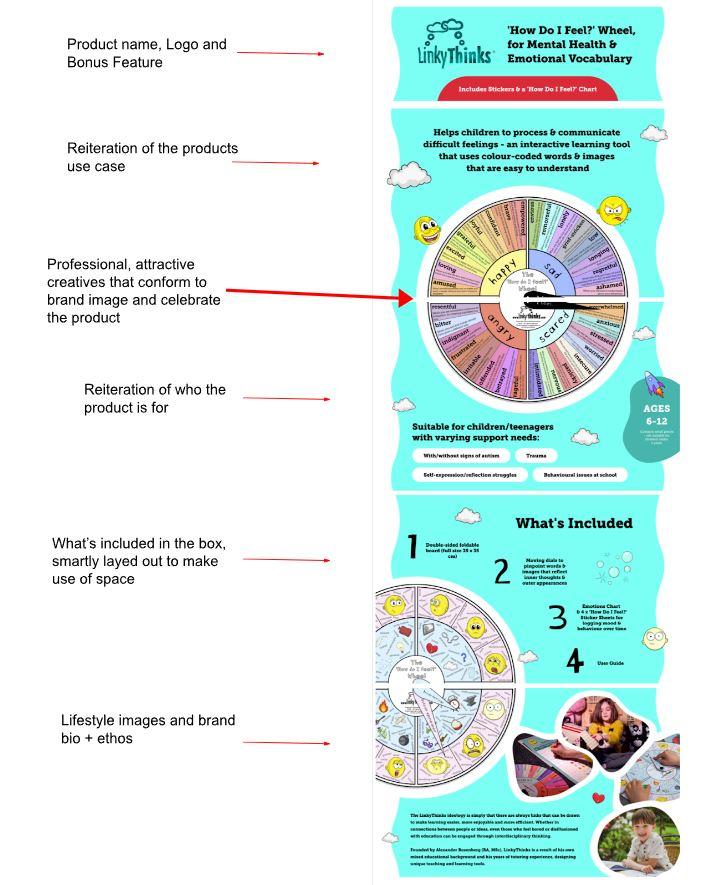 Results
We measured the results over 50 days after implementing the listing refresh and compared this to the results 50 days before. LinkyThinks were ecstatic to see a significant increase across all associated metrics – below is the breakdown:
Conversion rate increased by 41%
LinkyThinks CVR increased by 41% from 4.9% to 7%. This means that for every 10,000 visitors sessions on the listing, LinkyThinks is now converting 700 customers instead of 490.
Sales increased by 155
LinkyThinks had 256 sales for the 'How Do I Feel?' Wheel over 50 days before the listing refresh. Over 50 days after the listing refresh, LinkyThinks made 411 sales.
Return On Investment (ROI) was seen in just 23 days
LinkyThinks saw ROI in just 23 days from the extra sales generated from the listing refresh.
>
LinkyThinks Conversion Rate Soars By 41% From Listing Refresh