Key Points
It is highly recommended that you undergo the appeal process to resolve the problem if your Amazon seller account is suspended. It is generally not a wise idea to open a new account or explore other options if you are undergoing suspension.
To open a new Amazon account after suspension, there are three potential options: you can purchase an existing seller account, you can send an email to Amazon founder Jeffrey Bezos for possible assistance, or you can set up a new legal entity.
You can get help with the appeal process or any other Amazon-related queries by getting in touch with our expert team today.
Getting your Amazon seller account suspended is never an ideal situation. It can be a stressful process trying to get your account reinstated, especially as you lose all selling privileges until the issue is resolved. The best way to deal with a suspension is to go through the appeal process and work to get your existing account back up and running. It is not recommended that you open a new seller account while under suspension on another account. In fact, Amazon's Terms of Service stresses that you can only have one Seller Central account for each region you sell.
However, while there are various ways to appeal a suspension, on occasion, a seller cannot get their account reinstated. While it is not recommended to go down this route, there are several ways that you can set up a new seller account without flagging Amazon. Do be aware that Amazon can ban you for life if you are caught violating any of their terms and conditions. With that in mind, let's consider three different ways that you may be able to open a new account.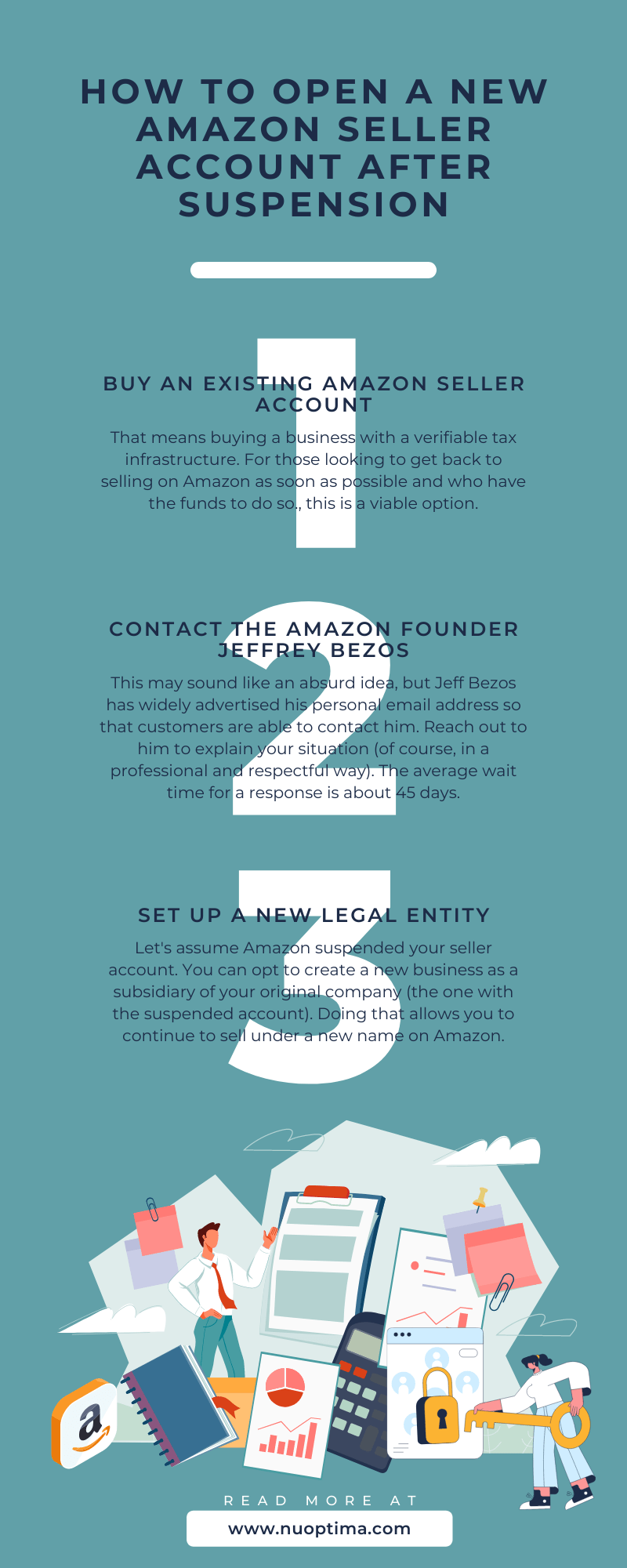 Idea One: Buy an Existing Amazon Seller Account
If you cannot get your seller account reinstated, one potential option is to purchase an already existing Amazon seller account. If you decide to go down this route, you must buy a business with a verifiable tax infrastructure. This option may prove to be very costly and, therefore, may not be viable for many users. Going through the whole process and buying a business and inventory can cost hundreds of thousands of pounds. However, it is still a possible choice for those looking to get back to selling on Amazon and who have the funds to do so.
Idea Two: Contact the Amazon Founder Jeffrey Bezos
This suggestion may be akin to clutching at straws, but there is a chance of success. You can attempt to get into contact with the Founder of Amazon, Jeffrey Preston Bezos. While this may sound like an absurd idea, Bezos has widely advertised his personal email address so that customers are able to contact him. His email is simply: [email protected]. Of course, he does not respond to most of his emails himself, but he is believed to read the majority of messages sent to his inbox.
It may be worth a shot getting into contact with Jeffrey Bezos and explaining your situation. Of course, if you do this, ensure you are professional and respectful to increase your chances of getting a response. The average wait time for a response is believed to be 45 days. This option rarely comes to any fruition, but it has succeeded on occasion.
Idea Three: Set Up a New Legal Entity
With this option, it is not as simple as deciding to open a new account. It is more complex than that. You will need to open a new Limited Liability Company (LLC) for your business, which can then be a subsidiary of your existing business. A simple way to explain this idea:
Business A has just been suspended by Amazon. You can then opt to create Business B, which can be owned by A and still successfully sell on the marketplace.
You also need to provide a unique credit card, email, bank account, phone number, and tax information for this to work. A good idea can be to use a Google Voice number if you do not wish to make a new mobile phone number. You also must ensure that you do not use the same static IP address that has been linked with your suspended account. If you do not cater to all of these points, you are very likely to run into further issues with Amazon, so take due diligence and be thorough with your new account to cover any potential pitfalls.
Final Thoughts
If your Amazon seller account has been suspended, the best option is to send off an appeal to Amazon to get your account reinstated. It is not a good idea to try and open a new account while your existing one has been put on suspension. However, if your appeals have been declined and you are really struggling to reinstate your existing seller account, there are several potential options. This includes buying an Amazon seller account that is already up and running, attempting to contact Jeff Bezos, and setting up a new legal entity. If you would like further advice or would like help strengthening your Plan of Action (POA) for your appeal, please book a free discovery call with one of our Amazon experts today.
Talk to an Amazon expert
We work with 100+ businesses. Book a slot now to talk to one of our experts.
---
FAQ
What is an Amazon seller account suspension?
An account suspension is when you no longer have selling privileges on Amazon. This occurs when a seller violates Amazon's terms, conditions, or policies while selling products. If this happens, shoppers can no longer view your Amazon product listings.
How do I appeal against a seller account suspension?
Once you have been contacted about your suspension, you have 17 days to submit your appeal. You need to send off a plan of action to Amazon and show that you have resolved any remaining issues on your account, understood why your seller account was suspended in the first place and what steps you will take to stop this violation from recurring.
Is it a good idea to open a new seller account after suspension?
The best course of action if you have had your account suspended is to go through the appeal process with a strong plan of action. It is generally not recommended to try and open a new seller account, especially while your existing account remains under suspension.