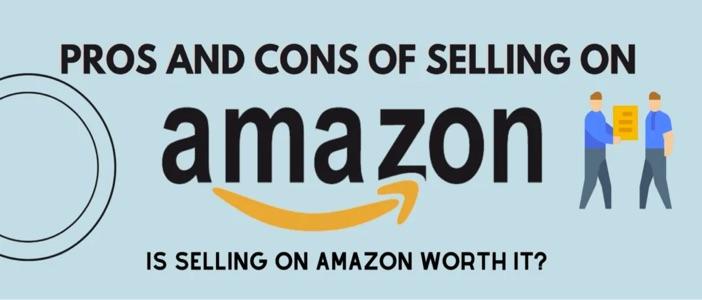 Key points
Amazon is the biggest online retail platform in the world. Over a million new sellers join the website each year.
There are several pros and cons to selling on Amazon.
The pros of using the company to sell your products include its large customer base, easy expansion into foreign markets, an excellent reputation, the ability of sellers to utilize the FBA program, and more.
On the downside, sellers who use Amazon have to pay several types of fees to the retail giant, deal with a huge level of competition, and face stock tracking problems when selling on multiple marketplaces at once.
With 200 million unique monthly customers, Amazon is one of the biggest online retailers in the world. This marketplace offers an unparalleled level of service with their Amazon Prime memberships, 1 or 2-day shipping offered on millions of products, and their vast selection of products. The company's huge customer base and simple requirements for becoming a seller are part of the reason why new businesses choose to trade on this platform over other options. However, like many other online marketplaces, Amazon has its own set of advantages and disadvantages that may influence the sellers' business and ultimately cause your business to succeed or fail. This article will look at the potential upsides and pitfalls of doing business on this marketplace and help you decide if selling your products on Amazon is worth it.
Pros of selling on Amazon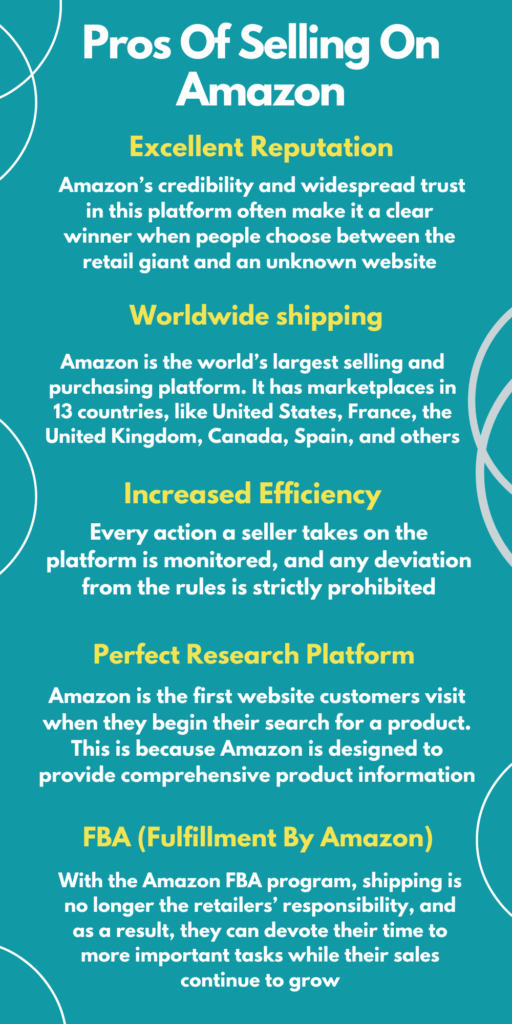 Excellent reputation
According to statistics, in 2021, Amazon's global revenue will reach $221.60 billion, up 34.8% from $164.36 billion a year earlier, which means millions of people worldwide choose to shop on Amazon over other offline and online retailers.
But for most people, these numbers don't mean much, so let's use a real-life example of a choice most people who shop on Amazon face. Let's say you own a pet store and need to purchase dog food wholesale. Now you have to choose between an unknown website that sells pet supplies and Amazon. The decision is obvious because no one wants to take the risk of purchasing something from a store they have never heard of. Amazon's credibility and widespread trust in this platform often make it a clear winner when people choose between the retail giant and an unknown website. Plus, if you've ever had an issue with an Amazon package, you probably know that the company is generally very accommodating.
All of this undoubtedly boosts confidence in Amazon-based retailers, who are more likely to make their business successful there than anywhere else.
Worldwide shipping
Amazon is the world's largest selling and purchasing platform. It has marketplaces in 13 countries, including the United States, France, the United Kingdom, Canada, Spain, and others. And the retail giant is constantly working on expanding into new markets. But this is only a partial list of countries that have access to Amazon, as the online retailer delivers its products to over 100 countries worldwide. It means that buyers whose home country doesn't have an Amazon marketplace can still make purchases. Indeed, they will have to pay a higher shipping fee, but this does not discourage most people from using this platform.
While other platforms typically require third-party sellers to create separate shop pages for each language and do not support automatic shipping to other countries, Amazon makes the process incredibly easy for sellers. By creating only one listing on your local Amazon platform, you can test whether your product would be of interest to a global audience and if the product succeeds, try selling it to buyers worldwide.
Plus, as an Amazon seller, you can take advantage of their localized customer service and an international shipping system, so you won't have to figure out how to break into the global market on your own. You also won't be responsible for local payment services, logistics, or other operations.
Increased efficiency
Although you may see this as a disadvantage, Amazon will likely force your company to be more efficient. Every action a seller takes on the platform is monitored, and any deviation from the rules is strictly prohibited. So, while it may force you to change some of your business operations, the need to adhere to Amazon's best practices will likely help push your company to the next level. Plus, you can be confident that Amazon services will assist you in providing fast and reliable order fulfillment and delivery, as well as high seller performance.
Perfect research platform
Amazon is often the first website customers visit when they begin their search for a product they intend to purchase. This is due to the fact that Amazon is designed to provide comprehensive product information. On the platform, customers have access to product descriptions, reviews from other customers, and they can compare products by competing brands. So even if buyers prefer to make their purchases offline, they may notice your brand on Amazon and contact you directly. As a result, your brand will be more recognizable than on any other online marketplace. And if you're not on Amazon, you will be automatically losing potential customers to your competitors.
Incredible Sales with Targeted Amazon PPC Traffic
It's possible to generate impressive revenue by making the most of Amazon's advanced advertising solution. The Amazon algorithm isn't the easiest to crack, so it's well worth contacting an Amazon PPC agency. They'll create engaging ad campaigns, target the right keywords, and ensure the sales flow without blowing your PPC budget. When an Amazon PPC campaign is managed properly, the advantages of this giant marketplace can be seen through the revenue it can generate for your business.
FBA (Fulfillment by Amazon)
Amazon FBA is a service that assists sellers with product storage, packaging, and shipping. Sellers use this program to ship products to an Amazon fulfillment center, where they are stored in warehouses until they are sold. Then, when a customer places an order, Amazon employees physically prepare, package, and ship the items. There are over 175 fulfillment centers worldwide in charge of receiving products in bulk, storing inventory, and sending it to customers.
With the Amazon FBA program, shipping is no longer the retailers' responsibility, and as a result, they can devote their time to more important tasks while their sales continue to grow.
FBA participants also receive additional benefits from this program, such as Amazon Prime shipping and Buy Box priority. This usually increases the company's sales because seeing the Prime logo is an excellent incentive for shoppers to purchase the product.
Cons of selling on Amazon
Even though there are numerous benefits to selling your products on Amazon, some of the retailer's downsides may cause you to reconsider and seek out other platforms.
Competition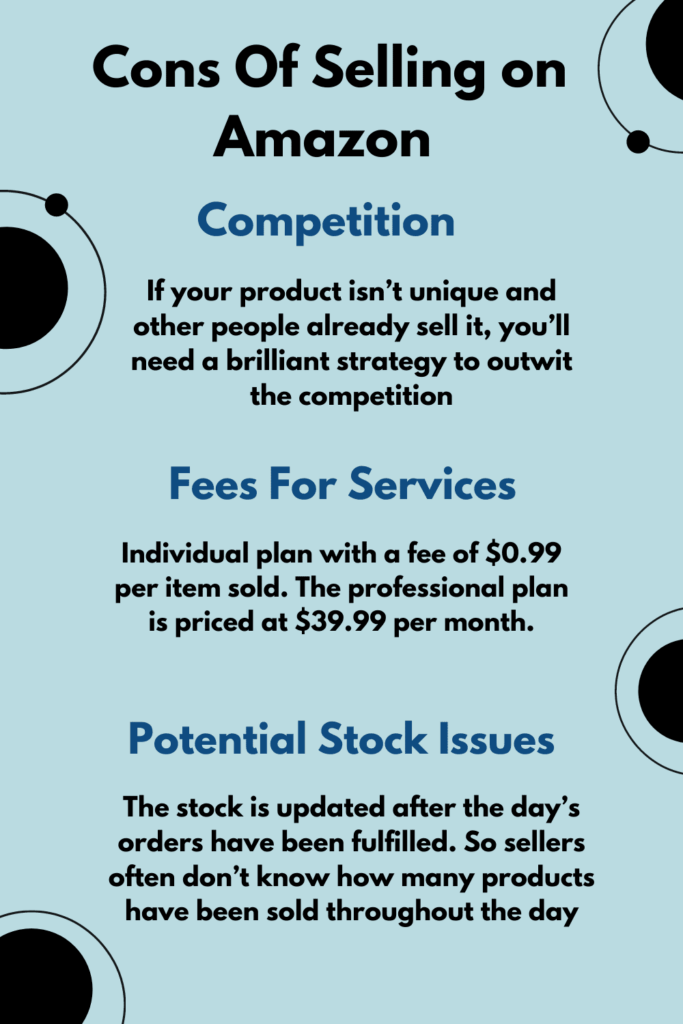 This is the most apparent disadvantage since Amazon is the most popular platform, with millions of businesses selling on it. So if your product isn't unique and other people already sell it, you'll need a brilliant strategy to outwit the competition.
You will also be competing with other sellers for the Amazon Buy Box. The Buy Box is a box located on the product detail page where customers start the process of purchasing an item by adding it to their shopping carts. The majority of customers prefer to make their purchases through the Buy Box. When a buyer purchases a product through this section, the seller with the highest Amazon ranking at the time will appear there. As a result, the Buy Box winner will get the sale.
So, what factors influence the way Buy Box winners are selected? It is a mash-up of dozens of things, but here are the primary factors you should keep in mind:
Outstanding customer service
Competitive pricing
Orders are processed and shipped on time
The order defect rate is at or below 1%
A high volume of sales
Ultimately, there is only one way to win this competition – you need to adjust and improve your business strategy constantly. Timely delivery, flawless management, and excellent ratings from customers are just a few of the factors that will determine your success. It is a heavy burden to bear, which is why you need the help of an Amazon growth agency to help your Amazon business grow.
Fees for services
When you become an Amazon seller, your products instantly become exposed to over 200 million users. But of course, Amazon doesn't give out its customers for free. Almost every step you take as a seller on the platform will require you to pay a fee. Let's go over a few of them. Following the registration process, you can choose between two Amazon seller plans:
Individual plan with a fee of $0.99 per item sold. This plan is appropriate for businesses that sell fewer than 40 items per month or are unsure about their product catalog. You should select this plan if you do not intend to advertise your brand or use advanced selling tools.
The professional plan is priced at $39.99 per month. This plan is suitable for larger companies that actively use advertising tools or already have a good track record selling products on the marketplace. This plan is required if you want to qualify for top placement on product detail pages.
It's also important to remember that for each item you sell, you will also pay a referral fee that does not depend on your plan. This price is different for different product types, and you need to visit the official Amazon's Seller Central site to discover the size of the referral fee you will need to pay for each item you sell.
Another expense you should plan for is advertising. A few years ago, Amazon would sort products according to the organic product rating, which was compiled based on customers' reviews. Now, when customers visit any product listings, the first products they see are advertisements. So if you want customers to find you on Amazon, you definitely need to use the platform's paid ads services.
How fees on Amazon differ from other online platforms
On Amazon and similar marketplaces, you need to pay a percentage of each sale. But there are some other shopping channels where sellers pay for every click, regardless of whether that click led to a purchase or not. That is why, if you're selling goods in low-margin categories, you will be better off choosing Amazon.
Potential stock issues
Here is what the typical process of receiving orders from Amazon looks like:
At the end of the day, the seller downloads an order list from Amazon.
The seller packs and ships the items.
Finally, they update product status on Amazon.
The main issue here is that stock is updated after the day's orders have been fulfilled. So sellers often don't know how many products have been sold (and therefore how many are remaining in stock) throughout the day.
This is not a problem if you are only selling your products on Amazon. However, if you also use other marketplaces, you can run into problems since there's no way to integrate Amazon with other shopping cart systems. As a result, you will need to pay close attention to the number of items sold on Amazon and other platforms to avoid accidentally selling more products than you have in stock. This, in turn, can make it really hard to run your business.
Final thoughts
While Amazon has lots of significant advantages over its competition, there are a few things that can make it difficult for sellers to grow their businesses on this marketplace, especially if you decide to do everything on your own. This is why we strongly recommend getting professional help. Nuoptima can help your Amazon business grow and beat the competition. Request a free discovery call with a member of our team right now, or leave your e-mail address so we can contact you and tell you more about our services.
Talk to an Amazon expert
We work with 100+ businesses. Book a slot now to talk to one of our experts.
---
FAQ
What proportion of Amazon sellers makes a profit?
Nearly 60% of new Amazon sellers start making a profit during their first year working on the marketplace. This proportion is even higher for people who have been selling on Amazon for longer.
How many Amazon sellers are there?
There are over 9 million Amazon sellers worldwide, but only 2 million of them are actively running their businesses. It is important to remember that this number is rapidly increasing, with more than a million new sellers added each year.
Who are Amazon's main competitors?
According to market statistics, Amazon's main competitors by market share in 2021 are Walmart (5.3%), eBay (4.7%), Apple (3.7%), and Home Depot (1.7%). Amazon currently holds 38.7% of the market share.
Is it profitable to sell on Amazon in 2021?
Yes, Amazon is a great place to make money even today. Over 80% of people who were selling products on Amazon in 2020 were planning to continue doing so in 2021 and over 60% of new sellers increased their Amazon profits throughout 2020.