Attracting new business via your website can feel like an uphill struggle. The competition is fierce for B2B SaaS companies, with many fighting for the attention of the same target audience. However, turning your SaaS site into a revenue-generating machine is possible, driving the right traffic to your pages and filling your sales pipeline with high-quality leads that convert.
There are various avenues you can take to help be discovered online and win new business, with the most popular being pay-per-click (PPC) ads, social media marketing (SMM), and search engine optimisation (SEO). These methods all have their pros and cons.
For example, both PPC and social media marketing are great for generating instant results. As soon as the advertising campaign is switched on, the number of site visitors will increase, and new enquiries will trickle in. However, running paid ads is expensive and requires a significant marketing budget. PPC and social media ads are only successful if you continue to invest in them, so they can lack long-term benefits.
Want to discuss how SEO can grow your B2B SaaS company?
With SEO, it can play a pivotal role in the visibility and growth of your SaaS business. It's a powerful tool that, when executed correctly, can significantly enhance a company's online presence. You can also ensure that the visibility is targeted and meaningful to attract the right audience – those actively seeking the solutions your SaaS business provides.
Moreover, the impact of SEO extends beyond immediate visibility and is cost-effective for long-term growth and sustainability. A well-optimised site can improve user experience, increase trust and credibility, and higher conversion rates. Once a decent SEO strategy has been implemented, you will continue to get traffic, even if you take a break from actively using SEO techniques.
NUOPTIMA is a B2B SaaS SEO Agency, and our experts have put together this guide to help you understand why SEO is important, the strategies you can use, and how it can help your business thrive online.
The Importance of SEO for B2B SaaS
SEO should not be treated as a buzzword in the B2B SaaS world – it's the backbone of online visibility and a key player in business growth. It allows you to create the groundwork needed to support your business in the long run. One of the best features of SEO is that its impact compounds over time – the efforts you put in today will continue to be seen in the future.
It's important to note that SEO doesn't exist in a vacuum. There is no standalone strategy that operates independently of your other marketing efforts. On the contrary, SEO works hand in hand with your other channels, amplifying their effects and boosting your overall marketing performance.
SEO also plays a crucial role in reducing your cost per acquisition (CPA). In the SaaS world, keeping your CPA low is vital to supporting a healthy bottom line. SEO helps you do just that by driving high-quality, organic traffic to your site. These are visitors who are actively searching for what you offer, making them more likely to convert into paying customers.
SEO is not just about getting your name out there. It's about building a sustainable business, enhancing your overall marketing efforts, and keeping your CPA in check.
Search Demand for B2B SaaS Products on Google

The google search data for the keyword 'software for business' is not great. People search for this term on average 1,900 times per month globally. This number isn't high as people usually search for a software product that will solve a specific problem.
For example, say a company needs a new CRM system. They will likely search for something like 'best CRM' or 'CRM for sales'. As you can see from the Google search data below, global search demand is much higher. You have more traffic potential when using solution-based keywords rather than generic SaaS terms.


People use many search terms when looking for SaaS solutions for their businesses. You will need to analyse search demand and optimise your pages with relevant keywords to your SaaS products to get your site ranking in the SERPs. Here are a few examples of keywords the B2B SaaS industry giants use:
| | | |
| --- | --- | --- |
| Company | SaaS Product | Keyword Examples |
| HubSpot | Marketing Automation | inbound marketing platform, lead nurturing software, content creation tools |
| Slack | Communication Platform | team collaboration tool, instant messaging software, remote teamwork solution |
| Adobe Creative Cloud | Design and Collaboration Tools | digital content creation, multimedia editing suite, cloud-based graphic design |
| Zoom | Video Conferencing | online meeting platform, remote conferencing software, virtual business meeting tool |
| MailChimp | Email Marketing | targeted email campaigns, newsletter management software, email automation system |
| Asana | Project Management | task coordination software, team project tracker, productivity enhancement tool |
| FreshBooks | Accounting Software | small business accounting, cloud-based financial management, invoice and billing solution |
| Microsoft Azure | Cloud Computing Services | enterprise cloud solutions, scalable virtual infrastructure, cloud-based application platform |
| Zoho | Business Management Suite | comprehensive business tools, CRM and email marketing suite, online productivity applications |
| Dropbox Business | Cloud Storage | secure file sharing, collaborative workspace, cloud-based storage solution |
| Zendesk | Customer Support Platform | customer service software, multi-channel support system, helpdesk ticketing tool |
| Shopify Plus | E-Commerce Platform | scalable ecommerce solution, enterprise online sales platform, customisable online storefront |
| Salesforce | CRM | customer relationship management, sales tracking system, personalised marketing automation |
| Trello | Project Management | visual project management, team collaboration boards, task organisation system |
| QuickBooks Online | Accounting Software | online bookkeeping software, payroll and tax management, financial reporting tool |
| Oracle Cloud | Cloud Infrastructure | cloud-based IT solutions, database and application services, enterprise cloud computing |
More and more people search for B2B SaaS products online every year. PPC and social media ads will become more competitive and expensive as demand rises. By applying SEO practices now, you can ensure your site is in the best position possible to attract new clients and beat the competition.
Understanding Keyword Research
One of the first steps in developing your SEO strategy should be keyword research. This is about understanding the language your potential customers use when searching for your services. You need to get into the minds of your audience, understand their needs and concerns, and use this insight to guide your SEO strategy.
Here is a simplified step-by-step guide to get you started on your keyword research:
Identify Customer Personas: Start by defining who your customers are. Consider their demographics, their needs, their challenges, and their goals. This will give you a clear picture of who you're targeting with your SEO efforts.
Identify Customer Problems: Once you've defined your customer personas, think about their pain points and the solutions they are looking for. This will help you understand what search terms they might use.
Brainstorm Seed Keywords: Start identifying seed keywords based on your understanding of your customer personas and their problems. These are basic, broad terms relevant to your business and your audience.
Use Keyword Research Tools: Use tools like Google's Keyword Planner, SEMrush, or Ahrefs to collate a list of keyword ideas based on your seed keywords. These SEO platforms can also provide valuable data on keyword search volume and competition.
Analyse the Competition: Look at what keywords your competitors are ranking for. It will give you some keyword inspiration and help you understand the competitive landscape.
Trim and Finalise Your Keyword List: Analyse each keyword in terms of search volume, competition, and relevance to your business. The goal is to identify the keywords that offer the best balance of high search volume and low competition while being highly relevant to your SaaS products and audience.
Optimise Your Landing Pages: Incorporate your chosen keywords into your landing pages. This includes the page title, meta description, headers, and content. Remember, you must create useful, relevant content that resonates with your audience.
Monitor and Adjust: SEO is a long-term game. Monitor your keyword performance over time and adjust your strategy as needed. The goal is to connect with your audience and grow your business, not just to rank for certain keywords.
When implementing the knowledge you've gathered from keyword research, recognise it's not just about finding the right keywords – it's about using them to connect with your audience and grow your business. The aim is to have a website with the best user experience and valuable content. Take SEO expert Barry Schwartz's quote into consideration:

"If you're going to build a website, make sure to have a website that Google would be embarrassed not to rank for its main keywords." – Barry Schwartz, Founder of Search Engine Roundtable
On-Page, Off-Page and Technical SEO Strategies
On-page, off-page, and technical SEO are all crucial components of a successful SEO strategy. By optimising your content, building high-quality backlinks, and ensuring your site is technically sound, you can enhance your online dominance and attract more organic traffic to your site. Here are some tips on each to get you started:
On-Page SEO Strategies
On-page SEO is all about optimising the content and elements on your website so you hold topical authority and become the go-to B2B SaaS provider. Here is a simple guide on how to do it:
Content Optimisation: Make sure your content is high-quality, relevant, and includes your target keywords. This means optimising your titles, headings, subheadings, and body content.
URLs: Keep your URLs short and descriptive. Include your target keyword when possible.
Meta Descriptions: Write compelling meta descriptions that have an emotional pull. This will improve your click-through rate from the search results.
Image Optimisation: Optimise your images by adding alt text and compressing the file size. Although simple, it can improve page load speed and provide additional context for search engines.
Internal and External Links: Within your content, link to other relevant pages published on your site and external links to authoritative sources. This practice can improve the user experience and boost your site's credibility.
Keyword Usage: Use your target keywords naturally throughout your content. Avoid keyword stuffing and cannibalisation, which can harm your SEO efforts.
Off-Page SEO Strategies
Off-page SEO refers to all the activities that you and others do away from your website to raise SERP rankings. One of the main areas to focus on is backlinks. When a high authority website links to your site, it signals to Google that your content is valuable and trustworthy. This can significantly boost your rankings in the SERPs.
Building high-quality backlinks is not a quick process, but it's worth the effort. Here are some strategies:
Content Creation and Promotion: Create compelling, unique, high-quality pages that people will want to reference and link to and tell people about it.
Submissions: Submit your news to press releases, submit your site to directories, etc. All this can potentially lead to high-quality backlinks.
Reviews and Mentions: Put your SaaS product, service, or site in front of influencers that are prominent in the industry, such as popular bloggers or people with a large social media following.
Links from contacts and professional partners: Reach out to your network and ask them to link to your site. But remember that relevance matters! Links from sites in the same industry or SaaS niche as your site will have more value than links from random, unrelated sites.
Technical SEO for B2B SaaS
Technical SEO involves optimising your site for the crawling and indexing phase. As the title suggests, it involves technical tasks and will often be best carried out by SEO professionals. Here are a few key areas to be aware of:
Website Speed and Mobile-Friendliness: A fast, mobile-friendly site can enhance the user experience and boost your SEO. Use tools like Google's PageSpeed Insights to check your site's speed.
XML Sitemaps and Robots.txt Files: These files help Google understand the structure of your site and which pages they should crawl. Make sure they're properly set up and up to date.
Secure Sockets Layer (SSL): An SSL certificate is essential for protecting your site's data and improving your site's credibility. Search engines favour secure websites, which can help with SEO performance.
Local SEO for B2B SaaS
Local SEO is part of the strategy that helps your website get found in local search results. Even if your SaaS company operates nationally or globally, local SEO is still important as it enables you to target specific markets, making your overall marketing efforts more efficient. For example, if your product is particularly relevant to businesses in a certain city or region, local SEO can help you reach these businesses more effectively.
Here are some steps to help with local SEO:
Google Business Profile: Set up a Google Business Profile and make sure all the information is accurate and up-to-date. This is a key factor in appearing in local search results.
Local Keywords: Include local keywords in your website content and meta tags. For example, if you're targeting businesses in London, you might use keywords like "accounting software London" or "graphic design tools London".
Local Content: Create content that is relevant to the local areas you're targeting. This could be blog posts about local industry events, case studies featuring local businesses, or SaaS guides tailored to businesses in specific regions.
Local Links: Try to get backlinks from local businesses, industry associations, or local news sites. These can boost your local SEO and help you build relationships in the local business community.
Reviews: Encourage your local customers to leave reviews on your Google Business Profile and other review sites. You can also post them on your site. Positive reviews can boost your local search rankings, keep your content fresh and help you stand out from the competition.
B2B SaaS Companies Already Getting Results from SEO
Effective SEO can deliver excellent results, helping your B2B SaaS website show up higher in search results and potentially saving thousands of dollars on PPC advertising costs. Below, we review some examples of successful B2B SaaS websites that are seeing great returns from their SEO efforts.
Our first example is a B2B SaaS company called Thought Machine. They have developed a cloud-based banking platform that enables banks to manage a range of financial systems and products centrally. As we can see from the data sourced from Ahrefs, Thought Machine has an average of 6,700 organic traffic each month. These are the people who have clicked on their page after seeing them on Google search results.

Their average monthly traffic value is now worth around $22,100 per month (a 56% increase from only six months ago). This is the estimate of how much they would have to spend each month to buy the equivalent amount of organic traffic via PPC ads.
Now let's look at the pages that bring in the most traffic for this B2B SaaS provider:

These top pages bring in a decent amount of traffic. SEO experts use this kind of data from your site and competitor websites to optimise your content strategy. They will evaluate what needs to be done to existing pages and create new pages so that your site gets as much relevant organic search traffic as possible.
Although Thought Machine is performing well and showing continuous growth with the help of SEO, let's take a look at one of the global giants to see the heights SEO can take a SaaS company. Welcome Salesforce – the world's most successful CRM software provider.

Salesforce relies on smart SEO methods to drive traffic to its site and keep business booming. Their site pulls in over 8.4 million organic visitors every month and has an incredible traffic value of $12.4 million.
As you can see from the graph below (organic traffic vs paid traffic), their website visitors are almost entirely generated organically:

When it comes to their keyword performance, Salesforce has around 3.2 million organic keywords, with 122,000 ranking on the first page. Here are some of their top-performing keywords: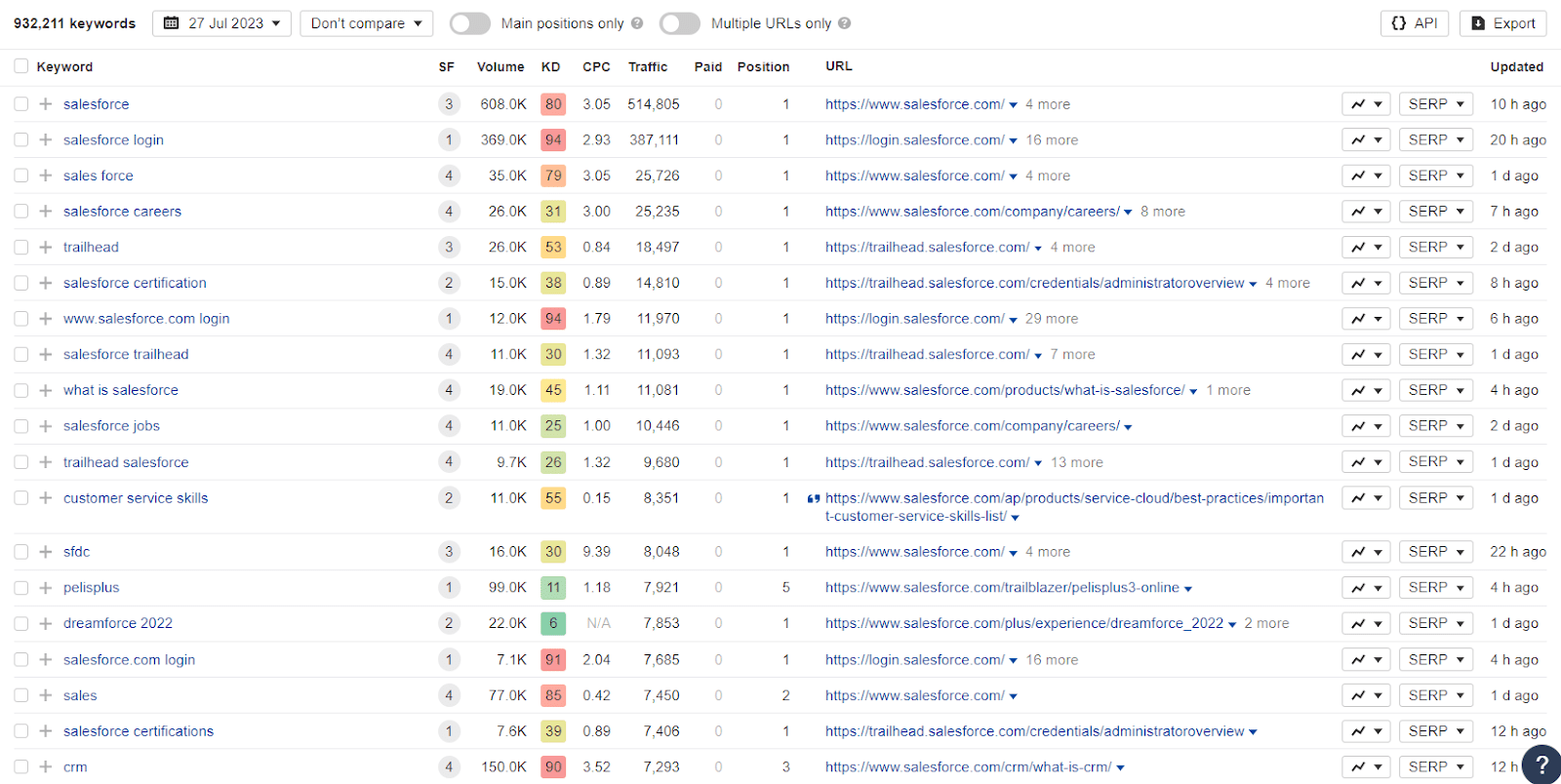 The keywords that bring the most traffic to Salesforce pages include 'CRM', professional development terms like 'customer service skills', and general queries such as 'what is salesforce'. This is a great example of how even famous brands like Salesforce can use a huge range of keywords to attract free organic traffic on Google.
Although Salesforce will have a huge marketing budget available, they don't waste money on ad campaigns when SEO is doing well. PPC ads involve essentially buying traffic. This means your revenue will likely drop once you stop paying for ads; however, if you apply tried and tested SEO practices to your site, like our two example B2B SaaS case studies. In that case, you can sustain your search positions and continue getting traffic even if you shift your focus elsewhere.
Consider hiring an SEO agency to boost your website's rankings on Google. The experts will ensure the best methods are applied to your site so you can achieve your growth goals. Although there is an upfront investment, you will likely save money long-term.
SEO Analytics and Reporting
When it comes to SEO, tracking and reporting performance is key to running a successful strategy. You need to analyse key metrics to understand what's working, what's not, and where there's room for improvement. It's about making informed decisions based on hard data, not just gut feelings.
Here are some key SEO metrics that every B2B SaaS company should be tracking, along with the recommended tools for tracking each metric:
| | | |
| --- | --- | --- |
| Metric | What It Measures | Recommended Tool |
| Organic Traffic | The number of visitors coming to your site from organic search | Google Analytics |
| Keyword Rankings | How your site ranks in search engine results for specific keywords | Ahrefs, SEMrush |
| Search Visibility | The percentage of all possible organic clicks your website is getting for a set of tracked keywords | Ahrefs, SEMrush |
| Traffic Value | The estimated cost of organic search traffic if it were to be purchased through paid search | Ahrefs, SEMrush |
| Organic Traffic Conversions | The number of conversions (e.g., sign-ups, downloads, purchases) that come from organic traffic | Google Analytics |
| Referring Domains | The number of unique domains that link to your site | Ahrefs, Moz |
| Indexed Pages | The number of your site's pages that search engines have indexed | Google Search Console |
| Index Coverage Errors | Errors that prevent your pages from being indexed by search engines | Google Search Console |
| Core Web Vitals | Metrics that measure the speed, responsiveness, and visual stability of your site | Google Search Console |
| Website Health | The overall health of your website, including technical issues and SEO errors | Ahrefs, SEMrush |
Recommended SEO Tools
As shown in the section above, there are several SEO tools that can help with tracking and reporting. Each has its own pros and cons, mostly surrounding usability and price. Here is a bit of a breakdown to help you get familiar with the SEO platforms the experts are using.
Google Analytics
This is a web analytics service offered by Google that tracks and reports website traffic. It provides valuable insights that can help you improve your SEO efforts for your business.

Pros:
Provides a huge amount of data and a great starting point for SEO tracking
A complete view of website traffic and user behaviour
Integration with other Google products, such as Google Ads and Search Console
Cons:
It can be tough for beginners to use
Data privacy concerns as user data is stored on Google's servers
Pricing: Free for small businesses. Google Analytics 360, the premium version, is available for big enterprises, and pricing is custom.
Google Search Console
This free Google platform can help you monitor, maintain, and troubleshoot your site's presence in search results.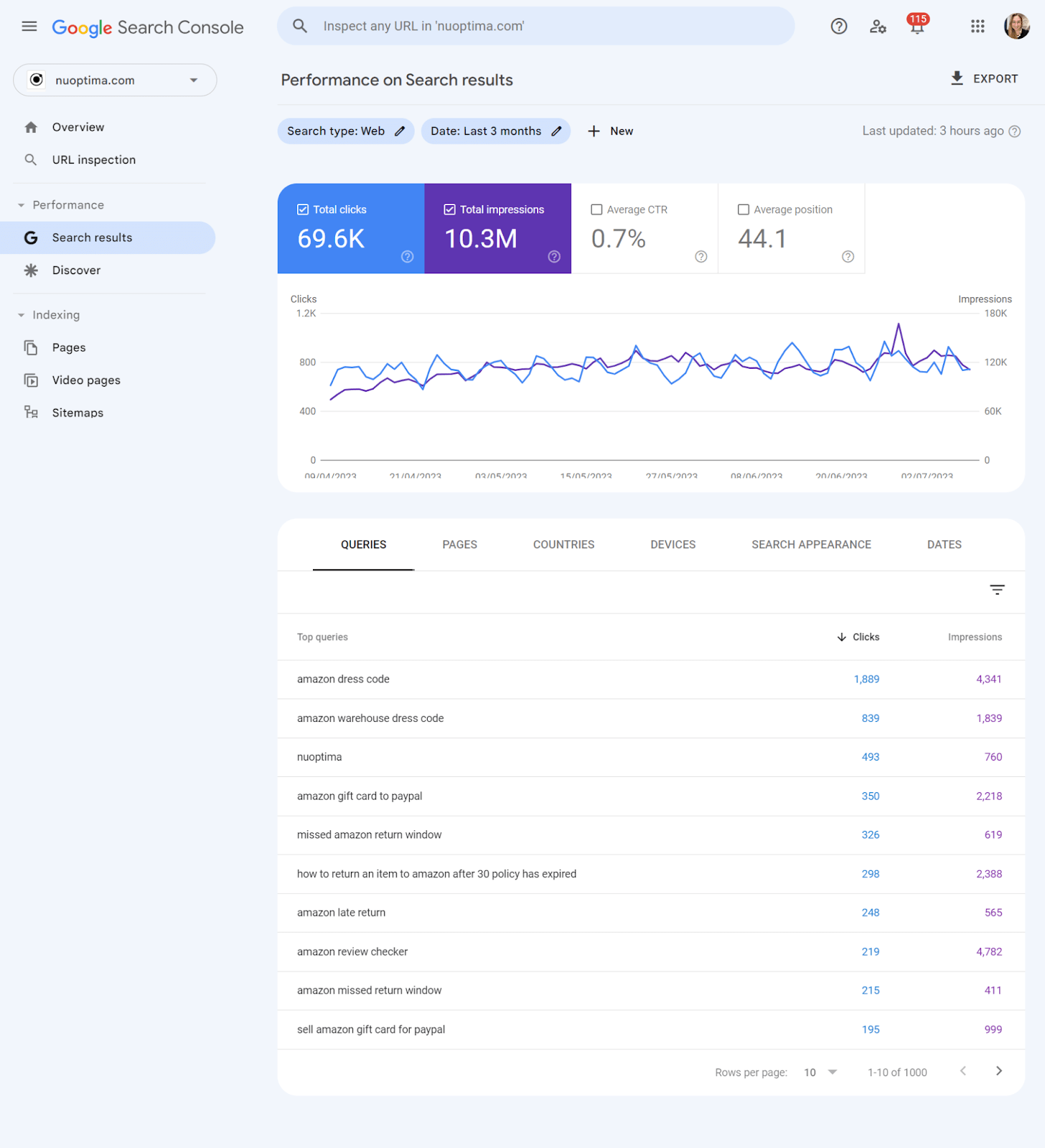 Pros:
Provides insights into how Google's search bots view your site
Lets you submit sitemaps and individual URLs for crawling
Alerts you about site errors and security issues
Cons:
The data provided can sometimes be hard to understand for beginners
Limited to Google's search engine
Pricing: Completely free to set up and use.
Ahrefs
Ahrefs is a comprehensive SEO tool that includes keyword research, competitor analysis, backlink research, content research, rank tracking, and web monitoring.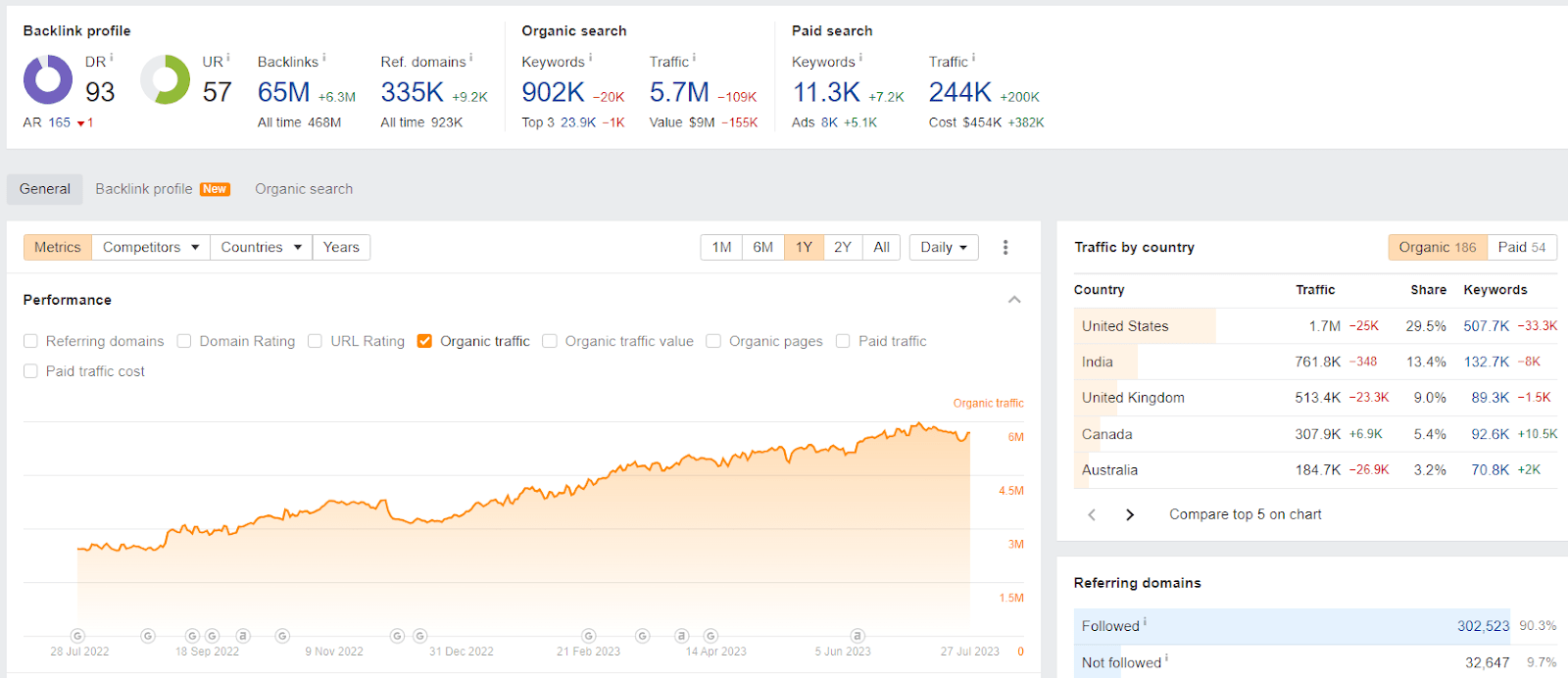 Pros:
Provides extensive data on backlinks and keywords
User-friendly interface with excellent customer support
Regularly updated and accurate database
Cons:
Small businesses and individual users can find it too expensive
No integration with Google Analytics or Search Console
Pricing: Plans start from $99/month for individuals and go up to $999/month for agencies.
Semrush
Semrush is an all-in-one digital toolkit for marketing professionals. It provides tools for SEO, PPC, content, social media, competitive research, and more.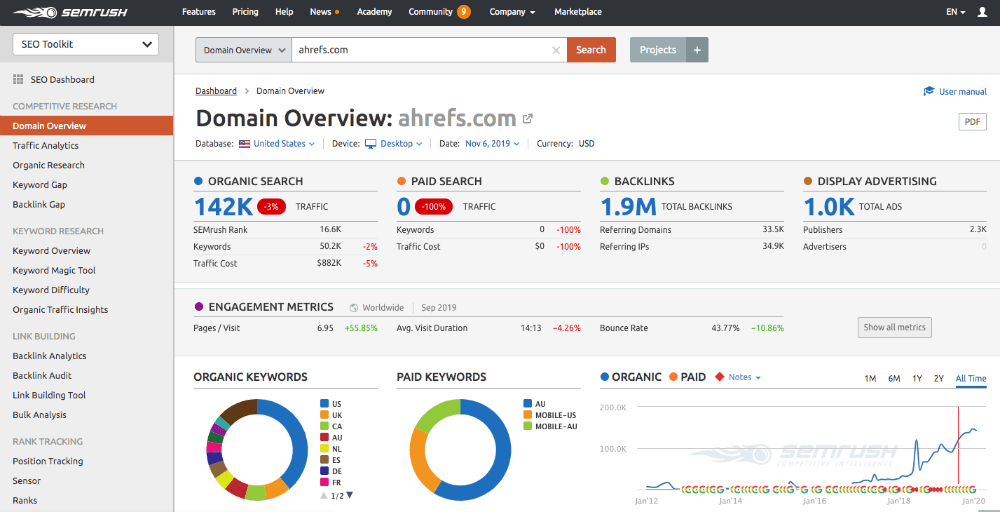 Pros:
Offers a lot of features and tools in one platform
Provides detailed and accurate reports
Excellent for competitor analysis
Cons:
It can be overwhelming for a novice due to the number of features
Some tools may not be as in-depth as standalone platforms
Pricing: Plans start from $129.95/month and go up to $449.95/month for businesses.
Moz
This all-in-one platform offers SEO tools like keyword research, link building, site audits, and page optimisation insights.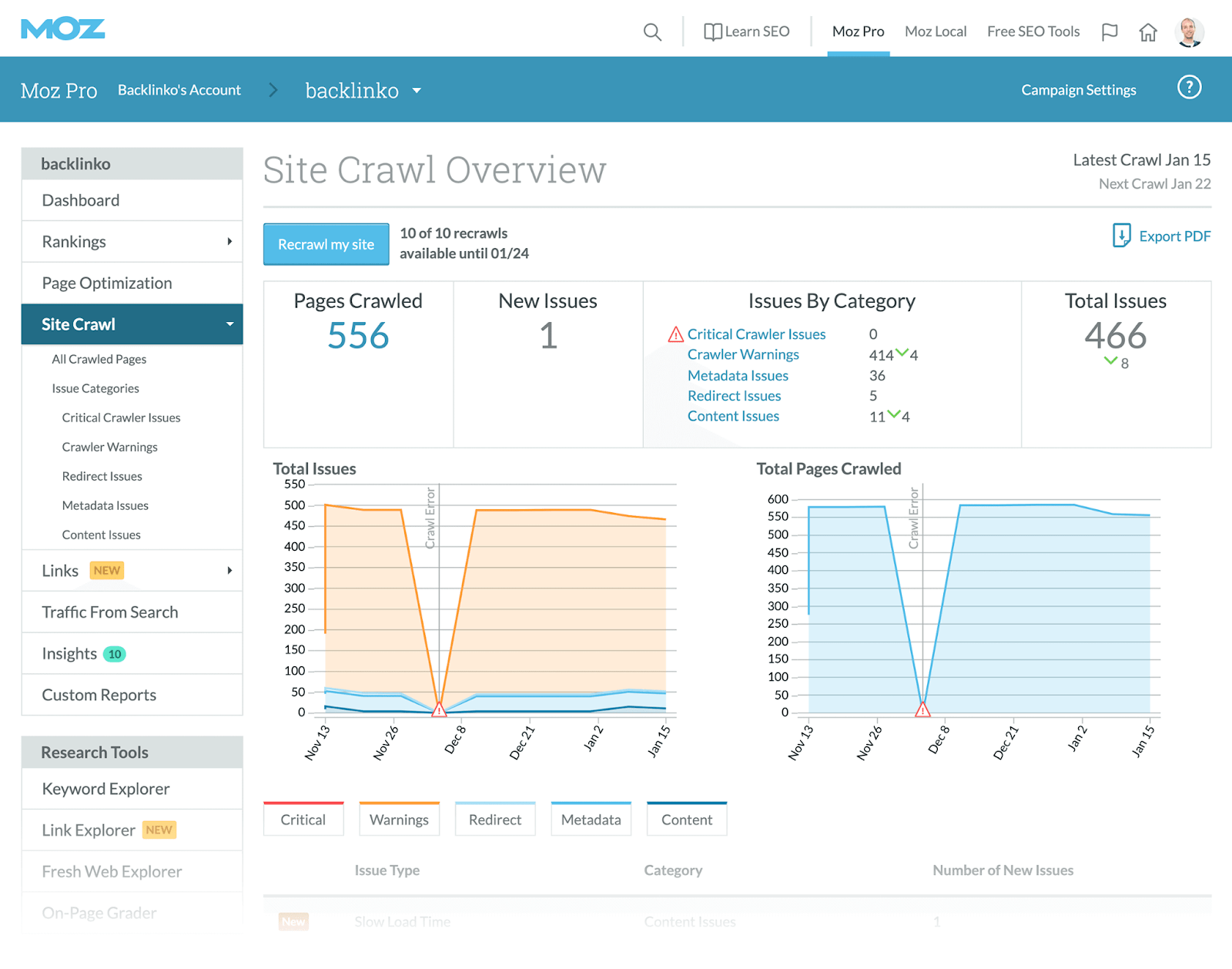 Pros:
Easy to use with a clean interface
Offers proprietary metrics like Domain Authority and Page Authority
Excellent educational resources for SEO
Cons:
Some features are not as robust as other dedicated tools
Higher price point compared to other tools
Pricing: Plans start from $99/month and go up to $599/month for premium features.
Even with the right tools and data being reported on a regular basis, it's not easy to succeed at SEO without technical knowledge and experience. Getting these tools set up on your site is another challenge in itself. It is worth reaching out to an SEO company to help you get started and manage the day-to-day work so you and the team can focus on your SaaS solutions.
What Does an SEO Company Do?
SEO is a valuable investment for B2B SaaS companies, but achieving top-tier results requires a blend of expertise, skill, and diligent work. This is particularly true for websites operating in the competitive tech and software industries. Search engines like Google set high standards for websites that provide services or content related to these sectors to prevent low-quality websites from dominating the top positions in search results.
At NUOPTIMA, we have proven experience working with brands in the tech and software industry. Our experts know what it takes to get your B2B SaaS website to appear on the first page of Google. Here are just a few of the things we can do to help improve your SaaS website's Google rankings:
Secure the placement of links on reputable tech and software websites.
Craft SEO-optimised content to help your website rank for more keywords on Google.
Optimise existing pages to comply with Google's rules and best practices.
Develop all the necessary pages to help your website attract as much organic traffic as possible.
Effective SEO can yield excellent results when executed correctly by qualified professionals. At NUOPTIMA, we have a strong SEO team with the expertise needed to make your website successful and profitable. Schedule a free discovery call with our team today.