Key points
You can't prevent other people from selling your brand's products on Amazon, but you can take steps to ensure that it doesn't hurt your business.
The first thing you should do is apply for the Amazon Brand Registry program to gain more control over listing for your products on the platform.
Additionally, you should continuously monitor product listings and make sure the information in them is accurate, report counterfeit products, and create strict reseller policies that all of your wholesale buyers and distributors will have to adhere to.
Does your company manufacture some product, and you want to figure out what you can do to prevent third parties from selling your products on Amazon. Or maybe the situation is reversed, and you are a seller who wants to find out how to get permission to sell brands on Amazon? No matter which side of the fence you're on, it's crucial to understand Amazon's policies regarding branded broducts and know what steps you can take to protect your brand. Keep reading this article to find out the details!
Understanding Amazon's philosophy on brand protection
When companies first start selling their products on Amazon, they quickly find out one thing – Amazon is focused on providing the best experience for the customer, not for the seller. This is unfortunate but understandable, so you simply need to know Amazon's policies and understand how to adjust your business to them. And one of the key things is understanding what rules the platform applies to its product listings.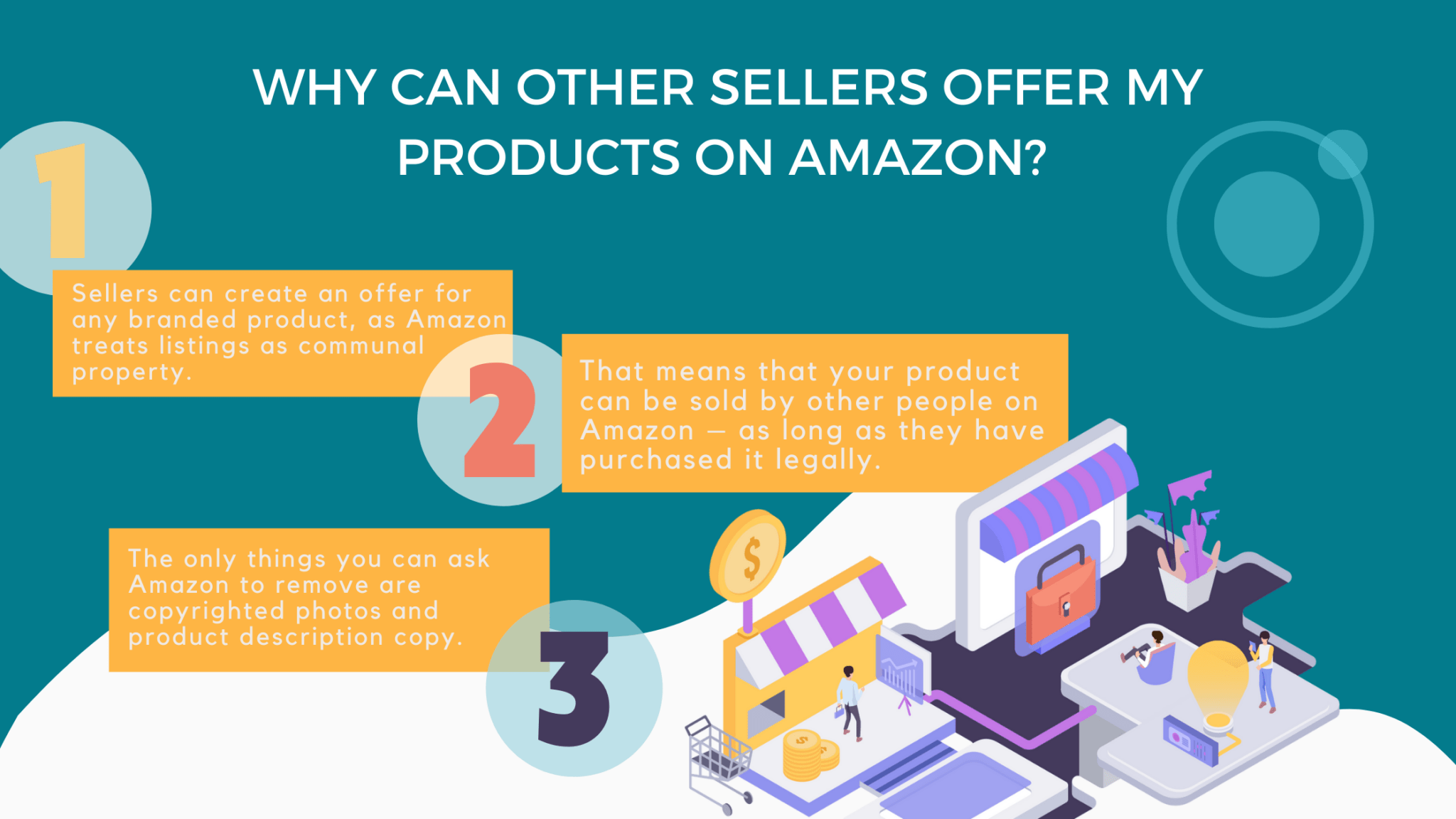 Amazon treats listings as communal property. If someone is already selling an identical product to yours on the platform, you can add your offer for this product. The same goes for your product listings – other sellers can add their own offers if they sell the same products and won't violate any rules.
Even if you don't want other people to sell your products on Amazon, there's nothing you can do about it. You can ask the e-commerce giant to take down your copyrighted photos or product description copy, but they won't remove the product itself.
Anyone can sell any product on Amazon as long as they obtain this product legally.
Amazon will not remove products from its platform if third parties break the rules of their reseller agreements with the product manufacturer.
All of this sounds pretty bad for sellers, but fortunately, there is good news too. There are plenty of strategies you can use to protect your brand on Amazon, and you just need to know the right ways to do it. Check out the next section for ideas and tips.
Ways to protect your brand from other sellers on Amazon
Join the Amazon Brand Registry Program
Whether you run a small company that makes just a handful of products or a huge corporation that has hundreds of items in its catalog, you should strive to join the Brand Registry Program as soon as you start selling on Amazon. Being a member of this program allows you to gain access to numerous brand protection and promotion tools that are not available to sellers outside of this program. Here's a short list:
Brand analytics
A dedicated tool for reporting copyright and trademark infringement
Virtual bundles
Storefronts
Brand dashboard
A+ content
Amazon Live
Amazon Vine
Amazon attribution
Sponsored brands
When you join the Brand Registry program, Amazon will give you access to its dedicated tool that can be used to search for brands that use your copyrighted images and trademarks in their listings. Once you discover that someone is infringing on your intellectual property, you will be able to automatically report those sellers using the tool. However, you should make sure that the sellers in question are actually breaking Amazon's rules before filing a claim. If you file several complaints that are later deemed to be invalid, Amazon can remove your ability to submit further complaints.
Keep in mind that enrolling in the Brand Registry program still won't give you the ability to prevent other people from selling your branded products on Amazon. However, it will give you more control over the way they are presented.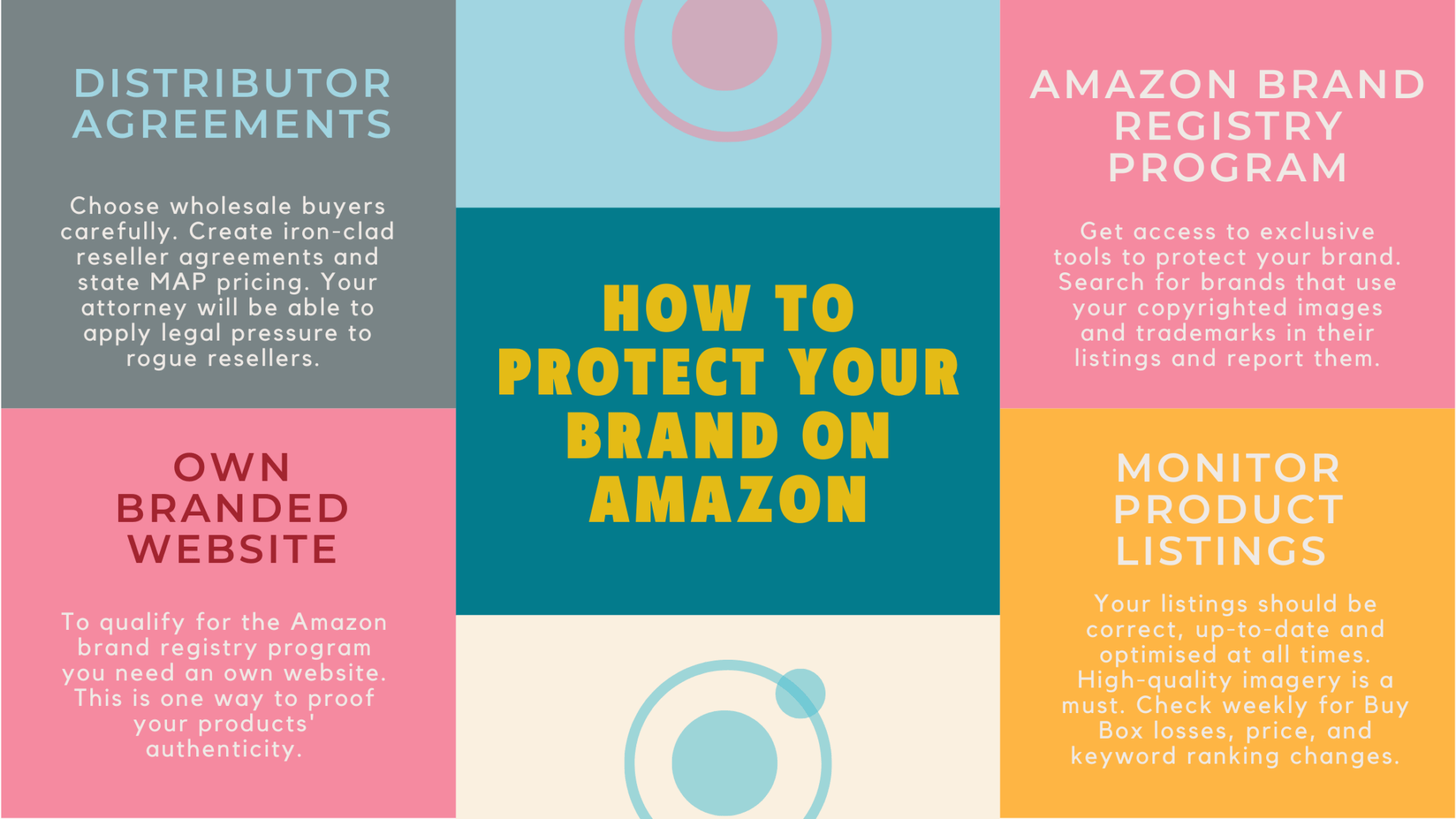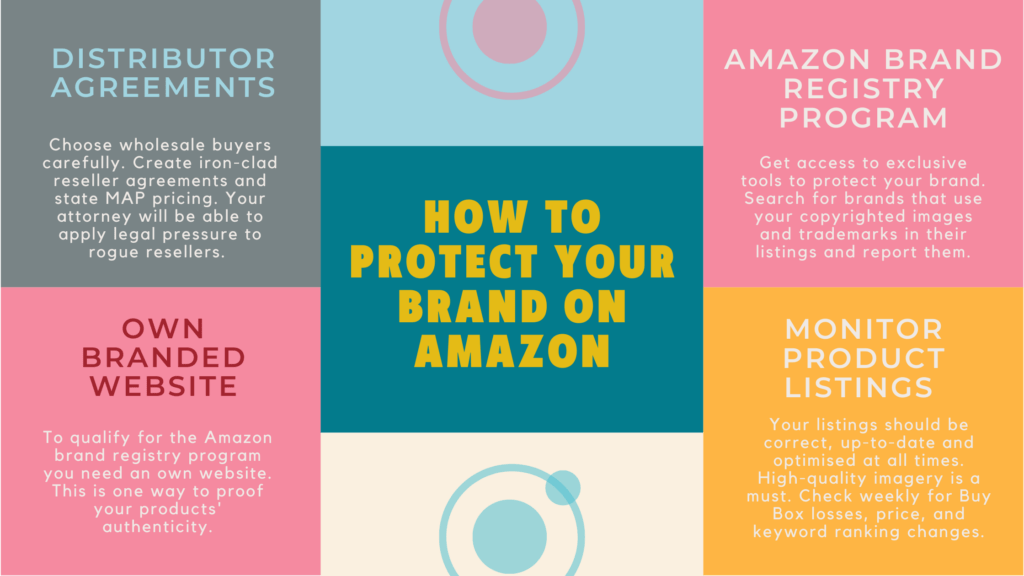 Monitor product listings
As you might already know, any seller can create and edit product listings on Amazon. However, if you own the brand that manufactures the product, it's in your best interest to make sure that the listings for your products are accurate, up to date, optimized, and contain high-quality pictures. After all, someone can purchase your product online or at a store, take a few blurry photos, and write inaccurate information in the description, potentially opening you up to sanctions from regulatory agencies or complaints from unhappy customers. This is why many companies invest a significant amount of time and money into creating the best possible listings for their products and subsequently monitoring these listings.
Of course, if your brand is enrolled in the Brand Registry program, the information you state in product listings should take precedence over the changes third-party sellers attempt to make, but this doesn't always happen. To avoid potentially disastrous consequences, you should dedicate a staff member to monitor all listings for your brand's products at least once a week. You can also utilize Amazon Listing Protection to get alerts for Buy Box losses, price, and keyword ranking changes.
You should also keep one or several files with complete product listings. If you discover that a product listing has been changed by an unauthorized individual at any point, you can quickly change the listing back to its original state using your copy of the information.
Focus attention on the brand
Even if most of your sales occur on Amazon, you should still maintain an up-to-date website for your brand. Plus, you should always put the brand name on the packaging of each product you sell. Both of these will help you prove the ownership of your brand and the authenticity of your products. Plus, Amazon actually requires you to do these things if you want to join the Brand Registry program.
Sign agreements with distributors
In many cases, the problems product manufacturers face occur directly due to actions taken by distributors. Even though Amazon will not enforce your agreements with distributors or remove sellers from the platform even if they are selling your products without authorization, you can still do everything in your power to ensure that distributors don't hurt your business. Here are some suggestions:
Create an iron-clad reseller policy and make sure it's stated on all the documents distributors sign. Even if Amazon doesn't enforce these documents, your attorney will be able to apply legal pressure to rogue resellers.
Choose wholesale buyers carefully and vet each company before going into business with them. A wholesale buyer acting in bad faith can cause a lot of damage to your company.
Avoid selling large amounts of products if you suspect that the customer may be selling your products online.
State MAP pricing in reseller agreements to prevent other sellers from pricing you out of the platform.
Report counterfeit products
Follow these steps if you suspect that someone is selling a knockoff of your product on the platform:
As soon as you discover the suspected counterfeit product, take a screenshot of the listing, the name and ID of the store, and the legal business name and address shown on the storefront.
Buy the product using your Amazon account.
Take photos and videos of the product and its packaging, compare the original and counterfeit products side by side, noting all the differences.
Send this evidence to Amazona and explain the reasons for your complaint in detail.
Avoid using stickerless commingled products
If you use the Amazon FBA program to distribute your products, you will have the option to ship your products without applying Amazon barcode stickers to them. While this is sometimes a more convenient option, you should avoid using it because it can cause your authentic products to be mixed with knockoffs.
Think about becoming a vendor
The difference between Amazon sellers and vendors is that the first group sells products directly to customers. In contrast, the second sells products to Amazon itself, which then resells them to consumers. By becoming a vendor, you can gain almost complete control of all the information about your products on Amazon.
Hire an agency
Running all of your Amazon operations in-house can be very difficult and time-consuming. If you want to achieve the best results with your Amazon business, it's a good idea to hire an experienced agency that can help your company grow and increase your profits. Schedule your free discovery call with one of NUOPTIMA's Amazon growth experts today and start your journey towards a more profitable Amazon business.
Talk to an Amazon expert
We work with 100+ businesses. Book a slot now to talk to one of our experts.
---
FAQ
Can you register a brand on Amazon without a trademark?
No, sellers need to have a valid registered trademark to be eligible for the Brand Registry program.
How do I know if a brand is registered on Amazon?
If you are a buyer, you can find out if an Amazon seller is registered by checking if they have a store on the platform or seeing if they use A+ content in their product listings.
How much does it cost to register a brand on Amazon?
Registering a brand on Amazon is free, but you will need to pay a few hundred dollars to get a trademark since this is one of the main requirements for Amazon Brand Registry eligibility.