Key points
Amazon Brand Registry program allows sellers who hold an official trademark for their brand to get access to a suite of tools that can be used for brand protection and promotion purposes.
Participation in the Brand Registry program will not allow you to prevent other vendors from selling your products on Amazon.
Once you join the Brand Registry program, you will be able to create an Amazon storefront for your brand, get access to advanced analytical tools, gain an opportunity to search Amazon for your trademark-protected content, submit claims regarding IP infringement, and more.
While selling merchandise on Amazon may seem like a simple business idea, it gives you an opportunity to build a successful business that brings in a lot of revenue. However, creating your own brand and selling your products on Amazon may feel like you're balancing on the edge of a knife. On the one hand, Amazon is an e-commerce behemoth that can help your product reach hundreds of millions of customers, but on the other hand, competition on the platform may end up squeezing you out of the market and replacing your products with cheap and low-quality knockoffs. As a result, there are several things that make business owners apprehensive of selling their products on Amazon:
A huge number of competitors selling low-cost, low-quality products from Chinese suppliers
The possibility of being squeezed out as the middle man between suppliers and customers
A large number of hijackers on the platform
All of these factors can lead sellers to lose Buy Box sales and, as a result, experience a significant drop in income. But what can sellers do to protect their brands from such consequences? The answer is simple – enroll in the Amazon Brand Registry program. This service aims to help businesses protect their brands against dodgy sellers on the world's largest online marketplace.
In this article, we'll explain how you can join this program, talk about how it works, and explain what benefits it offers.
What is Amazon brand registry?
Amazon Brand Registry is a service that verifies and protects brands with registered trademarks. It also gives sellers access to advanced tools that they can use to promote their brands and monitor other sellers' listings for content that violates their intellectual property rights.
The program allows merchants to have more control over their own businesses. For instance, after joining the program, you will get access to a dedicated support team, which will assist with listing issues, technical problems, and intellectual property infringement. Plus, you will be able to utilize advanced marketing features such as A+ Content and Amazon Storefront for your listings.
What to expect from participating in the Amazon brand registry program
Even though this program is a great tool that every seller can benefit from, it has limitations. Therefore, it's essential to understand what exactly participation in this program can and can't provide before going through all the steps to join it.
Amazon Brand Registry provides sellers with:
Monitoring tools for your Amazon brand.
More control over the contents of your listings.
Automatic reporting of suspected violations.
Access to an internal team dedicated to examining and processing IP infringement claims.
Access to Amazon A+ Content.
Marketing tools that can help improve brand visibility.
However, participation in the program will not:
Allow you to prevent other sellers from distributing your products on the platform
Give you the chance to choose who can and can't sell your products on Amazon
Allow anyone besides the brand owner to submit trademark and copyright infringement complaints to Amazon
How to join the brand registry program on Amazon?
Amazon Brand Registry is a terrific tool that provides sellers with many opportunities to optimize and expand their businesses. However, there are a few steps brands have to take to participate in the program.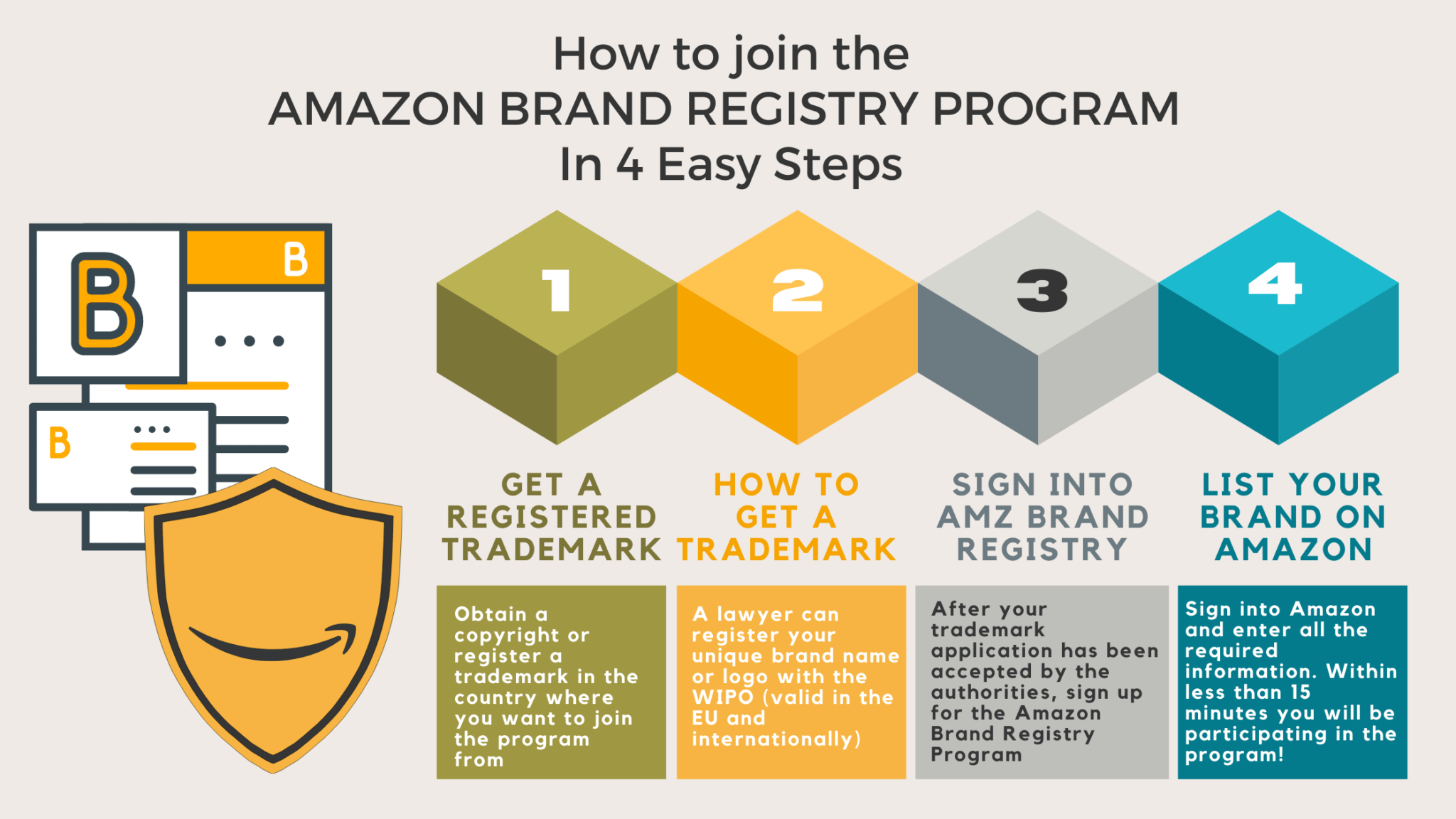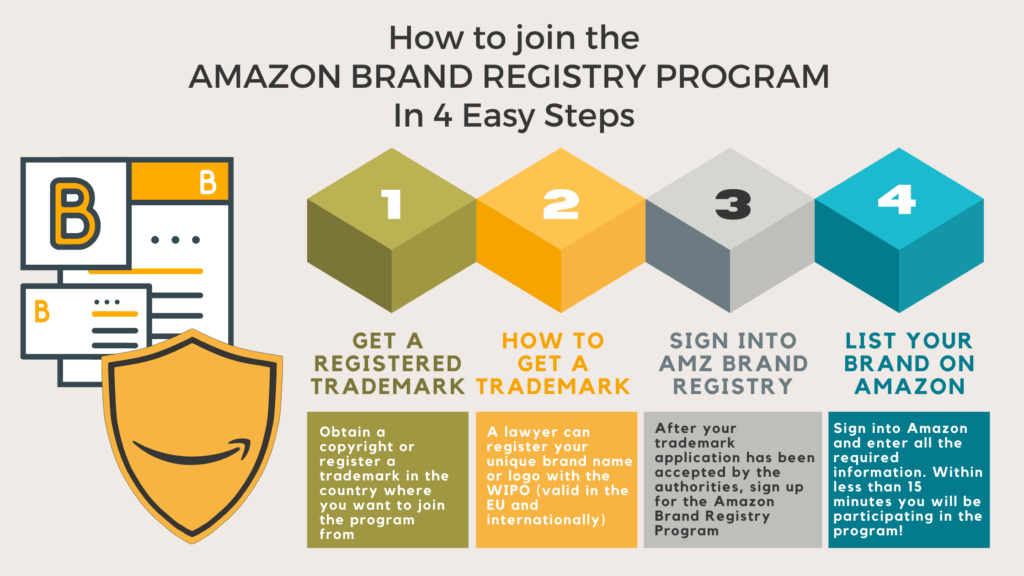 Get a registered trademark
You must have a current registered trademark to join the Amazon Brand Registry program. Keep in mind that you need to have a registered trademark in the country where you want to join the program. Both text-based trademarks and image-based trademarks with symbols (numbers or letters) are accepted by the e-commerce platform.
While applying for the program is free, obtaining a copyright or trademark usually requires you to pay a fee. The cost varies between $200 and $400, depending on the registration location and the type of protection you're applying for. You may also need to pay additional costs.
How do i get a Trademark?
Make sure your trademark name is distinct from other registered trademarks. You can use dedicated databases to check if your brand name already has a trademark attached to it. For instance, in the US, you can use the USPTO (the United States Patent and Trademark Office) database to conduct an extensive search and check other names and logos. If you're planning to sell products in the UK, EU, or internationally, you should apply to WIPO instead.
Choose a class for your trademark when registering it. The trademark logo determines what type of products can be sold under it. The price of the logo will depend on the trademark class you select.
Find a licensed lawyer to file your trademark application.
The process of registering your trademark with the USPTO or another trademark agency located in a different country can take up to a year, but Amazon approval will go much faster. Moreover, you can use the IP Accelerator service, which has a database of curated Intellectual Property (IP) attorneys who provide trademark registration consultations. If you use the IP Accelerator service to find an IP specialist, your product will be approved for the Brand Registry before your trademark application is accepted. If you have met all of the requirements (for example, you will need to have a registered trademark in each country where you sell your products), Amazon will take about 2 weeks to review and approve your brand registry application.
Sign Into Amazon brand registry
After your trademark application has been approved, you need to sign into Amazon Brand Registry. If you are already selling on Amazon, you do not need to create a new password and username, just use the same information to log in.
List your brand
Finally, you will need to enter all the required information on the website. It takes around 15 minutes, and voila, you are participating in the Brand Registry program!
Amazon brand registry benefits
According to statistics, more than 130,000 brands use Amazon Brand Registration. Many of these companies report that the number of violations they've had to deal with has diminished significantly since the program's inception. As a result, many sellers now cannot imagine doing business without brand protection.
The Amazon Brand Registry program gives sellers access to a wide range of features that can be broken down into several categories depending on the goals they help to achieve:
Gain a better understanding of customers needs
Brand analytics
Registered brand owners gain full access to Brand Analytics which they can use to optimize their business operations. This tool tracks and reports on customer search and purchase behavior. You can find this feature on the Brand Dashboard in the Brand Benefits section.
Amazon search terms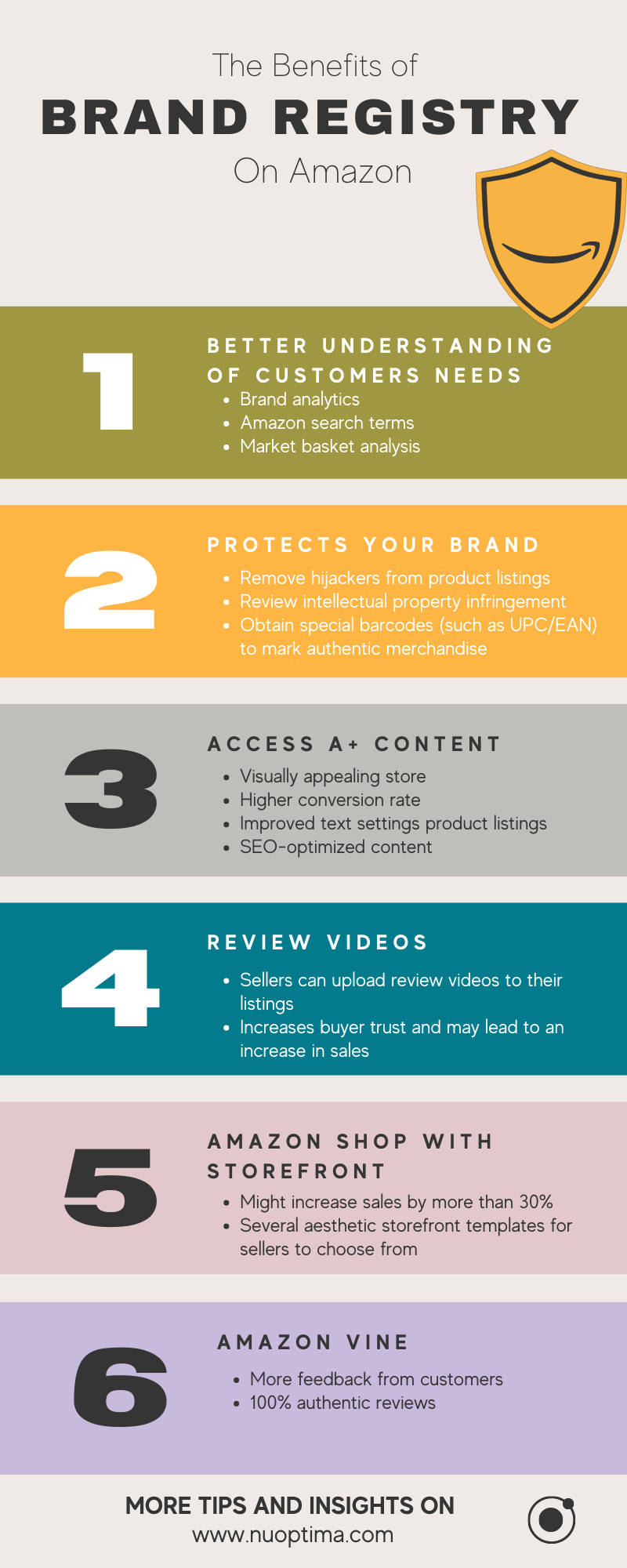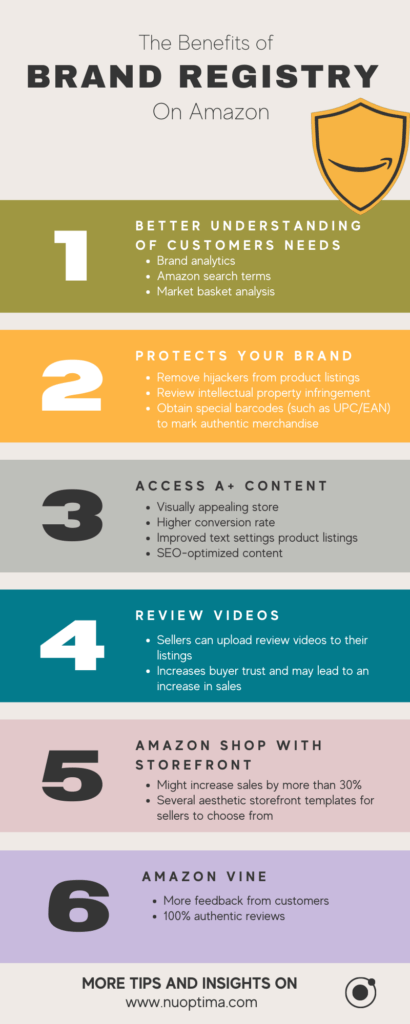 This tool helps sellers find the most popular products among Amazon customers based on the keyword search volume and other metrics. Sellers can use this feature to figure out how to improve their marketing strategy and increase the sales of other products.
Market basket analysis
This tool examines which products customers purchase together. This information can help you understand how you should expand your product catalog, find out which bundles to offer, and discover cross-selling opportunities.
All of these tools assist brands in providing accurate information to customers and developing successful marketing strategies. Understanding customer behavior is essential for increasing sales and guiding your business to success.
Protect your brand
In addition to offering a trove of analytical information that can help you optimize your business, Amazon Brand Registry allows you to protect your brand's reputation. For insurance, you will be able to contact Amazon's support team at any time to report marketplace violations or manipulations with your products, and they will assist you in removing hijackers from your product listings and resolving any issues that may arise. This team will also review all claims of intellectual property infringement.
Furthermore, program participants can use the tool called Transparency. This feature allows sellers to obtain special barcodes (such as UPC/EAN) for their products to ensure that customers receive only authentic merchandise. However, sellers will need to meet the following requirements before they can be eligible for Transparency:
Be able to verify yourself as a brand owner
Have a Global Trade Item Number (GTIN)
Be able to apply a unique Transparency code to each unit you produce
Access A+ content
All businesses that join the Brand Registry program gain access to the A+ Content Manager (formerly known as Enhanced Brand Content). You can locate this tool under Brand Benefits or in the Advertising navigation tab. This feature allows you to improve the text settings on your product listings and make them more visually appealing. Your descriptions will appear much more professional and will attract more customers as a result. Some sellers state that implementing A+ Content gave a significant boost to their conversion rates. Ultimately, this tool not only helps you improve the readability of your text but also optimizes your content from an SEO angle.
Improve product sescriptions
Registered brands get access to several features that can help their product descriptions and stores stand out and attract more traffic. Here are some of these tools:
Video production
Amazon sellers who don't have access to Brand Registry tools cannot upload review videos to their listings. This capability is available only to brand-registered retailers. It increases buyer trust and allows customers to see the product in action, which may lead to an increase in sales.
Amazon storefronts
Registered brand owners get the opportunity to create an Amazon storefront for their brand. This can provide a significant boost in sales, as many companies have reported that their sales increased by more than 30% after they created a storefront.
Amazon gives sellers access to several storefront templates, which greatly simplifies the process of creating a brand page. Sellers are only responsible for filling out the template with well-written product information and uploading product images and other media to the page.
When designing your storefront, don't forget to test it on both desktop and mobile devices to ensure that it looks good on all screens. It is also crucial to double-check all of the descriptions to ensure that there are no spelling or punctuation errors and that the videos are uploaded in good quality, as Amazon will need to approve your storefront each time you make changes to it.
Amazon vine
As a seller, you're most likely aware of how difficult it is to persuade customers to leave reviews after purchasing your product. Fortunately, there is a great way to get a lot of customer feedback on your Amazon product pages. This is where the Amazon Vine program comes in. This program will send your products to approved customers in exchange for a review. However, there are a few potential downsides to this program that you should be aware of. For instance, approved buyers usually give candid reviews, so you should participate in this program only if you're 100% confident in your product and can be sure that customers leave positive feedback.
Final thoughts
Participation in the Amazon Brand Registry program can protect your brand, significantly increase the number of your customers, and improve your business strategy. It's worth noting that we've only discussed the main features of this program in our article, but there are many more things you should know about the brand registry and Amazon in general if you want to build a successful business on the platform. Since it's incredibly difficult to compete with millions of other Amazon sellers when doing all of your operations in-house, we advise each Amazon seller to seek professional assistance by hiring an agency to help grow their Amazon business. Sign up for a free discovery call with one of NUOPTIMA's top Amazon specialists, or leave your email address so we can contact you and tell you more about our agency's work.
Talk to an Amazon expert
We work with 100+ businesses. Book a slot now to talk to one of our experts.
---
FAQ
How do I know if a brand is registered on Amazon?
There are several methods you can use to determine whether a brand is registered on Amazon. The simplest way is to see if the brand has an Amazon store or A+ Content on their product listing pages. You can also access the official trademark registration database in the US or worldwide (USPTO or WIPO) to conduct extensive research on registered brand names and logos. If the brand doesn't have a trademark, it's likely not registered on Amazon.
Is brand registry mandatory on Amazon?
No, you can sell on Amazon without becoming a member of the Brand Registry program. However, if you want to stay competitive on Amazon and keep your brand from being hijacked, you should seriously consider joining this program.
Can you sell a product without a trademark?
You do not need a trademark to sell products. However, if you want to create a registered brand on Amazon, you must obtain an active registered trademark.