When you think about selling or buying products online, eBay is probably one of the first platforms that pop into your mind. This website has long been one of the most popular eCommerce marketplaces worldwide. The number of live listings present on the platform at any point in time exceeds 1.6 billion. Since its grand opening in 1995, the number of active users of this platform has increased to 171 million. The site has virtually anything you could wish for, starting with clothes and accessories and ending with vehicles and sports goods. Nevertheless, more and more sellers are leaving the platform looking for alternatives to eBay. There are numerous reasons behind this, including significant policy changes, high fees, and intense competition. In addition, making your listing stand out among thousands of others can be a pretty challenging and time-consuming task.
The good news is that there are plenty more alternative retail sites where you can sell your products. In this article, we will guide you through the most popular options and explain their advantages and downsides.
Top Websites Like eBay Where You Can Sell a Wide Range of Products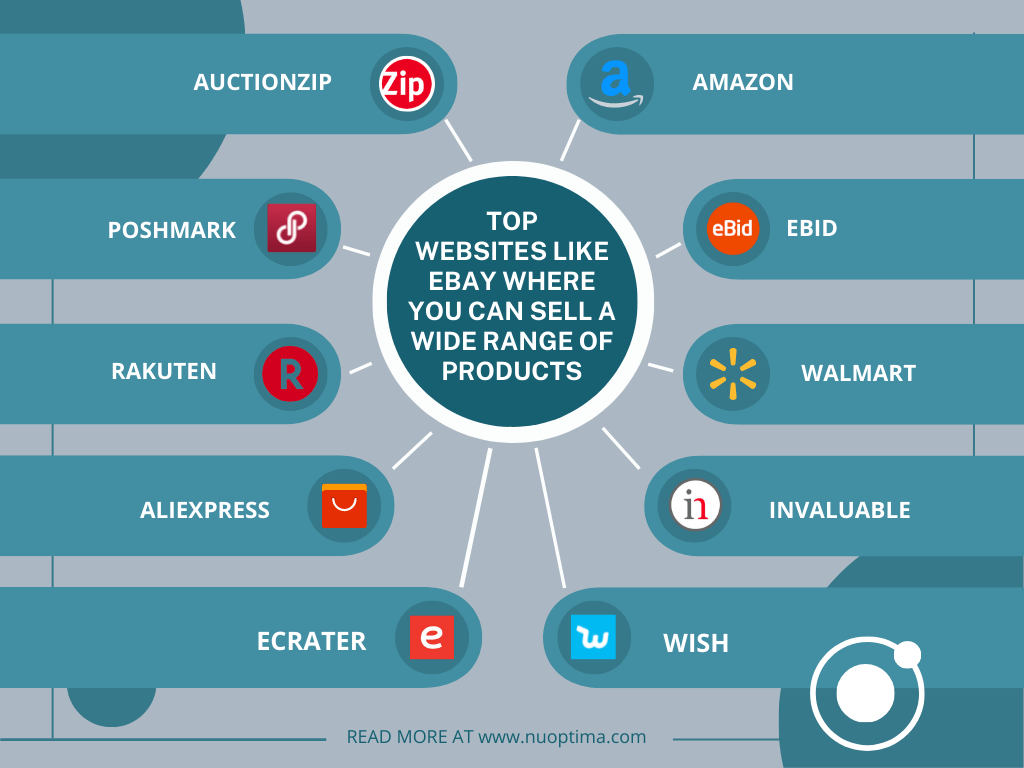 Amazon
The mind-blowing history of success of one of the biggest retail giants that started as a small bookstore is well-known across the whole world. And it's not surprising, as Amazon is one of the most frequently visited websites, selling billions of items across a wide range of product categories. The goods listed on the platform are sold not only by Amazon but also by third parties, including large brands, resellers, and even individuals. In addition, Amazon has a large international presence. There are more than 17 Amazon marketplaces in various countries across the world.
Both Amazon and eBay have huge customer bases. If your business meets all the requirements of a large platform and can successfully stand out among others, customers will be more inclined to purchase your products, provided you are a trustworthy seller with a good ranking. And the bigger the customer base of the platform where you're selling is, the greater your income can eventually become. However, there is a price to pay, as a large number of potential customers on a platform ensues higher fees and more competition.
Amazon offers a plethora of useful features for sellers, as well as powerful tools intended to assist them in selling more products on the platform. One huge advantage of Amazon is its built-in algorithm that offers your products to customers who are inclined to take an interest in them based on their search history. Another tool that can increase your traffic is the Amazon buy box.
Since eBay is an auction site, customers will usually bid to buy your goods unless you list them as "Buy It Now". Amazon, on the other hand, uses a classic retail setup that enables instant sales at a fixed price.
When it comes to the fees, Amazon is a definite winner. eBay doesn't charge sellers when a purchase is made. Instead, you have to pay a fee when you create a listing for your product on the site, regardless of whether it will be sold or not. On Amazon, it's free to list products. You won't have to pay anything until someone buys your product. People with a basic seller account have to pay a fee of $0.99 per item sold, while people with a professional seller account pay a $39 monthly charge but are exempt from extra fees for each item sold. The commission for the sale is mandatory for both account types. The amount of commission fluctuates depending on the product type, but generally, it is around 15%.
Another difference between the two websites is that eBay doesn't sell anything itself, which is why it isn't good at providing additional facilities to buyers and sellers. Therefore, it is the sellers' responsibility to ensure that their customers have a good experience. Amazon, on the other hand, provides various perks for buyers who have paid for a Prime membership (including free 2-day delivery on all eligible items) and an overall great customer service, which serve as incentives to bring in more repeat shoppers.
Amazon FBA is a great option for smaller sellers to facilitate the fulfilment of orders on Amazon. Sellers can simply ship their products to Amazon and pay the platform a fee to handle order fulfilment and handle customer care – something that eBay cannot do.
eBid
eBid is a trusted marketplace that resembles both eBay and Amazon a lot, meaning it provides auctions as well as fixed-price items. The platform allows people to sell almost anything. However, since it is less popular than other sites, the number of people you'll be selling your products to will be much smaller, and the traffic will be lower. Both eBid and eBay use a similar auction-style format for their product listings, though eBid doesn't charge a listing fee.
Free product listings and a modest 3% commission levied from each sale make eBid's marketplace pretty appealing for sellers. eBid is certainly a much cheaper option than eBay, but you should take into account that this platform is also less profitable. Overall, it's a low-risk option to try out, so if you're seeking a change, eBid is a good choice.
You can choose from two types of account levels – Seller and Seller+. The former is free to use, whereas the latter has a membership charge. This fee is levied on a weekly, monthly, quarterly, or annual basis. It is also possible to pay a one-time fee of $99.98 for a lifetime membership.
People using a regular Seller account have to pay a mandatory fee calculated as 5% of the final value fee (FVF) on each purchase. Seller+ account holders don't need to pay this fee in many cases. But even when they do, it's not higher than 2%. The final fee amount depends on the listing type and product cost.
Walmart
Originally created as a "brick and mortar" store, Walmart has now expanded into a "brick and click" retail giant and quickly mastered the e-commerce market. While in-person sales continue to account for the majority of the company's revenue, walmart.com is one of the most popular and frequently visited e-commerce sites in the USA. All inventory found in the physical stores can be purchased on the website, and many products are also available for one or two-day delivery.
In addition to selling their own products on their website, Walmart also allows third-party sellers to create listings on the platform. This allows you as a seller to take advantage of free listings without having to pay monthly membership fees. Instead, Walmart charges a referral fee for each sale, which ranges from 8% to 20% of the sale price.
Unlike eBay, this website only allows fixed-price listings. There is always a chance that you will face fierce competition from Walmart-owned brands which may be given precedence on the website. But this is not always the case, everything depends on the type of products you sell.
You should also prepare yourself for working with lower traffic. Your margins may also be lower compared to eBay or Amazon since Walmart favours competitively-priced products, meaning sometimes you'll be forced to cut your prices significantly.
Invaluable
Invaluable is an online auction platform designed for selling jewellery, fine art, and collectables. As of now, it has products from over 5,000 different sellers, including some of the world's first-rate auction houses. Invaluable offers both live and timed auctions. Many of them are open for in-person and online bidding.
If you want to sell on Invaluable, you'll need to represent a registered auction house.
Invaluable also provides a few more tools for sellers that can be helpful for expanding your business. As a seller, you will also benefit from this platform's on-site advertising and email marketing services, which will help you to increase the visibility of your company. And if you want to get a custom-designed site and mobile app to run auctions on your own, you should consider trying Invaluable Private Label.
Wish
If you are looking for a shopping application and eCommerce site that brings together buyers and third-party sellers, Wish is the perfect match. This marketplace is well-known for its extremely low prices and outrageously slow delivery. Since many merchants are in China, it can easily take weeks or even months for orders to arrive.
Apart from low prices, Wish's engaging in customer experience is the key to helping the platform attract more shoppers. For instance, each customer is shown a tailored feed based on their browsing history.
Brand owners, creators, manufacturers, DIY enthusiasts, retailers, and artists can sell their products on Wish. The company charges a fee of around 15% of the product's value on each sale.
Wish sellers may benefit from a few of the platform's useful features. ProductBoost enables sellers to advertise their best-selling items in an effort to gain more exposure and recognition. Sellers who have a successful selling record have an opportunity to obtain a badge that indicates that they have been validated by Wish. This is one more way to increase the shoppers' confidence, resulting in a higher number of purchases.
eCrater
eCrater has numerous advantages sellers can benefit from. For instance, the company allows sellers to set up a store for free. In addition, it offers different templates so that sellers can make their stores more visually appealing to buyers. You can also personalise your store by adding your company's branding to it.
eCrater sellers also love the feature that allows them to easily import their listings from eBay.
One downside of this site is that its quantity of buyers and traffic rate pales in comparison to larger eCommerce platforms. Therefore, eCrater works much better as a low-risk and low-cost complementary marketplace rather than the main source of income for a store owner.
As we've already mentioned, opening and running a store on eCrater is completely free, but sellers are charged a fee of 2.9% of the total sale price for each product sold.
AliExpress
These days it would be pretty hard to find a person who hasn't heard of AliExpress, as it is an international online marketplace and one of the most popular selling platforms in the world. It was created by the eCommerce giant Alibaba Group.
It is a perfect fit for businesses that wish to sell their goods directly to customers. The platform itself does not sell any products, which means all of the items found on the site are from third-party sellers.
Hundreds of products from dozens of categories are available on this platform. You can find almost anything you can think of there, starting with cell phone holders and 3D printers and ending with jewellery and stickers. While AliExpress is designed for direct-to-consumer sales, many shoppers use the platform to find items for reselling. AliExpress is especially popular among businesses that prefer to drop ship their inventory. It is a very convenient option for them since their orders can be shipped straight to the buyers right after they place the order on the platform.
To sign up as a seller on AliExpress, you will need to provide a tax registration number, business address, and company name. After you're done setting up an account, you can start adding as many goods as you want.
AliExpress doesn't charge sellers a recurring monthly fee or listing fee. However, the website takes a commission on each sale. Depending on the product type, its amount varies between 5% and 8%.
Rakuten
Rakuten is often regarded as the "Amazon of Japan" since it is a typical online retail shopping platform. This retail giant is used by more than 90% of Japan's internet users and can undoubtedly be considered one of the biggest marketplaces in the world.
A great advantage of Rakuten is that you have no competition from the owner of the website since Rakuten does not sell its products. In addition, Rakuten enables you to have more control over customising your store, while other big e-commerce sites don't give sellers that luxury. Rakuten is used by various well-known companies, including Lenovo, Dell, Dyson, and others, so you don't need to worry about it being reputable.
The so-called "Amazon of Japan" gives sellers significant leeway in developing their own brand within the site. Rakuten gives you the possibility to set up your store as you want, design your goods, and even start a blog and create content – all within its marketplace. It also offers amazing seller tools and excellent support.
Since there are no restrictions concerning communication with customers whatsoever, you can choose how to interact with potential buyers on your own. However, Rakuten charges slightly higher fees than eBay. Sellers are charged a monthly fee of $33, a product category charge ranging from 8% to 15%, and a $0.99 fee for each product sold.
Poshmark
Poshmark is another alternative online marketplace where people can sell second-hand goods such as clothing, accessories, and jewellery. The platform is available to any person who wants to sell their products, and there are no subscription or listing fees, making it a great option for individuals who don't want to invest money upfront.
Customers using Poshmark can not only sell items but trade them as well. Buyers and sellers can find each other and exchange their stuff instead of selling it for money. Since Poshmark customers can follow each other and share posts just like users of other popular social networks, this platform can help you to expand your social circle, accumulate a loyal customer base, and build a strong business.
After you're finished downloading the app, all you need to do is snap a photo, write a description, and set a price for your products. Poshmark offers its sellers several great features, including PoshPost. It is a shipping service that provides sellers with pre-paid shipping labels that they can use when delivering orders.
AuctionZip
AuctionZip is an online auction market (just like eBay) where auctioneers and buyers can trade goods such as antiques, toys, vintage, jewellery, fine art, or furniture. This marketplace is one of the most popular auction sites on the internet, with over 1.5 million monthly visitors. Live auctions are another AuctionZip feature that allows potential buyers to bid on things in person.
To be able to sell on AuctionZip, you must first sign up for a free auctioneer account. Then you can create a listing for your auction. AuctionZip charges a $20 listing fee.
One great advantage of using AuctionZip is its customer base. The site attracts a large number of visitors, and according to Google, it is the best platform for auction-related searches. AuctionZip also gives you the possibility to run website and email adverts, making it easy for you to reach out to your target buyers.
eBay Alternatives for Selling Locally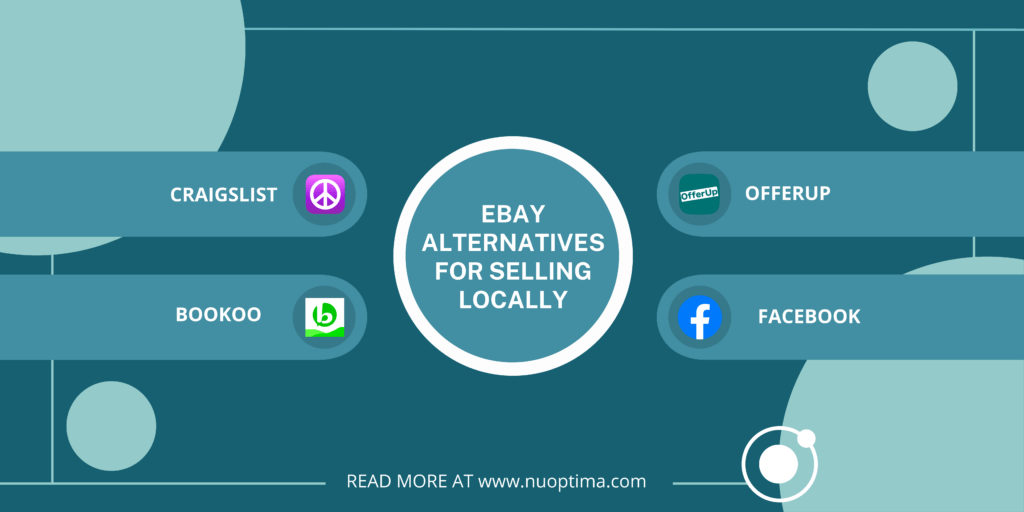 Craigslist
Craigslist is a platform where you are allowed to sell almost everything you can think of, yourself included (in the "personals" section). It is a great match for merchants who are looking to sell locally and are more inclined to handle their deals in person. People who use this platform often claim that selling with Craigslist helps them to meet new people, so this service has a small social aspect. And, of course, cash payments will allow you to avoid network and shipping expenses. All Craigslist sellers are independent third-party merchants. Anyone can easily sign up on the website and start posting listings.
Since there are no charges for listing or selling goods (except for a small selection of post types, like job or vehicle listings), the platform is quite basic in terms of design and automation of the selling process. It was established as a forum, meaning you are basically on your own when it comes to solving problems with customers.
The platform calls for selling locally, and in some situations, you will have to handle pick-ups or drop-offs of orders, which significantly narrows down your market in comparison to eBay.
In contrast to eBay, Craigslist has a "free" area for individuals who aren't attempting to earn money but rather want to get rid of items they don't need or want anymore. Most of it will be useless junk, but sometimes you can come across something you can buy and resell for a nice profit.
OfferUp
OfferUp is another option for sellers who are looking for a market to sell goods locally. A huge advantage of OfferUp is the absence of listing or selling fees. The website is well-organised and there are pictures of products for sale right on the home page.
Since the site's home page does not include categorised listings, you'll have to use search by category to find the needed product. OfferUp features all the categories that eBay, Craigslist, and other similar websites do. Just like on Craigslist, it is your responsibility as a seller to arrange a meeting or delivery date with customers.
Facebook
Facebook marketplace is another great alternative to selling products on eBay. All you need to be able to sell on this platform is a Facebook account and some inventory.
Selling on Facebook is considered to be even more local than selling on Craigslist. Facebook Marketplace and specialised 'for sale' groups don't charge listing or selling fees, but you have to handle pick-ups or deliveries on your own. On the other hand, interacting with potential customers directly through Messenger (a Facebook tool that enables users to communicate and chat) will allow you to quickly and easily arrange meetings and deliveries without having to give away your personal information.
If you want to ship an order to the customer, Facebook Marketplace allows you to manage the payment process online as well.
Bookoo
Bookoo is rather a new website designed specifically for selling and purchasing items locally. Bookoo doesn't have listing or selling charges. All you have to do is meet up with a buyer for the exchange, provided you didn't previously make other arrangements for the shipping process.
Bookoo is more popular in some states than others. This might be an advantage for you as a seller since potential buyers would have fewer listings to consider, meaning the competition will be much lower. But at the same time, given the fact that Bookoo isn't yet as popular as other sites, potential buyers may have difficulties locating your listing in the first place.
Websites Like eBay for Selling Handmade Items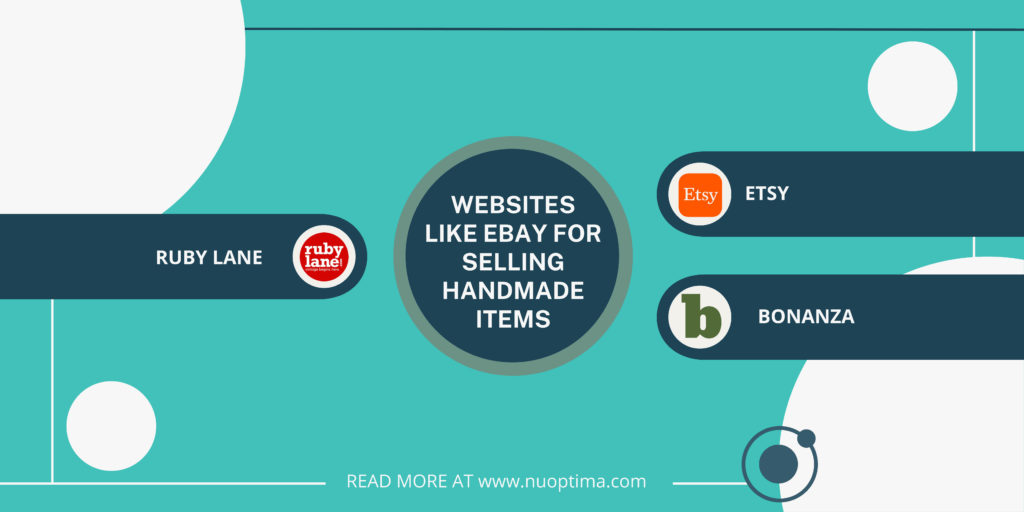 Etsy
Etsy is the most well-known and popular website for selling handmade goods and crafts, with 1.6 million active sellers and 26.1 million regular shoppers. The platform has succeeded in becoming the Sellers' Choice for ease of use and earned the title of the third-best platform for profitability after Amazon and eBay.
However, the specialisation of Etsy is pretty narrow. While eBay offers mass-produced goods and big brands, Etsy is designed only for sellers of handmade and vintage items. Both Etsy and eBay collect a listing fee, but the amounts are different. eBay listings last 10 days or 30 days for a fixed price. Etsy's listings, however, can stay up for up to 4 months. Moreover, Etsy requires only a 20-cent listing charge per item and a fixed 3.5% commission. Such a fixed pricing strategy is much more convenient than eBay's.
Since Etsy is generally used for direct sales, you won't have to wait for someone to purchase your product as long as you might have to wait when selling on eBay. Etsy has also established an advertising platform that sellers can use to increase the recognition and popularity of their products. However, due to its larger market share and bigger customer base, eBay can give you access to more traffic than Etsy.
Bonanza
Despite being rather a new player in the e-commerce sector, Bonanza is doing extremely well and is becoming more and more popular with each passing year. Its tagline is "Find everything but the ordinary", so you can expect to find any unusual, eccentric, or one-of-a-kind objects you can think of on this site.
Since Bonanza doesn't make money until its sellers do, the profitability ratio for sellers on this site will be substantially higher. Listing an item on Bonanza doesn't cost anything at all, and the average charge per sale is 3.5%, which is significantly cheaper than on eBay.
As we've already mentioned, eBay is an auction site that does not ensure that your product will be sold at a fixed price, unlike Bonanza.
Since every listing on this website is listed on Google and Bing, sellers using Bonanza can take advantage of Pricegrabber, Nextag, and Bonanza's advertising programs. In addition, Bonanza has easy-to-use import features for listings on Etsy, Amazon, and eBay.
Despite having lower monthly traffic in comparison to eBay, Bonanza can pride itself on having a higher ratio of buyers to sellers, meaning the competition here is much lower.
Ruby Lane
Ruby Lane is another amazing alternative to eBay. It was created to bring together shoppers and sellers of high-quality vintage collectables, antiques, jewellery, and art, just like Etsy and Bonanza. Considering that Ruby Lane is a niche marketplace, the site's traffic is outstanding – it gets more than 1.1 million unique visitors every month.
Ruby Lane offers only fixed-price products and is designed for a highly targeted category of visitors. The fees Ruby Lane charges are a bit higher compared to other platforms, and at the end of the day, selling on this site may cost you more. Although there are no commissions, Ruby Lane requires a $0.19 transaction fee for each listing and a tiered "maintenance" cost that varies from $69 per month for small sellers to $0.01 per item for large merchants. Sellers that use Ruby Lane are also charged a one-time setup fee of $100.
Websites like eBay for Selling Electronics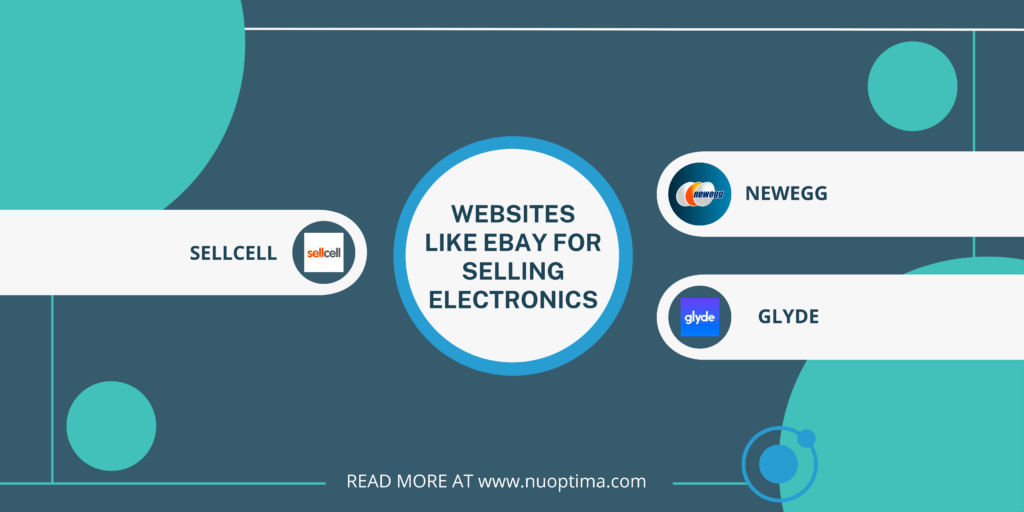 Newegg
Newegg is an online retailer that prides itself on being the best marketplace for everything tech. The platform sells computers and computer parts, electronics, smart home systems, and much more. Its customer base reaches up to 36 million people.
Since Newegg is designed as a website for selling only tech goods, you may find that this fairly specialised marketplace simply isn't for you. But on the other hand, you may be able to take advantage of the platform's well-defined target audience and a large pool of potential buyers.
Unlike eBay, Newegg provides a fulfilment service called Shipped By Newegg (SBN), which resembles Amazon's FBA in some ways. You can also benefit from an account manager provided by Newegg, who will assist you in setting up your business and creating a selling strategy.
When it comes to costs and fees, Newegg has three membership tiers: free, $29.95 per month, and $99.95 per month. A subscription to a paid membership allows you to take advantage of additional tools, features, and listings. Newegg also charges a commission rate ranging from 8% to 15%.
Glyde
This platform allows you to sell various electronic devices. However, unlike when selling gadgets on eBay, you don't have to add images or manage auctions. All you have to do is list your product, and Glyde will handle the rest.
Glyde takes a 15% selling fee per item sold, as well as a shipping kit price that ranges (usually) between $1 and $6. Sellers use these kits to ship their products to buyers, and Glyde transfers the money paid by the customer to the seller's PayPal account. In addition, Glyde moderates the marketplace to make sure that only trustworthy buyers and sellers remain on the platform, protecting both sellers and shoppers.
SellCell
SellCell is another website geared toward helping people to sell different types of used electronic devices. This platform makes it a lot easier for sellers and buyers to find the best deals by providing all available options in one place. As a seller, all you have to do is go to the SellCell website, type in the make, model, and condition of your phone or other devices, and SellCell will offer you a list of companies that may be interested in purchasing it from you. Then, follow the link to the website and complete the transaction. It's as simple as that. A great advantage of SellCell is that they allow you to sell your devices while still offering pretty competitive prices.
Generally, SellCell pays sellers via PayPal, Amazon e-gift card, or check. In addition, they take on all the shipping costs. SellCell guarantees that they will find the best deal for you and make sure that your device will be sold for the highest possible price.
Conclusion
As you can see, there are many websites you might want to consider if you're looking for an alternative to eBay. Each of these online marketplaces has a distinct product offering and unique set of features, attracting both customers and sellers.
Managing all of the Amazon-related activities on your own can be a pretty time-consuming and difficult task. If you want to get the most out of your Amazon business, it's a good idea to hire an expert agency that can help your company grow and increase your income. Schedule a free discovery call with one of NUOPTIMA's Amazon experts right away to become a step closer to having a more lucrative Amazon business.
Talk to an Amazon expert
We work with 100+ businesses. Book a slot now to talk to one of our experts.
---
FAQ
What is eBay's biggest competitor?
The biggest competitors of eBay are other popular retail giants such as Amazon, Alibaba, Walmart (both physical and online stores), Rakuten, and AliExpress.
What is similar to eBay?
If you are looking for an alternative to eBay, here are some options that may be suitable for you: Amazon Craigslist Etsy eBid Poshmark Wish
Is Poshmark safe?
Yes, Poshmark is a legitimate and trustworthy platform. However, it can't guarantee the integrity of buyers and sellers.