Key points
The holidays are the busiest and most important time for most Amazon sellers.
The first thing you should do in preparation for the holiday shopping season is analyze your sales from last year, keyword search trends, and other data and determine how much inventory you need to have available.
It's also a good idea to make changes to your product listings to include holiday-themed images and related keywords.
Sellers should also consider increasing their ad bids and offering holiday deals and discounts to customers.
Finally, you should keep the post-holiday season in mind and get ready for an influx of returns in January.
The holiday season is just around the corner, and all sellers expect to see a significant increase in sales in Q4. Let's go back to the year 2020 statistics: Amazon's net income for Q4 hit a record $7.22 billion, which means sellers who work on the marketplace also experienced record sales. This statistic is likely to rise even further this holiday season, given the overall global trend towards online shopping. However, as sales start increasing, the holiday rush will set it. Customers will pull out their wallets before Halloween, Thanksgiving, Black Friday, Cyber Monday, Christmas, and the New Year. But is your Amazon business ready for the marathon? Luckily, you still have time to prepare, so we've outlined the most useful tips for increasing conversions and preparing your business for the holidays.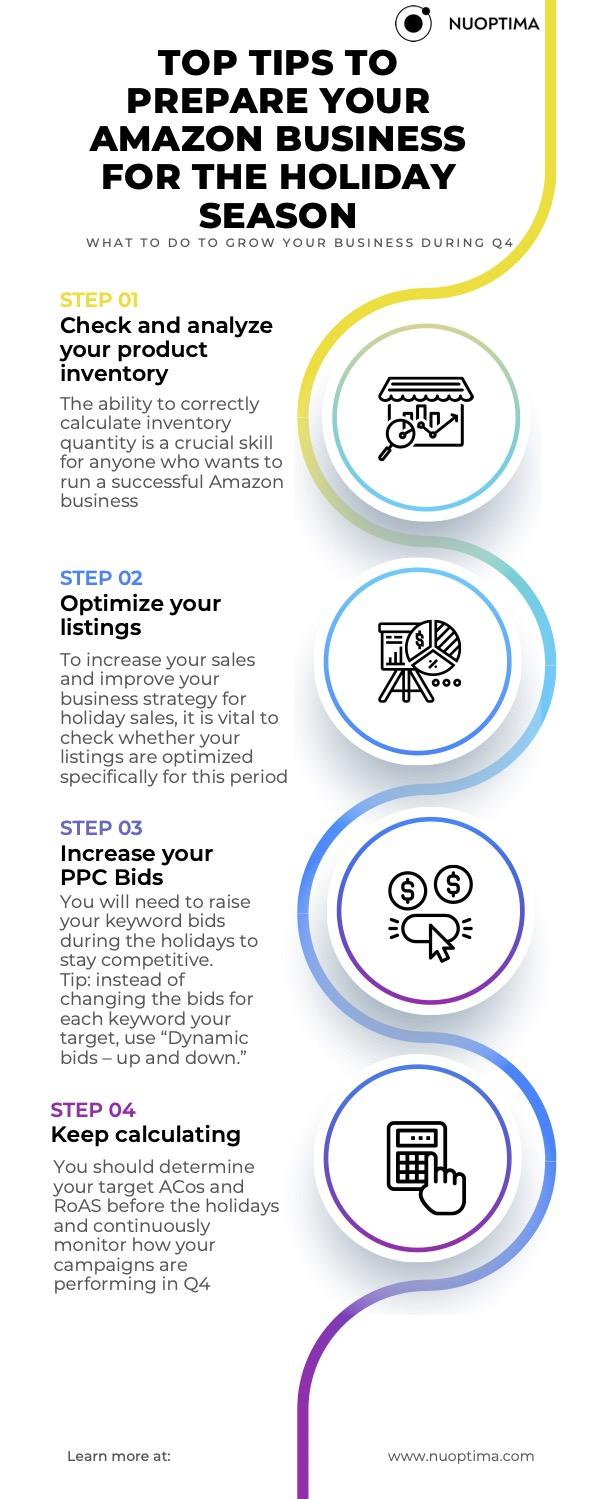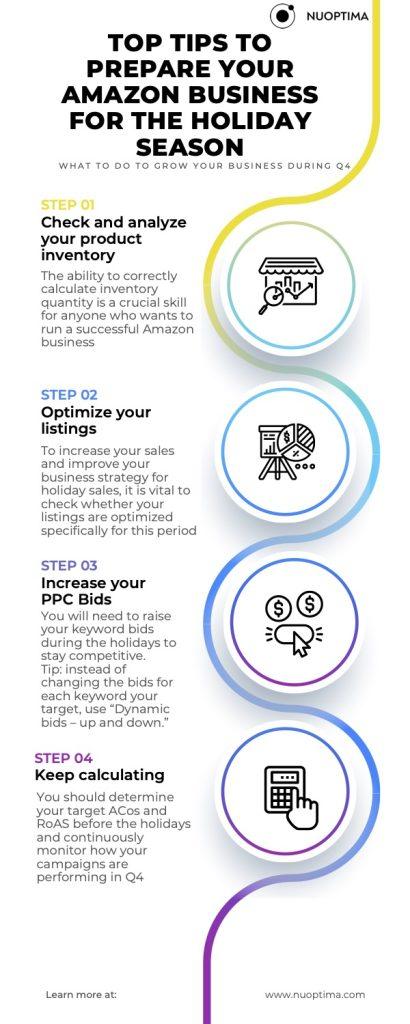 Check and analyze your product inventory
The ability to correctly calculate inventory quantity is a crucial skill for anyone who wants to run a successful Amazon business. Accurate forecasting is essential during peak seasons. After all, you don't want to run out of your products just before Christmas and miss out on a significant number of sales. On the other side, having too much inventory that you can't sell will result in high storage fees and cause you to lose a lot of money. So how can you avoid these situations and determine precisely how much inventory you need to have before the holiday shopping rush?
Analyze whether your product is relevant during the season. If you sell Halloween costumes, Christmas trees, or garlands, it is no secret that you will see peak sales during the holiday season.
Make use of the knowledge you gained last year. Get out your inventory records for the same quarter previous year and calculate how many products you will require now. Don't forget to check your sales: have they increased or decreased over the past year? For example, if your sales have increased by 15%, you will need to purchase at least 15% more inventory for the 2021 holiday season. If you don't have the time to go through all of the statistics and predict how much inventory you'll need, there is plenty of advanced inventory forecasting software that can do it for you. Another good idea is to see which products sold the best last year and analyze what keywords you used in those listings. Perhaps some strategies worked well, or while others didn't deliver the results you expected. Don't forget to review all of the results at the end of the season; this will help you determine how to improve your business plan for the following year.
Examine your competitors' sales history. This is a good method for those new to the Amazon online marketplace who don't yet know how to accurately calculate how much inventory they need for the holiday season. Another thing to keep in mind is that the best time to order your inventory is between the middle of September and the beginning of October in preparation for Black Friday, Cyber Monday, and other upcoming holidays.
Optimize your listings
To increase your sales and improve your business strategy for holiday sales, it is vital to check whether your listings are optimized specifically for this period. You need to make the listings as convenient for customers as possible to help them rank better and convert more customers. Here are some more pointers to help you prepare your listings for Q4:
If you are a Brand Registry Program member, use the Brand Analytics tool to see which keywords performed well during the holiday shopping season last year. Choose the most relevant phrases and test them in your listings right away.
Refresh the images. Use your creativity and Adobe Photoshop to add some holiday-themed stickers of pumpkins, Christmas trees, deer, and other holiday symbols. Organizing a themed photoshoot for your products is another great idea. First impressions are essential, especially when people are shopping online, and you can significantly increase interest in your product by making your listings extra festive.
Holiday-related keywords are also a good idea if you want your listings to rank high. For example, you can use the words "Christmas," "Gift," or "holiday." You should also look over the current Amazon trends to see if there is anything relevant to your products. Choose the best keywords for the many options available.
Check all product descriptions to ensure that there are no misstatements. Things like product size, weight, color, material, etc., are crucial, so try to provide as much accurate product information as possible.
Keep track of time because some customers begin looking for gifts in early fall. So the best time to work on your listings is at the end of September, when buyers are just starting to think about the upcoming holidays.
Increase your PPC Bids
Like most online retail platforms, Amazon experiences a significant increase in traffic during Q4. This causes a large increase in the amount of competition on the platform, and as a result, sellers need to revise their PPC campaign budgets in advance to ensure that their advertising campaigns can run consistently. As much as you may want to avoid it, you will need to raise your keyword bids during the holidays to stay competitive. For example, if a $2 big is sufficient to maintain a good PPC campaign during the year, it is unlikely to work during the holiday season. Do not ignore this fact, or you will risk losing your positions.
Your ads will also likely see a significant increase in clicks, so you should review your daily budget because it may run out sooner than usual. It's a good idea to increase your budget to ensure that your ads remain active all day. Then you can properly configure your finances and not be concerned about running out of resources.
Tip: instead of changing the bids for each keyword your target, use "Dynamic bids – up and down." You can find this bidding feature in the Seller Central's Campaign Manager. This strategy will automatically adjust your keyword bids. The bid will increase if Amazon believes your ads will result in a sale and fall if Amazon thinks it will not.
Keep calculating
You should determine your target ACos and RoAS before the holidays and continuously monitor how your campaigns are performing in Q4. It is an expensive time of year, and because you will need to increase your budget, it is best to keep the numbers under control to avoid risking your business becoming unprofitable.
Use A+ content
If you're a brand registered seller, you should start using A+ Content as soon as possible, as this tool has been shown to boost conversions significantly. You can use it to customize your listing page and make it more appealing to customers. Use your creativity to create a holiday-themed listing page or work under a minimalist aesthetic.
Try out different strategies
If you are a member of the Brand Registry Program, you are incredibly fortunate because you have access to a variety of tools that ordinary sellers do not have. The holiday season is an excellent time to try something new, and many strategies can prove successful during the holidays and in the long run. Here are a few examples:
Sponsored Brands ads allow you to create a one-of-a-kind shopping experience for your customers. After clicking on your ad, Amazon will direct them to a custom page where they can learn everything about your product without being bombarded with competitor ads.
Sponsored Display ads. With this method, you can place your ads on competitors' listing pages and retarget customers who previously have visited your shop but didn't buy anything.
Sponsored Brands Video ads. This ad type allows you to use videos as an advertisement, and it is one of the most effective advertisements you can buy on Amazon. Customers will at the very least take notice of your product, and many of them will be interested in purchasing it.
Create holiday deals
This tip is especially handy for sellers who don't participate in the Brand Registry program. One of the features on Seller Central allows all sellers to create coupons and deals. If a customer likes your product and you offer a discount on it, there is a good chance that the customer will purchase this product. We all love getting a good deal, so offering coupons and discounts is a great way to get more sales. Running Black Friday deals and coupons will also help you engage more people and attract new customers.
So, how do you create deals and coupons on Amazon? You need to go to the Advertising tab, find the "Deals" section and click "Create a new deal". There are various types of deals, and Amazon will automatically determine which of them are appropriate for your products.
Just like with all other actions you take on Amazon, you will have to pay to run deals. The cost will vary depending on the type and duration of the deal you're running. Conventional deals will cost you $300 per week, but you will need to pay $150 per week if you want a lightning deal.
You should also consider utilizing clippable coupons which appear in search results for customers. Go to the Advertising Tab and select either a percentage discount or a price discount to create a coupon. The redemption fee for running coupons is set at a minimum of $100, and you will have to pay an additional $0.60 for each coupon used by customers.
Plan the post holiday season
Do you have a lot of products left in stock after the holidays? There's no need to panic, as it's time for after-holiday sales! These sales give you a great opportunity to sell all leftover products and remain profitable after the holiday season.
However, there is something else you should be aware of. The weeks after the holidays are also the hot season for product returns, which is impossible to avoid. While December is the best month for sales, January is the best month for returns, thanks to Amazon's Extended Holiday Return Policy which allows customers to return products from 10.01.2021 to 01.31.2022. The best way to deal with the influx of returns is to be courteous to customers and understand that it is just another aspect of being a seller.
Final thoughts
By following the suggestions we've outlined above, you can prepare for the holiday season and ensure that your business strategy for the holidays will be successful. Of course, you will have to put a lot of effort and time into holiday preparation, but it will be worth it in terms of increased sales and profits. Just make sure that you work on your strategy, analyze the data, and experiment with various marketplace features without being afraid to make mistakes.
However, competing with millions of other Amazon sellers can be difficult at times, which is why we recommend that each Amazon seller seek professional assistance by hiring an agency to help grow their Amazon business. Sign up for a free discovery call with one of our Amazon experts, or leave your email address so we can contact you and tell you more about the services we offer.
Talk to an Amazon expert
We work with 100+ businesses. Book a slot now to talk to one of our experts.
---
FAQ
How long do Amazon holiday deals last?
Your Amazon deals can last up to 7 days before you have to pay a fee to reactivate them.
Why is the fourth quarter so important for sales?
Q4 is one of the busiest times of the year, with all sellers attempting to end the year with as much profit as possible. Customers' demand also increases in the run-up to the holiday season. As a result, the fourth quarter is frequently regarded as the most crucial for retail.
How strict is Amazon's return policy?
Amazon has a pretty generous return policy. There is no specific return limit, but the customer must provide a reason for returning the product. Amazon's return policy does not permit buyers to return damaged or used items.