Key points
Sourcing products from China comes with a number of benefits, including low prices for high-quality products, high profit margins, and rapid business growth. You can find a lot of unique products on Chinese websites as well.
Alibaba is one of the most popular B2B marketplaces, but this doesn't always mean that you will get the best deals and high-quality products if you shop there. The platform allows customers to order a large number of products at a low price. However, there is a risk of being scammed or getting a product that's different from what you expected.
There are many Alibaba alternatives such as LeelineSourcing, GlobalSources, Supplier Database, DHGate, Chinabrands, all.biz, Made in China, Lightinthebox, 1688, TradeIndia, IndiaMart, EC21,eWorldTrade, China.cn, Banggood, ECPlaza, Amazon, ebay, QualityTrade, IndoTrading, Aliexpress, Shein and others.
Alibaba is one of the largest online commerce companies in the world. The platform offers its services to hundreds of millions of buyers and hosts millions of retailers and businesses on three websites: Taobao, Tmall, and Alibaba. Its popularity is based on providing a lot of products at the lowest price on the market. The platform was founded by Jack Ma in 1999 as a peer-to-peer platform that connected businesses and consumers with other businesses.
Today, the Alibaba website connects global manufacturers to businesses. It helps companies find the best suppliers and facilitates product shipment. Alibaba has numerous advantages for customers. This includes giving business owners access to several suppliers at one click, categorizing products for easy browsing, shipping products in bulk, and facilitating a business-friendly environment.
On the downside, customers face a much higher risk of fraud because the company sells cheap products in bulk. There also might be some quality issues when ordering from Alibaba. Plus, it's worth noting that some suppliers don't sell their products on Alibaba because they don't like the type of customers who usually shop on the website. Alibaba also charges high commission fees, which turn away some sellers.
Given everything listed above, many sellers wonder whether there are Alibaba alternatives that have the same benefits with fewer issues. Fortunately, there are plenty of websites like Alibaba, and some of them may even have lower prices and faster delivery. So keep on reading to discover a complete list of Alibaba alternatives where you can buy the same products without worrying about being scammed or overpaying. But first, let's discuss all the reasons why many business owners prefer to source products from China.
Benefits Of Buying Products From China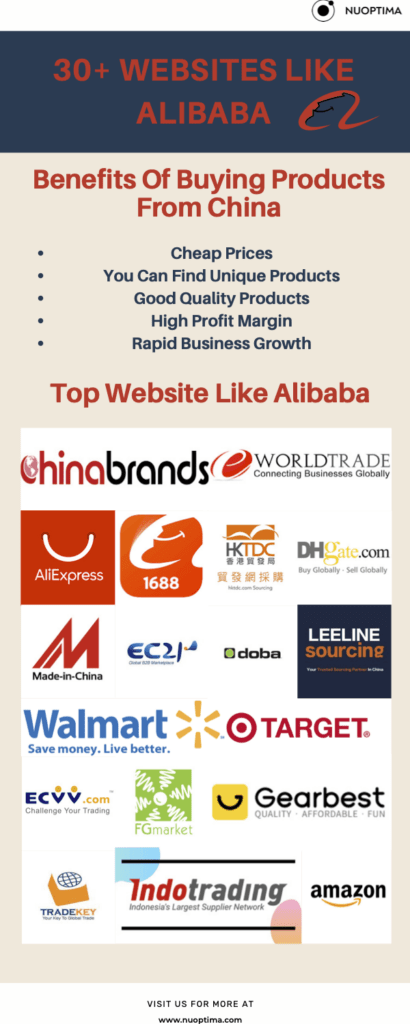 Cheap Prices
The Chinese government provides a lot of incentives for manufacturers, including low-cost electricity, which is the main reason why Chinese products are that cheap. This allows foreign business owners to resell Chinese products at up to 10 times the original price. Low product prices also automatically reduce the import price and taxes.
You Can Find Unique Products
The Chinese market is very competitive, which forces manufacturers to produce original products. Selling these products in countries with only a few suppliers can be a win since most of the time, these suppliers don't fulfill the market demand, and you'll have higher chances of your product getting noticed.
Good Quality Products
There's a huge stigma in our society that Chinese products are low-quality. But most Chinese manufacturers put a lot of work into developing and manufacturing high-quality products. Plus, they often give their customers a guarantee on the quality of imported goods.
High Profit Margin
When sourcing products from China, most resellers are able to achieve substantial profit margins since they not only resell the products but also set their price.
Rapid Business Growth
When sourcing products from China, you won't necessarily have the end-user as your customer. Instead, you can become the importer in a long supply chain, allowing other retailers to resell the products you import. This can be a profitable method of rapidly growing your business.
Top Website Like Alibaba
1. LeelineSourcing
Finding a reliable sourcing agent can be pretty difficult for new importers from the Chinese market since it's very easy to get scammed.
LeelineSourcing is the best sourcing agent in China that will help you find trustworthy providers who will locate reliable Chinese manufacturers. LeelineSourcing has been in business for over ten years. This company can help you find reliable suppliers. Millions of business owners from all over the world order items from LeelineSourcing without the fear of being scammed.
This platform works with several sourcing businesses and can help you expand your business and bring it to the international level. Leeline Sourcing will help you find high-quality products at low prices by connecting you directly to manufacturers. Plus, the platform conducts factory audits before shipments and provides you with free warehouse storage for one month. However, you should keep in mind that LeelineSourcing works only with small or medium-sized businesses.
2. Global Sources
Global Sources has been on the market for nearly fifty years and gained an excellent reputation as a reliable B2B business platform. It's a media company that promotes global trade in Asia and the rest of the world through its online marketplace, exhibitions, trade shows, and magazines.
Today, Global Sources serves about one million international buyers, including the world's top retailers. The company gathers complete information about the merchant and the products it manufactures before bringing it to the attention of the global market. Resellers can use Global Sources to find unique products at low prices. The website features products from Chinese and international businesses as well.
3. Amazon
Amazon is the largest marketplace in the US and one of the biggest e-commerce companies in the world. Amazon customers can buy products directly from Amazon or from other Amazon sellers. The platform has excellent customer service, a huge variety of products, and terrific shipping policies. However, it may not be the best place to purchase products in bulk.
Amazon also offers different services to its customers, including an online library, streaming service, and music player.
4. eWorldTrade
EWorldTrade is a very popular online B2B marketplace that has been serving its clients for over ten years. The website provides a fast and secure e-commerce system with digital solutions for buyers and suppliers. The website is a well-known player in the global trade market with its excellent reputation and wide range of services. EWorldTrade constantly releases new solutions and features. The company has a fast and reliable order delivery system. However, it may experience issues with warehouse storage.
5. Made-in-China
Made-in-China connects international customers to Chinese suppliers, allows merchants to connect and work together in a business-friendly environment. On their website, business owners can find accurate information about Chinese products, and the website is available in ten languages, making it easier for non-English speakers to get around. Made-in-China offers speedy shipping as well as high gross profit margins. It also provides remarkable scalability opportunities to customers and facilitates connections with specialist manufacturers. However, products sold through the platform may infringe on intellectual property, so you have to be careful.
6. eBay
Ebay is another very popular marketplace similar to Amazon. It initially facilitated person-to-person product sales and later started functioning as an auction website, and its primary focus hasn't changed since then.
Today, eBay sellers often set fixed prices on their products. However, customers also have the option to negotiate the prices of some products with sellers.
7. Taobao
Taobao is one of the websites run and operated by Alibaba. Its priorities include consumer-to-consumer (C2C) sales. This platform is quite similar to American eBay. Taobao works with a large number of unique sellers that don't sell their products in other markets.
However, since there are a lot of small retailers on Taobao, it may be hard to order products in large quantities. This means Taobao is not the best choice if you need to source products in bulk.
8. DHGate
DHGate is recommended by the Ministry of Commerce for foreign trade and has been established as a demonstration platform by the E-Commerce Management and Certification Center.
At the end of 2017, DHGate had almost 2 million suppliers and about 15 million customers around the world. DHGate is a B2B company that works with small and medium-sized businesses. It accepts multiple payment formats, provides authentic information, and carries out online financial services. It also has a department of security and integrity. The only disadvantage of this platform is that it's difficult to control the quality of the products.
9. HKTDC
HKTDC, or Hong Kong Trade Development Council, has been present on the market since 1966. It develops and promotes Hong Kong commerce all over the world. The organization has almost 50 offices all over the globe. The company's main goal is to support small and medium-sized businesses from Hong Kong and bring them to the international level. In addition, the Hong Kong Trade Development Council keeps its customers informed about the latest news in the industry through publications, digital news channels, and research reports.
It offers excellent service and has its own financial center. HKTDC also helps its customers pay low taxes, as it has extensive experience in worldwide trade.
10. Target
Target is a popular USA-based store chain that sells affordable household and beauty products, food, clothes, electronics, etc. You can order these products online or pick them up in any physical store. It doesn't have as many low-priced products as Alibaba, but Target stocks a lot of trendy goods at reasonable prices.
11. Walmart
Walmart is one of the largest companies in the world, which means it has a well-deserved place on this list of Alibaba alternatives. Their website carries a variety of products at low prices, and you can order them online or pick them up at your local store.
Walmart also has its own global e-commerce marketplace and operates several entertainment services such as Vudu.com, a competitor of Netflix.
12. JD
JD, global.jd.com, or joybuy.com is one of the leading B2C sellers in China. A large portion of the website is targeted towards individual consumers, but there's also a separate wholesale zone for businesses.
If you want to buy products in bulk at low prices, JD is a platform you should consider.
The primary website is in Chinese, but if you navigate through their global site, you will be able to switch to the English version. The company works with quite an extensive list of suppliers as well.
13. AliExpress
AliExpress is an e-commerce company that dominates the B2C (business to consumer) market. AliExpress has gained a large share of its popularity by holding the highest IPO in New York in 2014. This platform helps Chinese companies to showcase their products on the global market. Chinese merchants can sell the products to foreign customers directly on the platform, and people from all over the world can purchase affordable goods directly from China.
AliExpress doesn't sell products directly to the customers, as it's an electronic commerce platform that connects sellers and customers. But the platform provides plenty of low-priced products with free shipping, offers protection for buyers, and ensures the security of online payments. However, customers often experience shipping delays, especially when using free shipping methods.
14. Doba.com
Doba.com is an Alibaba alternative that works as a dropshipping service. Sellers can find items they like on Doba.com and list them on their website or a third-party e-commerce platform. When someone purchases these items, you can order them on Doba.com and put the customer's shipping address in the order. Then, Doba.com will ship the product to the customer directly. You also get to keep the difference between your order price and your listing price. However, Doba.com requires a membership to use, but you can sign up for a free trial.
15. 1688
1688 is the biggest sourcing and wholesale platform in China. However, if you want to sell your product on 1688.com, you'll need to get a license from the Chinese government and pay an annual membership fee.
This website mostly supplies products for the Chinese domestic market; thus, all the products are geared towards the needs of people in the Chinese market. Unfortunately, the company only ships products within China, so you'll have to find another agency if you want to import products you purchase through 1688.
1688 is not multilingual, and its workers only speak Chinese. However, they always respond fast. The website sells low-priced products and is itself a hidden gem.
China.cn is another B2B platform similar to 1688. It only works with Chinese suppliers but allows customers to view the website in English.
16. Chinabrands
Chinabrands is one of the best international shipping platforms that offers a great variety of products. It helps small businesses to thrive on the global market. Chinabrands offers international payment and logistics services, making it easy for companies to operate safely on the international market. The company uses its own warehouses for product distribution and provides professional customer care services to deal with issues and requests. The website is also multilingual and operates in English, French, German, Russian, Spanish, and Chinese.
17. EC21
EC21 is one of the biggest B2B marketplaces in the world. It's been connecting merchants and buyers since 1997 and has also gained international recognition and trust due to its expertise and leading technology. EC21 was one of the first pioneers of business-to-business online sales. Today, the company works with more than a million buyers from over 200 countries. EC21 also provides its customers with high-quality products and facilitates trading on an international level. Users can choose between free or premium membership options when using the website. You can also reach manufacturers presented on the website for free.
18. EC Plaza
Since its establishment in 1996, EC Plaza has succeeded in becoming a top-of-the-line provider of EDI and export marketing services. The company also operates a B2B website and provides trade consultations.
EC Plaza is a global e-marketplace with an established trade infrastructure and high brand recognition. By working with this company, you can expand your business and source products at low prices.
19. ECVV
ECVV is an online store that sells a variety of products, provides shipping. The company often offers its clients discounts and surprise gifts. The website works with reliable and recognizable brands and has a safe payment process. ECVV offers business owners high-quality Chinese products at low prices. The platform provides a convenient and friendly business environment. However, customers can't use ECVV to connect with suppliers.
20. LightInTheBox
LightInTheBox is another e-commerce website where you can purchase all types of products. One of the advantages of this website is that it's very easy to navigate. Each listing comes with comprehensive information about the product, making the shopping process easier for customers.
21. Eezee
Eezee is a Singapore-based B2B marketplace that has been operating since 2017. This website sells products from a large number of suppliers and allows customers to buy products at reasonable prices. Eezee specializes in industrial hardware and safety equipment such as gloves and helmets. It has a supportive and professional customer service team. This company works with businesses of all sizes. The only disadvantage is that Eezee doesn't offer product customization.
22. Chinavasion
If you are looking for affordable electronic devices, Chinavasion should be on your list. The platform offers a huge variety of competitively priced electronics from all over the world. Chinavasion is a B2B and B2C marketplace, and it is also known as the hub for electronic products. The company tightly controls the quality of products they sell, offers a secure payment process, and has excellent logistic services.
23. Gearbest (gearbest.com)
Gearbest.com mainly specializes in selling electronics, technology, and gadgets. It uses an excellent comprehensive quality control process which ensures the high quality of products sold on the website.
24. TradeKey
TradeKey was established back in 2006, and the company now provides its services on the global market. The website imports and exports electronics from almost 240 countries. TradeKey was the first company to earn the ISO 9001 Quality Management System and ISO 27001 Information Security System certifications.
The company connects customers with trained suppliers and offers its services in multiple languages. Shipping delays are the only possible issue that you may face with this website.
25. IndoTrading
IndoTrading is the leading online retail platform in Indonesia, which connects importers and exporters, dealers and agents, wholesalers, suppliers, and business owners in one place. IndoTrading has excellent customer service. It offers opportunities for businesses of all sizes.
26. SHEIN
SHEIN is a huge e-commerce platform that's just as popular as AliExpress. However, the majority of their items sold on the website fall into the women's apparel category. This portal is well-known worldwide for its large selection of cheap women's clothes. SHEIN is also one of the few companies on this list that has offices all over the world as well as separate websites for different markets such as those in the US, Canada, and Australia.
27. ExportHub
Export Hub uses distributors and retail networks to provide products to developed markets. The platform guarantees that its customers get the best quality products since all products sold on ExportHub have to pass several tests before they can be offered to customers. ExportHub provides excellent customer service to its clients as well.
28. Supplier Database
Supplier Database is another good alternative to Alibaba. The portal works with high-quality manufactures and uses a properly-managed shipping system to deliver orders. In addition, Supplier Database customers have the opportunity to manage quotes and make purchases directly through the website.
29. FGmarket
Based in the Republic of the Marshall Islands, FGmarket connects buyers and suppliers. The website primarily carries gifts and floral supplies. FGmarket uses advanced technology to work with buyers, and their directory includes reliable resources, including lists of manufacturers, artisans, suppliers, and growers.
30. IndiaMART
IndiaMart is an e-commerce company based in Noida, Uttar Pradesh, India, and it's an excellent platform for B2B, B2C, and C2C trading. It is the largest B2B platform in India and the first to attempt to hold an IPO during the Modi Governments' 2nd tenure. This has enhanced the company's business visibility and facilitated the development of a leading management system. On the downside, buyers who purchase goods on this platform may have shipping issues.
31. all.biz
All.biz is a platform that facilitates B2B connections and works with many European suppliers. You can find a wide variety of private label products or local branded goods on all.biz. The company has different subdomains in most countries, making the navigation process easier. You can also adjust the currency on the website.
32. Quality Trade
Quality Trade is another excellent alternative to Alibaba. It is an exclusive B2B marketplace for ISO-certified companies.
33. Thomas Net
ThomasNet allows business owners to find resellers, manufacturers, and service companies. It is a B2B marketplace that has been offering its services for over ten years now.
34. Europages
Europages functions more like a business directory rather than a B2B marketplace. The website lists thousands of European companies that supply products to businesses. The site is available in more than 26 languages.
35. SoloStocks
SoloStocks is the most popular online sales portal for businesses in Spain, which also has a strong presence on the international level, especially in Latin America.
36. Banggood
Banggood is an online marketplace that offers a great variety of items in different categories. It provides 24/7 customer service and uses more than 40 secure payment systems. Their website allows you to see product reviews before purchasing any items. They also have fast delivery since Baggood owns almost 40 stores worldwide.
37. Wholesale7.net
Wholesale7 is a website that offers everything you need to purchase clothes in bulk for your business. They provide high-quality products that follow the latest trends at the lowest possible prices. Wholesale7 also offers excellent customer service and support.
Final Thoughts
As you can see, there are dozens of Chinese, American, and international websites business owners can use to source all types of products for wholesale retail, reselling, online arbitrage, and other business models. But running a business can be incredibly challenging and time-consuming, especially if you're selling your products on Amazon where competition is fierce. This is why many Amazon sellers choose to invest in hiring an Amazon consulting agency that can help them create a fool-proof business plan and grow their business and profits. Submit a request for a free discovery call with one of Nuoptima's Amazon experts today.
Talk to an Amazon expert
We work with 100+ businesses. Book a slot now to talk to one of our experts.
---
FAQ
What is an alternative to Alibaba?
The most popular Alibaba alternatives are LeelineSourcing, Supplier Database, DHGate, Chinabrands, GlobalSources, all.biz, Made in China, Lightinthebox, 1688, TradeIndia, and IndiaMart.
What is the US version of Alibaba?
GlobalSources is considered to be Alibaba's biggest competitor in North America.
Is Alibaba or AliExpress cheaper?
AliExpress is usually cheaper than Alibaba because you can purchase individual items, while Alibaba is a service that helps you find suppliers that can sell you products in bulk.
Is there a Korean site like Alibaba?
ECPlaza is a Korean alternative to Alibaba. It's a B2B marketplace that has a lot of product catalogs from different manufacturers and deals with suppliers and manufacturers from around the world.
Which is better, DHgate or Alibaba?
Both DHgate and Alibaba are good options, so you should choose which one to use depending on your needs. DHgate is a good option if you are looking for low prices and replica products, while Alibaba is a better choice for those who want to order products in bulk from multiple suppliers.