Running a successful Amazon FBA business is challenging work and requires much time and effort. Eventually, the time may come when you decide that you want to sell your brand and seek pastures new. However, it is vital to ensure that you do this at the most opportune time to get the best out of your business, both for yourself and your buyer. This article lists 10 questions to ask yourself when considering selling your Amazon business to help you evaluate whether this is the best time to bow out.
"Selling a successful business is never easy and there is never a perfect timing for it. Using the proceeds from the exit and combining it with the experience of building a great brand will allow you to build an even bigger new Company if one wishes to do so. Bootstrapped again or by raising money from investors for your next venture, the probability of success is very high as a serial entrepreneur and that can be a really good driver on its own!" – Alexej Pikovsky, Alphagreen Group CEO
Are you getting frustrated by Amazon's regulations?
There are numerous restrictions when running an Amazon FBA business. This includes factors such as having to follow specific regulations set by Amazon, keeping apprised of Amazon's changing Terms and Conditions, and struggling to keep your business thriving and relevant in its search rankings. While there are numerous benefits to running a business through Amazon, there are also obstacles that can frustrate and limit a business. If you find yourself struggling to keep up with the various rules and regulations set by Amazon or are just getting stressed at the very thought of it, it may be time to think of selling and moving on to another venture.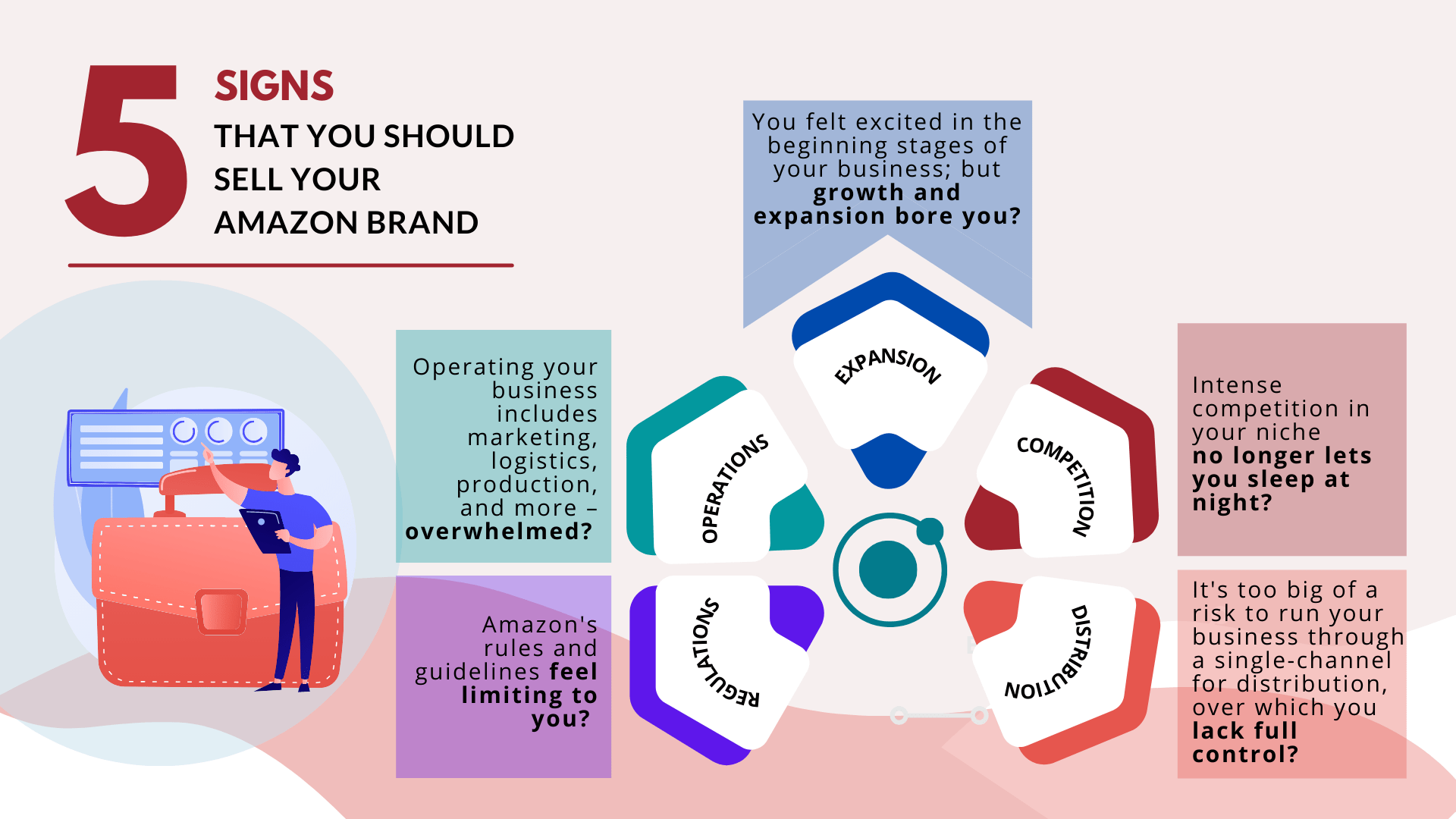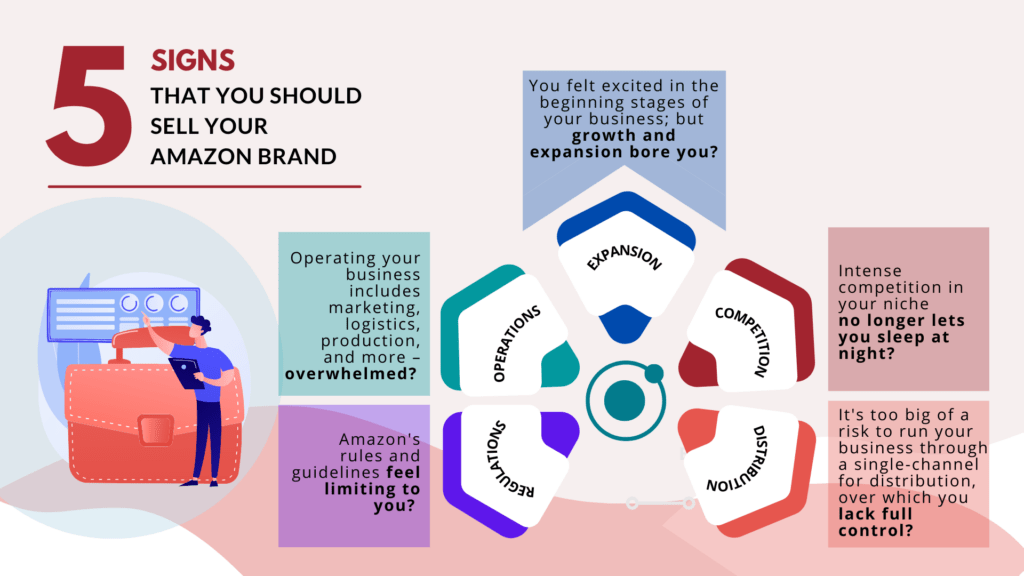 Is running an Amazon FBA business becoming too complicated?
There are many facets of running an Amazon FBA business to consider, which can take a toll on many. Running such a business requires considering numerous factors, such as marketing, logistics, manufacturing, and more. Managing so much and in great detail can prove to be too much work to handle for some, and as time goes on, selling becomes a more attractive option.
Are you ready to enter the next chapter of your life?
If you are running your business but constantly daydreaming of the next stage of your life, whether it be starting a family, retirement, or even a brand new business idea, this may be an indication that it's time to tap out. If your focus is no longer on your Amazon FBA brand, it may be the best time to think about exiting.
Do you want to expand your business any further?
Amazon attracts entrepreneurs who are often passionate about product design. The beginning stages of the business really excite them, rather than the expansion and development that follows, such as the investment in and management of a team. Therefore, it can be the best idea for them to sell their business so they can start their next project, focus on what they love, and give the reins to someone more passionate about expansion. If this sounds like you, and the next stages of your business do not thrill you like the beginning, it may be time to call it a day.
Is expansion too much of a headache?
Striving to expand your business, especially internationally, is complicated, to say the least. Growing your business internationally involves in-depth foreknowledge of new partner and vendor relationships, complex tax and legal regulations, and much more. If this is not something you are willing to invest time in studying and understanding, it may be best to sell your brand to someone more knowledgeable and interested in expansion.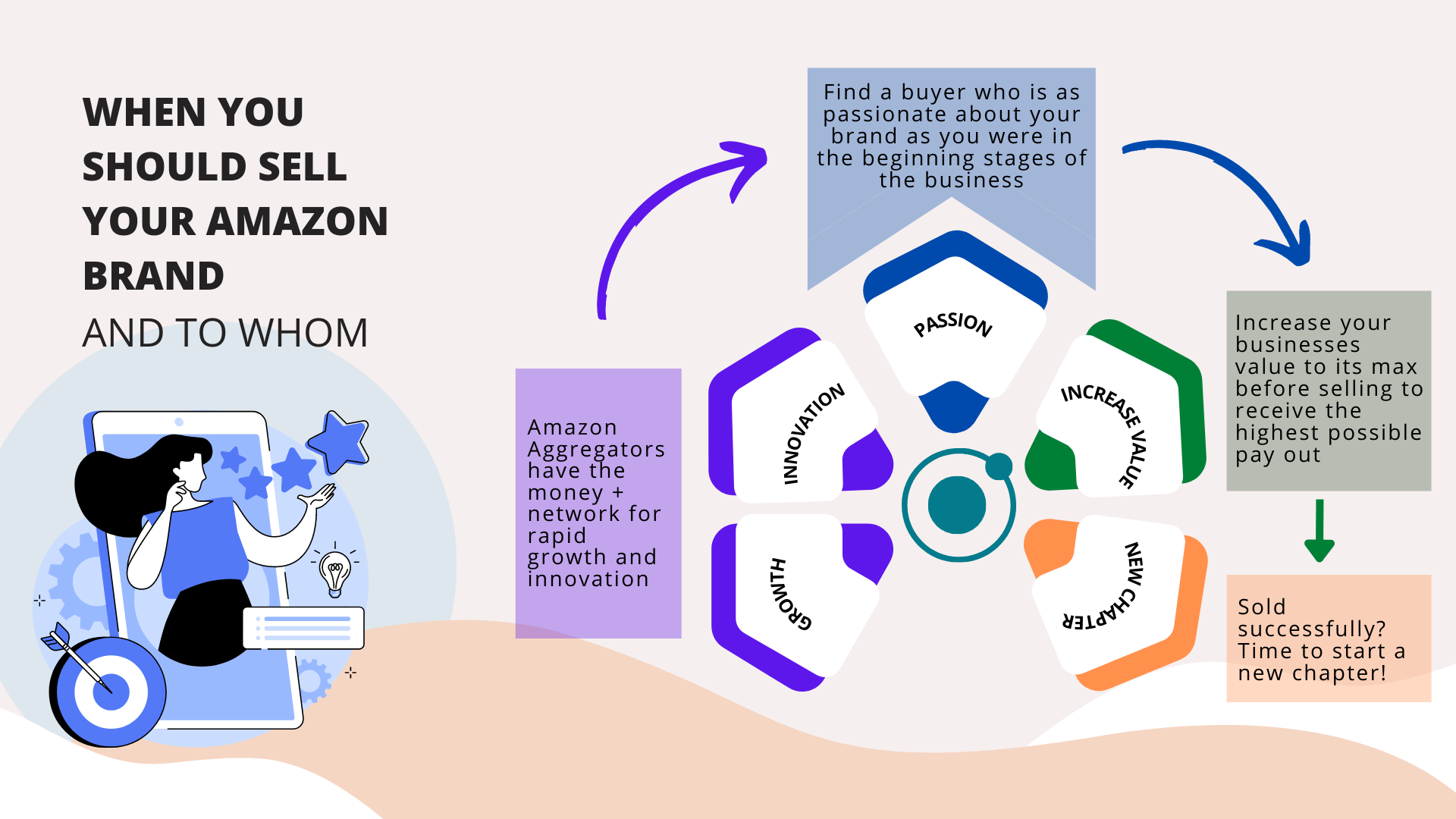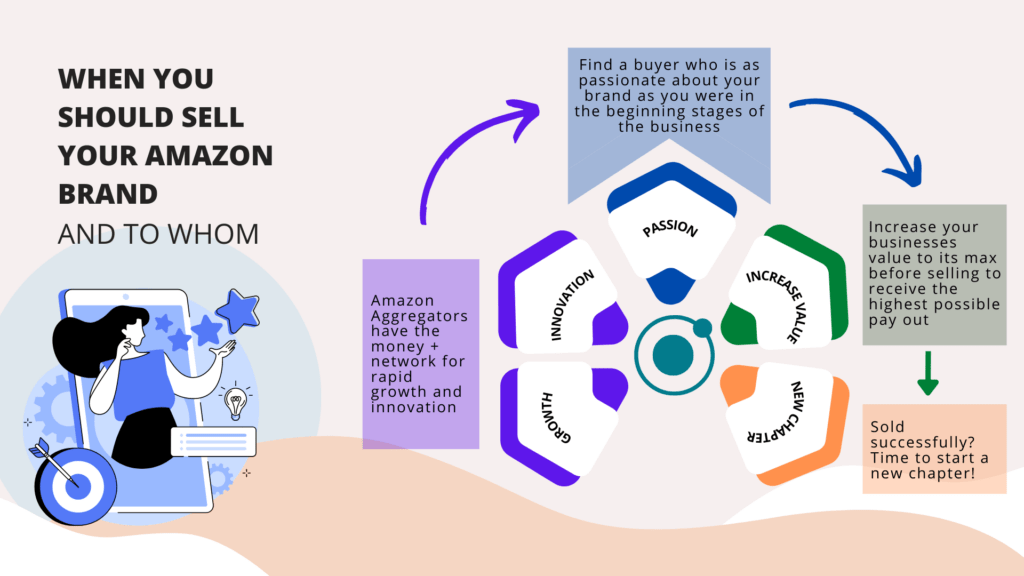 Do you feel under excessive pressure from competition?
Keeping up with competitive brands can feel like an endless marathon. You have to be alert and observant of your competition at all times so that you are not caught off guard. It can feel almost impossible to keep up with and puts a great deal of pressure on you to keep apprised and in the competitive game. If this is sacrificing your happiness, and you do not have enough interest to stay in the competitive race, it may be the best idea to pass on the torch to someone more passionate.
Are you stressed about the risk of single-channel?
Running a business through a single-channel for distribution is a considerable risk, especially when Amazon is very particular and can close your business over minor issues. Putting all your eggs into just one basket can be nerve-wracking in fear of something going wrong and leaving you with no distribution and, consequently, no business. Of course, while the risks of single-channel distribution are significant, so are the rewards. But, if you don't think the risk is worth the reward for you, it may be best to sell your business and remove yourself from the stress.
Do you have sufficient money to refresh your business?
Another vital factor to consider is finances. It is important to discover whether you have the money required to propel your business further forward on Amazon and help it continue its growth. If you do not have the funds, the sensible option may be to sell to someone who does and can push your business to its full potential.
Is your business currently at its optimum value?
If you are considering going down the avenue of selling, it is worth analysing both the growth potential and the economy of your business. You should mull over whether these are good enough for you to sell your business now. If you think that they could be improved upon, you may wish to consider increasing the value of your business before selling, so you can get the most out of what you have built. This may include expanding to other additional sales channels on top of Amazon (if you can) or perhaps diversifying your product selection. Any way you can make your business more attractive to a potential buyer is paramount to getting the best money for your business.
Are you currently passionate about your business?
Perhaps the most fundamental of all questions to ask is whether you have a passion for your business. If you find it hard to get out of bed in the morning at the thought of running your business, or your interest in it has depleted over time, it may be time to call it a day. Pursuing a business you are no longer interested in is much harder to keep successful as your heart is no longer in it. Therefore it may be the time to sell to a buyer who does have the interest required to develop and evolve the business.
Final Thoughts
Running an Amazon business requires a lot of hard work and passion. Not uncommonly, the time comes when selling your brand becomes more feasible than keeping it. This is especially true if you lack passion for your brand, do not have the money needed to further its growth, struggle to keep up with laborious regulations, or find running an FBA brand too complicated. Asking yourself the questions above can help you determine whether now is the right time to sell, and if not, when. And if you decide that it's time to start looking for a buyer, read our step by step guide to the exit process.
Talk to an Amazon expert
We work with 100+ businesses. Book a slot now to talk to one of our experts.