If you've landed on this page, you're likely aware of the ever-growing importance of Amazon PPC (Pay-Per-Click) advertising. In today's bustling e-commerce landscape, advertising in this marketplace is less of a choice and more of a necessity. But let's be honest, juggling keyword optimisation, budget considerations, and data analysis can turn even the calmest of us into stress balls.
That's where Amazon PPC software comes into play. Over the years, its advertising platform has rapidly evolved, adding layers of complexity but also immense opportunity for those who can master it. Optimising your campaigns has never been so vital, and the right software can make or break your advertising ROI. So, why not make it easier for yourself by employing the best Amazon PPC management software?
In this comprehensive guide, we'll delve into an array of top Amazon PPC software tools, explore the fascinating world of AI and rule-based advertising, and even touch on when it might be time to outsource your Amazon PPC management. Intrigued? You should be. Let's dive in.
Top Amazon PPC Software Tools
Whether you're in search of rule-based platforms or intrigued by AI-powered solutions, we've got a comprehensive list tailored to all needs. Without further ado, it's time to delve into the leading Amazon PPC software options currently in the market.
1. Pacvue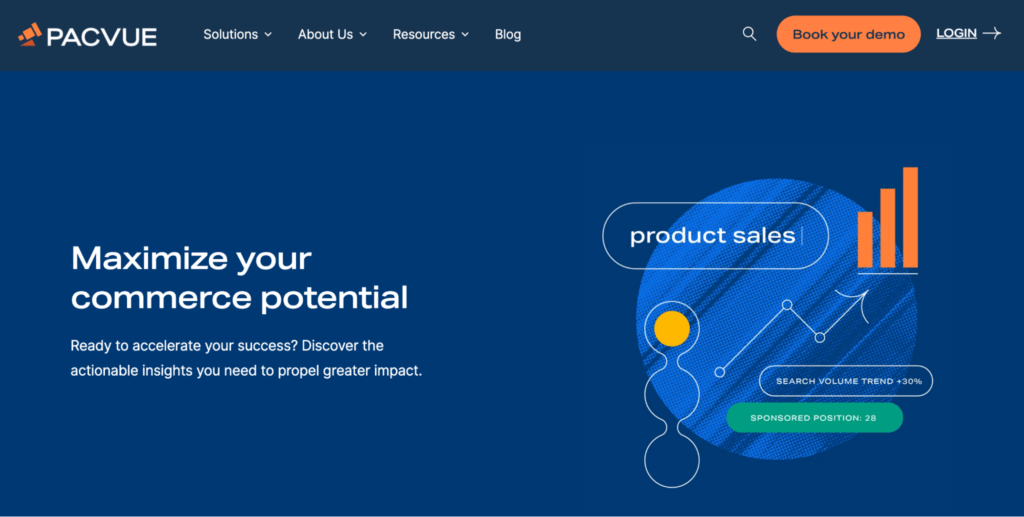 Pacvue is a compelling, all-in-one solution for sellers looking to elevate their ad efforts. Notably, the software excels at converting raw data into actionable insights, empowering you to fine-tune your campaigns effectively.
Beyond ad management, Pacvue offers a unified dashboard where you can seamlessly manage multiple facets of your commerce activities, from Buy Box management to paid ads. However, what sets it apart is its customisable rule-based logic, which allows for bid and budget adjustments based on a range of retail objectives, such as inventory levels or lost Buy Box situations. Additionally, the platform offers valuable elements like inventory and demand forecasting, making it more than just an advertising tool. It can help you plan better and make more informed decisions about your stock levels and pricing methods.
2. Quartile
Quartile shines in the realm of ad management through its heavy focus on AI and machine learning, particularly for keyword optimisation. Sellers input their objectives, and the software's AI dynamically adjusts campaigns for peak performance – a real time-saver for those who prefer a more hands-off approach. The platform also integrates seamlessly with the marketplace's Demand-Side Platform (DSP), enabling you to capitalise on the rich customer information for laser-focused audience targeting. This means your brand lands in front of precisely the right people at just the right moment. 
Beyond its technological prowess, Quartile has earned many industry accolades, reinforcing its credibility as a standout Amazon PPC software solution. If you're keen on leveraging advanced technology to supercharge your campaigns, Quartile is worth looking at.
3. Zon.Tools

If you're seeking an ad management tool that marries ease of use with powerful features, then Zon.Tools ought to be on your shortlist. Notably, it offers detailed reporting beyond mere numbers, providing a granular view of metrics like Advertising Cost of Sales (ACoS) and Return on Ad Spend (ROaS) to help you fine-tune your campaigns.
But where Zon.Tools stand out is in its commitment to transparency and control. Its automation log ensures you're never in the dark about your campaign activities. Plus, it integrates with Amazon's own recommended bids, taking the guesswork out of bidding strategies. Moreover, if you're the type who likes to get more involved, you'll appreciate the manual bulk optimisation, which lets you make sweeping changes across campaigns with ease.
4. Teikametrics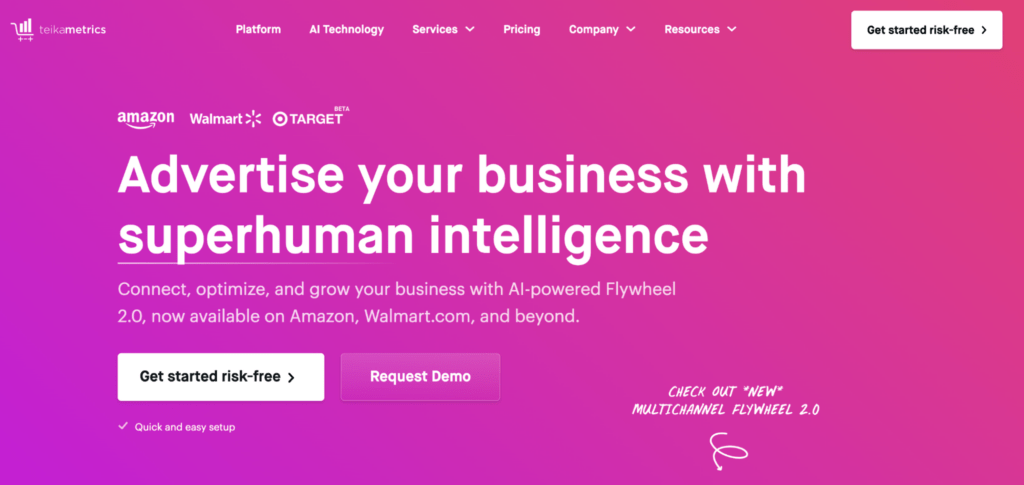 If you're seeking a PPC management tool that goes beyond basic automation, Teikametrics is a worthy contender. Powered by its proprietary Flywheel AI technology, this platform adapts your campaigns not just for Amazon but for other marketplaces like Walmart as well. This AI engine considers platform-specific nuances, ensuring your ads are not just seen but effective. 
However, where Teikametrics excels is in its deep analytics. It offers 'Premier Data Access', allowing you to dig into the ROI of each ad, keyword, and strategy rather than just tracking clicks and impressions. Ideal for sellers who prioritise data-driven decision-making, Teikametrics offers a multi-channel approach.
5. Perpetua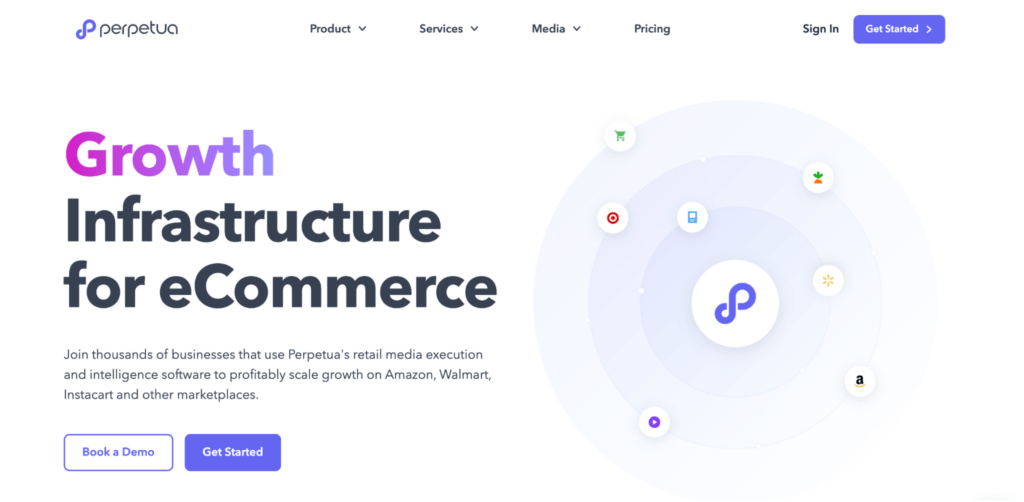 Are you looking to scale dynamic ads on the marketplace? Perpetua might be your go-to Amazon PPC management software. It offers a user-centric design and aims to tick every box for your advertising needs, from display to video. For example, the platform makes it very easy and straightforward to manage your ad campaigns. All you need to do is set your goals – like increasing brand awareness or maximising profitability – and the platform's algorithm sorts out the execution.
Although, as its standout element, Perpetua helps you develop video content and scale it across the marketplace's ecosystem, this is where the platform shines. Want a tip? Diversify your ad formats to connect with your target audience in a more engaging, memorable way.
6. PPC Entourage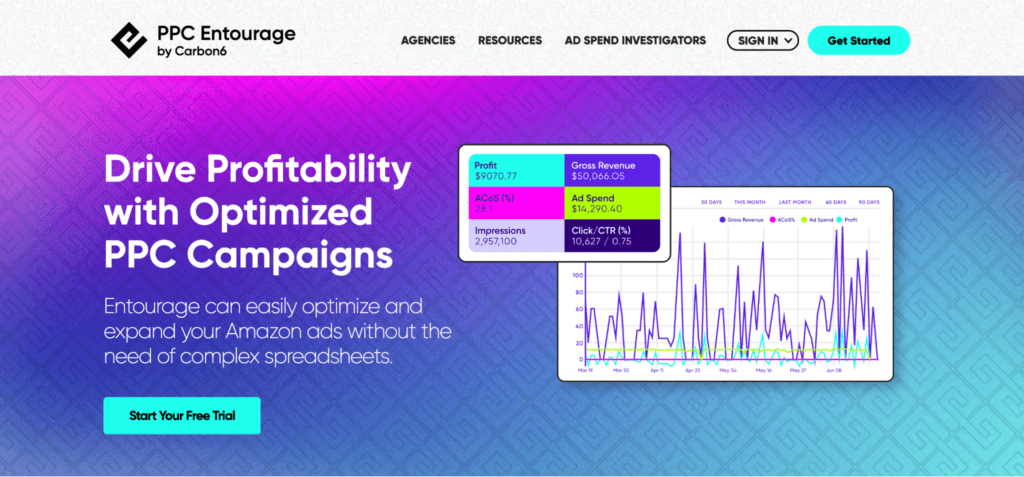 Meet PPC Entourage, a tool that brings structure and flexibility to your campaigns. This platform blends rule-based management with keyword harvesting. Here's the deal: You set up your advertising rules based on what you want to achieve – whether improving your brand's visibility or maximising profitability. Once you set those rules, PPC Entourage helps make your campaign goals a reality.
Additionally, their keyword harvesting pinpoints high-performing words and assists you in incorporating these insights directly into your campaigns. It's a data-centric approach that's a great addition to your toolkit, especially if you're tapping into multiple markets. Just a tip – use this to fine-tune your campaigns for each market.
7. Ad Badger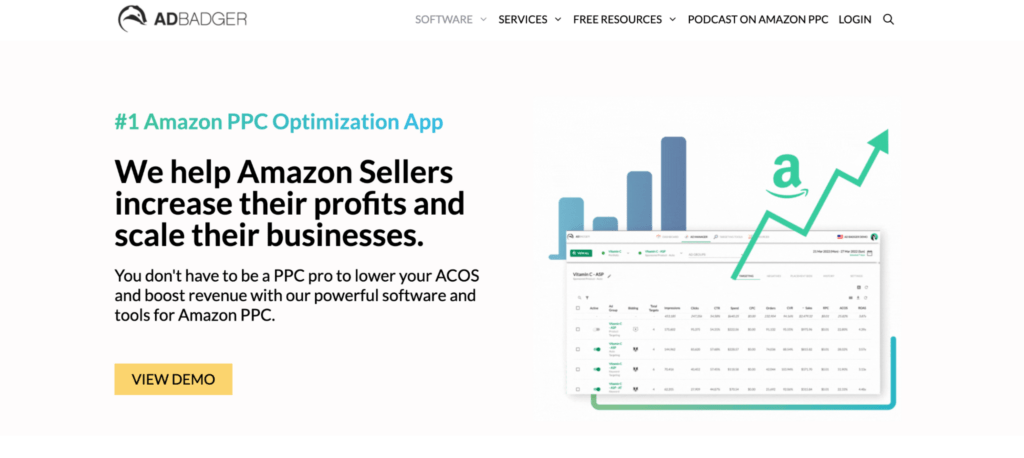 Ad Badger is a competitive option in the Amazon PPC software market as they fuse AI-driven campaign management with custom rule-setting. Once you input your specific advertising objectives, the software's AI algorithms take care of the management. This automation is particularly helpful for sellers who want to allocate their time to other aspects of their business.
Plus, unlike traditional benchmarks like ACoS, their unique metric, PPC Power Ratio, delves deeper, offering a more holistic understanding of your ad performance and ROI. It serves as an additional layer of insight, empowering you to make more focused decisions for your campaigns. Overall, Ad Badger presents a compelling option for sellers across the experience spectrum, providing a mix of automated functionalities and metrics to enhance advertising initiatives.
8. SellerApp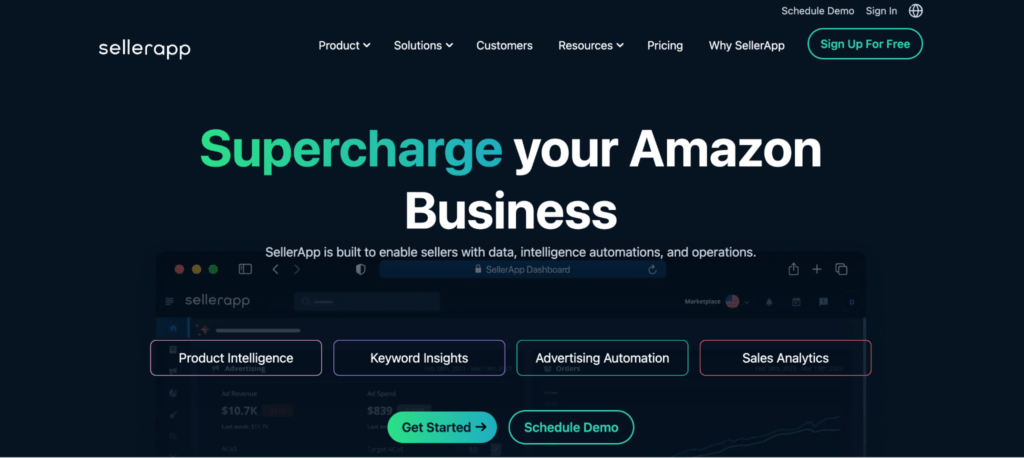 SellerApp goes beyond simple ad management to offer a complete toolbox for marketplace sellers. Unlike other Amazon PPC management software options, SellerApp stands out in product research. It helps you identify high-potential, low-competition products while providing real-time sales and profit tracking. This dual approach lets you get the full picture of your business beyond just PPC.
Furthermore, the analytics provided are extensive, delivering a range of insights, such as the distribution of your ad spend and the revenue contribution of individual campaigns. Within its suite of optimisation tools, there are two key components. First is the Listing Quality Score, which quantifies the effectiveness of your listing on a scale of 1-100; a score above 85 indicates you're doing well. Second is the keyword tracker, which allows you to monitor the organic ranking of your keywords in real-time, thereby eliminating guesswork and setting you on a trajectory towards greater visibility and sales.
9. IntentWise

With a unique setup, IntentWise combines advertising and retail data to offer you a bird's-eye view of your e-commerce operation. One of its primary elements is dayparting. This lets you schedule your ads to appear when your target audience is most active rather than wasting money during low-traffic hours. In addition, this platform also supports keyword target harvesting to pinpoint high-impact keywords.
Moreover, the software has a unified e-commerce data model. It reviews advertising, retail, and even competitive signals to give you more control over your marketing strategy. For those who crave greater influence over their ad campaigns, along with a wide range of targeting choices, this software could well be among the top Amazon PPC management options for sellers. Simply, IntentWise's versatility makes it particularly suitable for individuals who wish to fine-tune their advertising campaigns to meet certain objectives.
10. Helium 10 Adtomic
Helium 10 Adtomic isn't just another name in Amazon PPC software; it's an extension of the Helium 10 tools. The software is known for its AI-powered algorithms that help place your products in the spotlight through precise keyword bidding. It saves time and maximises visibility where it truly counts. Moreover, Adtomic includes a feature that allows for the swift filtering and evaluation of potential keywords or negative targets. This is a plus if you're focused on trimming unnecessary ad spend to boost your ROI.
Alongside Adtomic's 'big picture data', you'll be well on your way to optimising your ads. With this, you'll gain an in-depth understanding of essential metrics such as Total Advertising Cost of Sales (TACoS) and organic ranking. Further, for those new to ads or running on a tight schedule, Adtomic offers ready-to-go smart templates. These come with custom algorithms tailored to your specific goals and experience level.
11. Trellis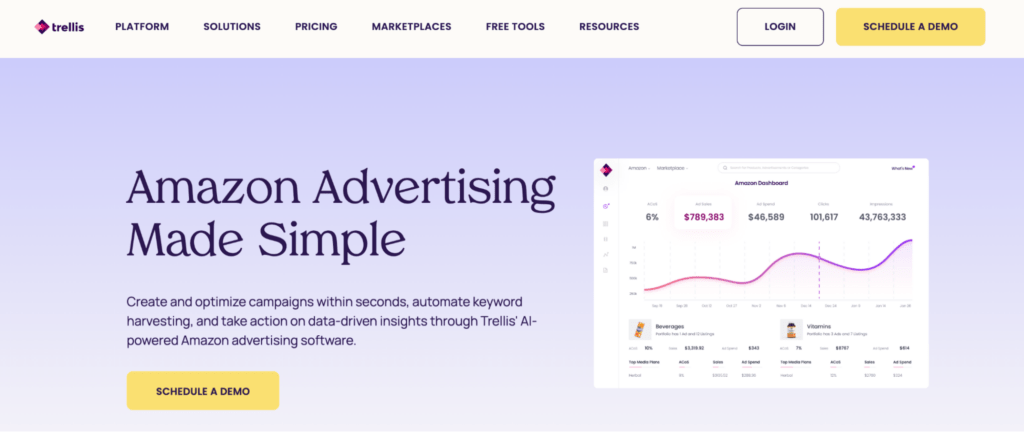 For a more budget-friendly option, try Trellis. This platform leverages AI and machine learning technologies and has a rapid setup, allowing your campaigns to be live in seconds. That's an advantage if you're hurrying to make your mark on the marketplace.
Furthermore, Trellis takes charge of keyword harvesting, simplifying the otherwise complex task of identifying high-performing search phrases. It not only identifies these valuable keywords but also facilitates their seamless integration into your advertising campaigns. This optimises your strategy by focusing on the most impactful terms, thereby increasing both your web-based discoverability and potential for sales.
12. BidX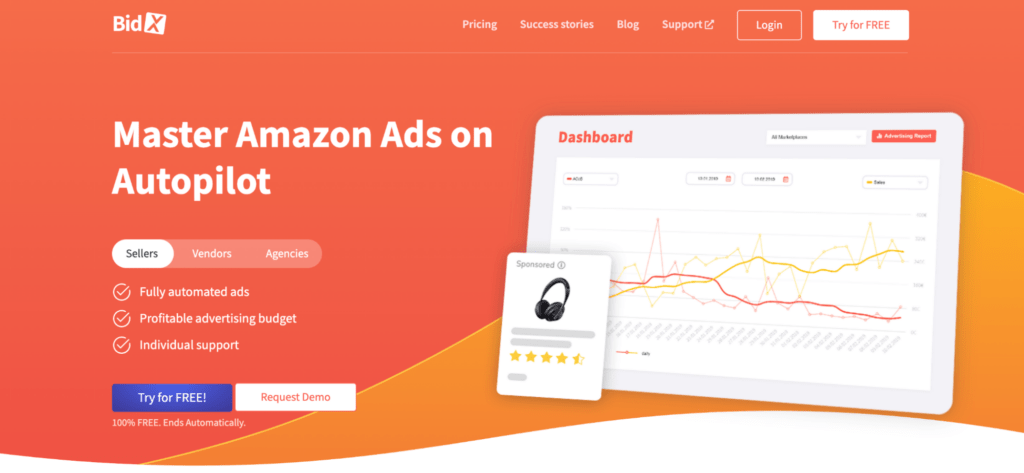 BidX provides automation for the finer details of campaign management. To this end, with this software, you can set up campaigns for multiple products in just a click, thanks to the '1-Click Setup.' However, after setup, the platform also uses machine learning to improve campaigns consistently, auto-adjusting bids and sorting search terms into positive or negative categories. It's like having a 24/7 manager for your campaigns.
What's more, if you love data, BidX offers clear suggestions on its dashboard, laying out all the metrics you need to gauge how well your adverts are performing. If you fancy a deeper dive, you can grab custom reports to really get into the details.
13. Sellozo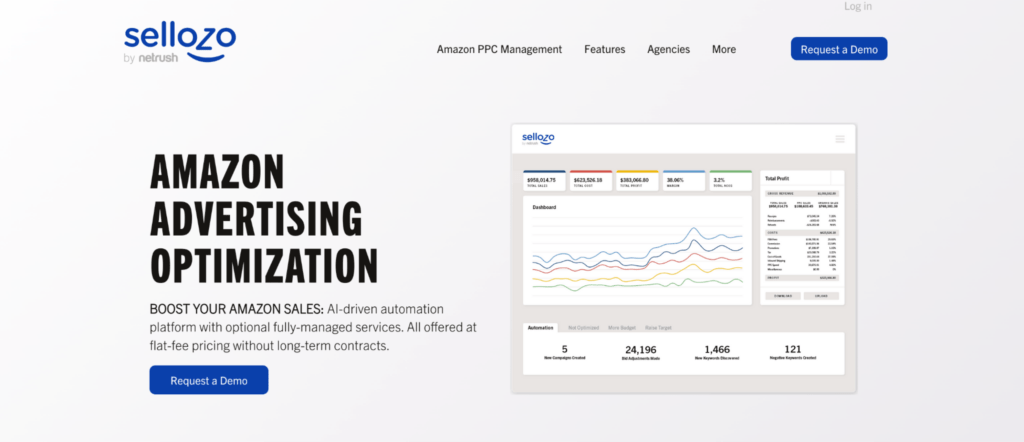 Sellozo simplifies the complexities of ads, making it a good Amazon PPC automation software for beginners. For example, the pre-built campaign structures mean you don't start from scratch and have a reliable outline to get you going. Plus, many users appreciate their bidding tools. Equipped with intelligent technology, these devices make certain that each pound you invest in advertising is allocated judiciously, targeting an improvement in your ACoS.
Besides dictating advertising spend, Sellozo's ProductVu Dashboard also shows you where that money is going. It has a complete analytical attribute that lets you review your account and individual product performance, giving you a chance to hone in on what needs improvement.
14. RevenueWize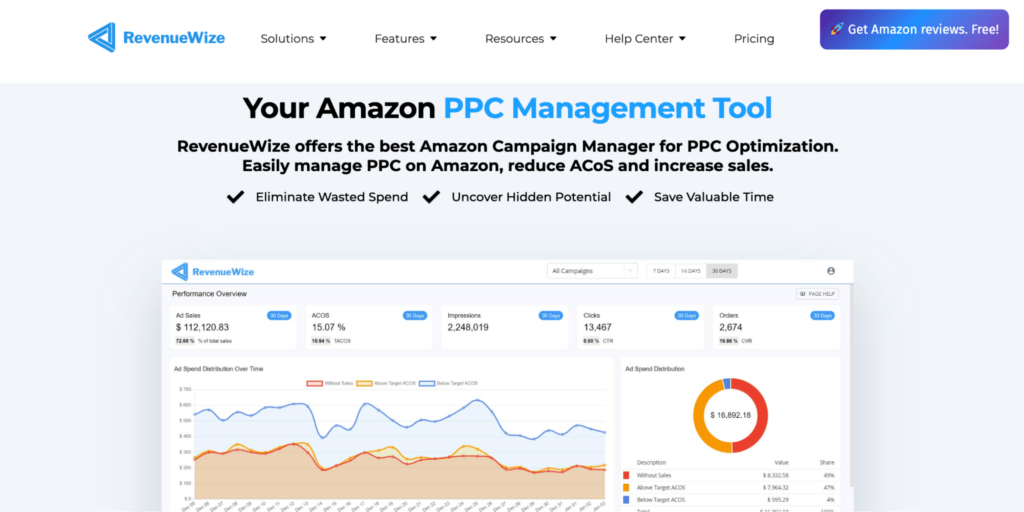 For maximising the efficiency of your advertising budget, consider RevenueWize. This Amazon PPC automation software is particularly streamlined and user-friendly, especially when it comes to Sponsored Product campaigns. It concentrates on the vital metrics essential for your profitability, such as conversion rate, total sales, impressions, etc.
Moreover, RevenueWize has an in-depth ad spend analysis that's good for those who rely heavily on Amazon for business. It checks that your advertising tactics evolve in time to get you the most bang for your buck. All in all, RevenueWize melds improvements with thoughtful budget optimisation, making it a suitable addition to your arsenal of best Amazon PPC management software.
15. Scale insights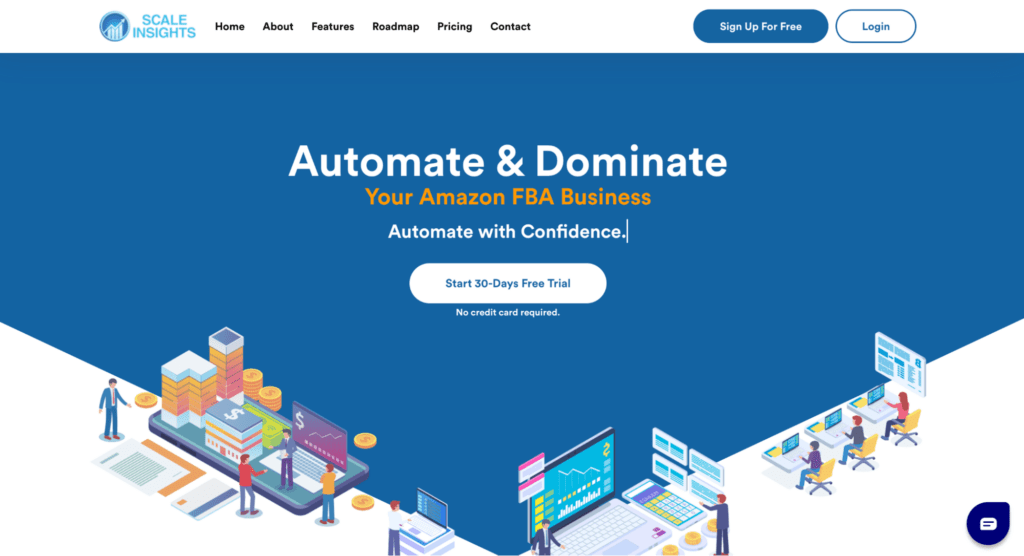 Unlike conventional PPC software for Amazon, Scale Insights brings the useful concept of dayparting into the mix. Like IntentWise, it schedules your ads to run only during peak conversion times. Thus, you can minimise wasted spend during the graveyard shift. Instead, your budget is utilised when the iron is hot, so to speak.
Beyond dayparting, the software arms you with various automation options through its 'Scale-matic Tech'. Think of it as a 24/7 virtual marketing department that fine-tunes your campaigns according to your set rules. With that said, Scale Insights also offers observations that help you spot what's driving profits and what's dragging you down. This can help you better understand your overall sales dynamics.
16. Sellerboard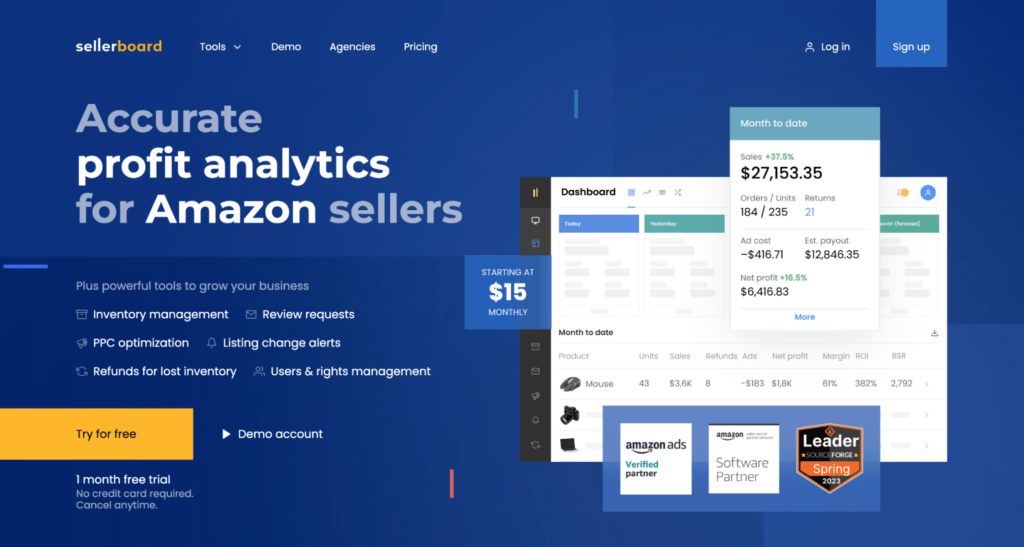 If you feel swamped by ad complexities, Sellerboard is a data-centric lifesaver. This dashboard lays out your key metrics, from sales to fees, in a user-friendly format, making analysis straightforward. However, alongside its stats dashboard, its rule-based setup works with your ad goals to guide your success. For example, you may want to launch new products or boost organic sales, and Sellerboard will handle automated bidding accordingly. You can also choose a target ACoS or profitability while the software adjusts your keyword bids in real-time.
Furthermore, through its keyword harvesting element, Sellerboard identifies top-performing search terms from automated campaigns and shifts them into your active campaigns. It's a tactical move to keep your star players always in the game.
17. Jungle Scout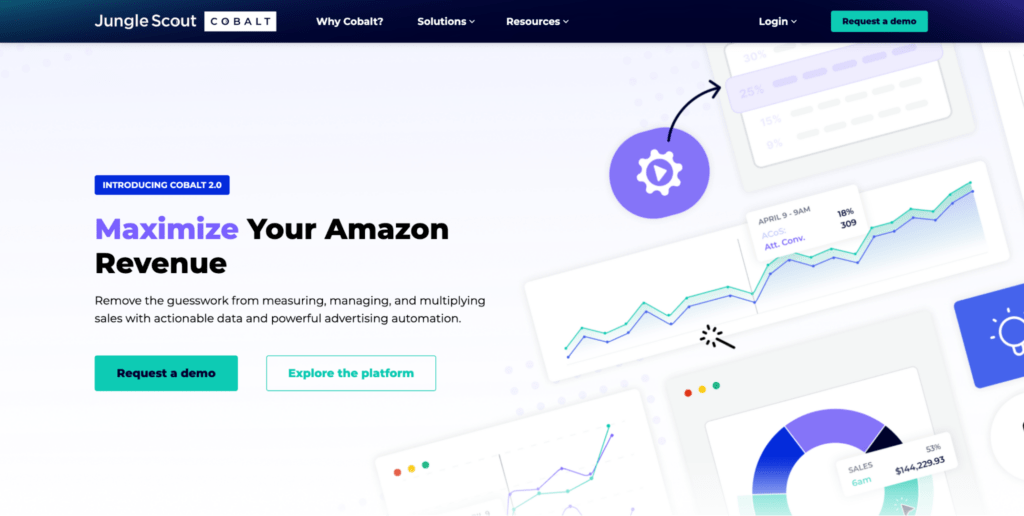 Jungle Scout is a comprehensive platform for sellers at every stage of their journey. Whether you're a newbie trying to find a profitable niche or a seasoned merchant aiming to scale, Jungle Scout has something for you. Plus, for businesses that are looking for more than the standard Jungle Scout offerings, Cobalt steps in to fill the gap. Previously known as Downstream, this enterprise-level solution is tailored for larger teams and more complex operations. Here's a rundown of how this could help:
Cobalt's Retail Insights tracks performance changes during key promotions and sales events.
The Market Intelligence feature helps identify market trends and make informed decisions.
Cobalt's Ad Accelerator optimises your ad spend with aspects like dayparting, allowing granular control over your bids.
Finally, Digital Shelf Analytics provides analysis into keyword search volume, helping you strategise which terms to incorporate into your storefront, listings, and advertising campaigns.
18. PPC Ninja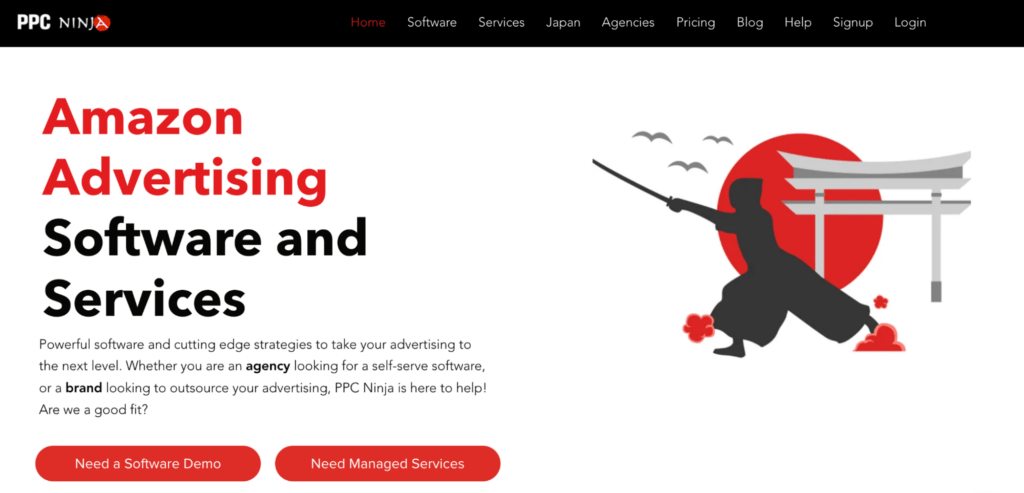 Wishing to venture beyond Seller Central? PPC Ninja is an Amazon PPC management software that merits consideration. The platform allows you to make multiple changes at once directly within its intuitive dashboard. Moreover, like many competitors, this option offers a version of smart bidding recommendations. Contrary to Amazon's emphasis on winning bids, this platform aligns its recommendations with your profit goals. You receive customised weekly bid suggestions aimed at achieving your ACoS objectives. Essentially, this feature transforms the platform into a personal consultant for your campaigns.
Furthermore, seasoned advertisers will appreciate the Bid Placement Modifier Support. Instead of navigating through various settings to adjust bids, all changes can be made from a singular interface view. Additionally, PPC Ninja performs pre-checks on suggested keywords to ensure you're not duplicating efforts. Plus, if you're selling across multiple marketplaces, you can easily switch between them within the platform.
19. Seller Labs Pro
Seller Labs Pro offers a unique Ignite feature that goes beyond merely allowing you to manage your ad campaigns; it provides a comprehensive strategy for all-encompassing advertising. To this end, Ignite delivers detailed analytics and offers actionable tasks that extend past simple ad tweaks. Many will appreciate how this option demystifies the intricate ranking algorithm, illustrating ways to make your listings and adverts more appealing to potential buyers.
What's more, it takes a strategic perspective on keyword selection, bidding, and campaign structure, reducing guesswork and enabling you to focus on scalable results. It also educates you on efficient ad spend and crafting your listings to improve customer engagement. It's a solution for those aiming for long-term profitability and growth.
20. Kinetic PPC by Viral Launch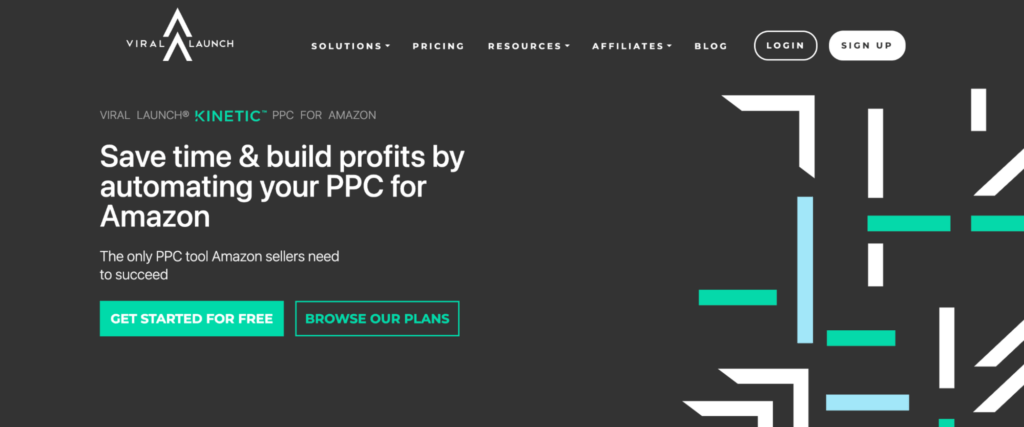 For sellers keen on taking control of their advertising efforts, Kinetic PPC by Viral Launch is an Amazon PPC automation software to review. While many of the options in this list allow you to set goals, this one has customisable rules with unlimited conditions. So, you can tailor the direction of your ad performance without any limitations.
Furthermore, unlike other platforms that use 'black box' algorithms, this one designs its operations to be transparent. You set the rules, you define the essentials, and the software executes your strategy to the letter. So, if you're the kind of seller who likes to know exactly what's happening with your campaigns, Kinetic PPC could be the tool you've been searching for. It offers more than just automation; it provides control, transparency, and the promise of maximised profitability.
21. Seller.Tools

If actionable data insights are what you're after, Seller.Tools could be a valuable asset for your toolkit. It offers a suite of features that are designed to give you a comprehensive view of your sales ecosystem. From tracking advertising metrics to managing stock levels, Seller.Tools aims to simplify the complexities of operating on Amazon.
Digging further, what sets Seller.Tools apart is its ability to merge in-depth analytics with practical guidance. For example, if you're tracking keyword performance, it won't just list terms that are doing well or tanking; it will offer recommendations on improving keyword bids and optimising ad placements. You get reliable advice for immediate execution, which elevates it to a higher level of sophistication than your average Amazon PPC software.
Summary Table: Top Amazon PPC Software Tools
| | | |
| --- | --- | --- |
| Software | Description | AI or Rule-Based? |
| Pacvue | An all-in-one solution offering robust data analytics, customisable rule-based logic to adjust bids, and more. | Rule-based |
| Quartile | Strong focus on AI, particularly for keyword research. It also integrates with Amazon's DSP and adjusts campaigns in real-time. | AI-driven |
| Zon.Tools | Offers detailed reporting and integrates with the marketplace's recommended bids. Plus, it features a manual bulk optimisation element. | AI-driven |
| Teikametrics | Supports AI automation and optimisation across Amazon advertising. Additionally, it provides in-depth data analytics to boost decision-making. | AI-driven |
| Perpetua | The best Amazon PPC software for video advertising. This platform lets you craft and scale video content across the marketplace. | AI-driven |
| PPC Entourage | Blends rule-based management with keyword harvesting to provide accurate insights and level up your ads. | Rule-based |
| Ad Badger | Fuses AI campaign management with custom rule-setting. It also uses a unique metric known as the PPC Power Ratio that offers a more holistic overview of campaign performance. | AI-driven |
| SellerApp | It helps you with product research and advertising. It provides extensive data, a dashboard for keyword tracking, and Listing Quality Score. | AI-driven |
| IntentWise | Uses advertising and retail data to provide an overview of e-commerce efforts, with its standout dayparting and keyword harvesting components. | AI and Rule-based |
| Helium 10 Adtomic | Uses an AI-driven bidding algorithm and a simple user interface to review potential keywords. | AI-driven |
| Trellis | Budget-friendly, with advanced AI capabilities, rapid setup and keyword harvesting. | AI-driven |
| BidX | Provides '1-Click Setup', automation capabilities, and machine learning for campaign auto-adjustments. | AI-driven |
| Sellozo | Offers pre-built campaign structures and a ProductVu Dashboard for comprehensive analytics. | AI-driven |
| RevenueWize | Focuses on ROI by identifying key opportunities and offering in-depth ad spend analysis. | AI and Rule-based |
| Scale Insights | Unique for its dayparting addition, allowing ads to run during peak conversion times. | AI-driven |
| Sellerboard | Data-centric platform that handles automated bidding and delivers actionable insights. | Rule-based |
| Jungle Scout and Cobalt | Complete platform for sellers, offering product research tools and educational resources. Cobalt provides enterprise-level support with Retail Insights and Ad Accelerator for advanced management. | AI and Rule-based |
| PPC Ninja | Allows multiple changes at once and provides smart bidding recommendations. | Rule-based |
| Seller Labs Pro | Features Ignite for in-depth analytics and strategies that go beyond basic ad tasks. | AI-driven |
| Kinetic PPC by Viral Launch | Customisable rules and conditions, offering control and transparency. | Rule-based |
| Seller.Tools | Offers detailed analytics with practical guidance and a customer success team for added support. | Rule-based |
The Difference Between AI-Driven Tools and Rule-Based Tools
You'll notice when browsing Amazon PPC software that two distinct systems are at play: AI and rule-based. While the occasional software will utilise both, it's good practice to understand these elements and how they change the game for advertising.
What Are Rule-Based Amazon Advertising Tools?
Rule-based software is a bit like a chess game where you're setting up the pieces. You decide the rules that govern how your advertising campaigns function. For example, you might set a rule that says, 'If a keyword's click-through rate (CTR) is less than 1% over a 7-day period, lower the bid by 20%'.
So what are the benefits of working with rule-based, and what are the drawbacks? Let's take a look.
| | |
| --- | --- |
| Pros | Cons |
| Full Control: You define every action, so there's little chance of something happening outside your directives. | Limited Flexibility: The effectiveness is tied to how well you set your rules. If the rules are too rigid, you might miss opportunities; if they're too loose, you might waste money. This also ties in with how easy rule-based systems are to use. If you understand how to optimise your ads, you'll find it easier, but if not, your success may be limited. |
| Ease of Use: Rule-based systems usually offer a more straightforward setup process, which can be great for beginners. | Time-Consuming: With all the control comes all the responsibility. You'll need to spend time analysing results and tweaking rules regularly. |
The Role of AI-Based Advertising Tools
AI-driven Amazon PPC automation software, like Perpetua or Teikametrics, takes a more dynamic approach. These systems use machine learning algorithms to analyse historical data and real-time metrics, automatically adjusting bids and keyword selections to optimise for your chosen goals, like lowering the ACoS or maximising revenue. However, what does this mean in practical terms?
| | |
| --- | --- |
| Pros | Cons |
| Adaptive Strategies: AI-driven tools continuously learn from new data, allowing them to adapt to market trends and fluctuations. | Cost: The technology powering these systems is advanced, and, as a result, these solutions are sometimes more expensive. |
| Time-Saving: Once set up, these systems require less day-to-day management, freeing up your time for other tasks. | Learning Curve: Understanding how to interpret the AI's decisions and tweak your settings can be challenging initially. |
Tabular Comparison: AI-Driven Tools vs. Rule-Based Tools
| | | |
| --- | --- | --- |
| Criteria | AI-Driven Tools | Rule-Based Tools |
| Basis of Operation | Machine learning algorithms | Pre-defined rules and heuristics |
| Adaptability | Highly adaptable | Less adaptable |
| Learning | Capable of learning from data | Doesn't learn; operate on fixed rules |
| Complexity of Tasks | Suited for complex tasks | Suited for simple, repetitive tasks |
| Data Requirements | Generally requires large datasets | No need for training data |
| Interpretability | Often less interpretable | Usually highly interpretable |
| Speed of Implementation | May require longer setup | Quicker to implement |
| Error Handling | Can learn from mistakes | Cannot adapt to new types of errors |
| Real-Time Adaptation | Often capable | Usually not capable |
| Resource Intensity | Often computationally intensive | Usually less resource-intensive |
| Scalability | High | Limited |
| Human Intervention | Less frequent after initial training | Regular updates often necessary |
| Decision Making | Probabilistic | Deterministic |
| Domain Application | Broad (e.g., NLP, computer vision) | Specific, niche tasks |
| Maintenance | May require periodic retraining | Requires manual rule updates |
Factors to Consider When Choosing an Amazon PPC Software
Choosing which software to implement can be challenging, but luckily, we're here to simplify this decision. Let's explore some key considerations when selecting PPC software for Amazon.
Budget Constraints
Before diving into the sea of software options, it's crucial to assess your budget. If you're a smaller seller or just starting, rule-based options might fit your budget and still offer considerable control. On the other hand, if you can afford to invest a bit more for long-term gains, AI-driven tools could be more suitable.
Integration With Other Tools and Platforms
The ideal platform should be one cog in a larger machine. For instance, can it integrate with your inventory management software or your CRM? Tools like Helium 10 Adtomic offer multiple integrations, ensuring your advertising data can flow seamlessly between platforms.
Scalability
Your software should be a long-term partner. As your business grows, you need PPC software for Amazon that can grow with you. Check for scalability features like the ability to manage multiple accounts or markets and consider the pricing tiers for higher volumes.
Automation
Automation can be a godsend, especially as your campaigns grow in complexity. The best Amazon PPC automation software should offer various levels of automation, from simple rule-based conditions to complex AI-driven decision-making algorithms.
Data Analysis
Understanding your campaigns' performance is crucial for ongoing success. Comprehensive dashboards that can break down complex metrics into understandable insights are a must. Look for platforms that offer rich data visualisation and analysis capabilities, like RevenueWize or Sellerboard.
When to Outsource Amazon PPC Management
Managing your own campaigns can be like juggling knives while riding a unicycle on a tightrope. It's not only complicated, but one small mistake could have serious repercussions. Let's delve into some of the challenges you might face:
Ever-Changing Algorithms: The algorithms constantly evolve, and keeping up with these changes can be daunting. This means what worked yesterday may not necessarily work tomorrow.
Time Commitment: As your campaigns grow, the time needed for maintenance scales up. It can be hard to manage along with your other responsibilities as a business owner.
Technical Barriers: Both rule-based and AI-driven tools have their complexities. There's a learning curve, particularly if you use more advanced Amazon PPC management software components.
Industry Trends and Updates: Besides Amazon's own tweaks, broader industry trends like seasonality, competitor actions, and emerging ad formats can all impact your ad performance. Staying abreast of these changes is a job in itself.
Why Consider Outsourcing?
Given these complexities, there comes a time when you might ask, 'Should I continue managing this myself, or is it time to seek professional help?' If you're spending too much time managing campaigns, not achieving your desired ROI, or simply overwhelmed by the complexities of PPC Amazon software, it could be time to outsource.
Partner With NUOPTIMA
This is where a specialised growth agency like NUOPTIMA comes into play. Our team of Amazon specialists are seasoned in the intricacies of PPC software, staying up-to-date with the latest trends, algorithmic changes, and industry best practices.
We offer various services, from managing your campaigns to advising on the best Amazon PPC automation software for your specific needs. You won't just be delegating the hard work; you'll be partnering with experts who can help you maximise profits and minimise wasteful spending, allowing you to focus on other facets of your business.
So, is it time to outsource? The decision ultimately lies with you, but if you're wrestling with any of the challenges mentioned above, a conversation with us could be the next logical step.
Thus, if you're overwhelmed by Amazon PPC, book a call with NUOPTIMA today, and let us simplify things for you.
Conclusion
Choosing the right Amazon PPC software can make or break your online advertising strategy. By considering budget, scalability, and data analysis capabilities, you can select a tool that aligns with your business objectives.
Why not book a call with our Amazon experts? We'll guide you through the best software options and advertising tactics for your brand.
What is the best Amazon PPC tool?
The 'best' tool largely depends on your unique needs. For scalable, AI-driven solutions, Teikametrics and Perpetua stand out. For rule-based functionalities, Seller.Tools or PPC Entourage might be more up your alley.
Which tool is used for PPC keywords in Amazon?
Keyword management tools like PPC Ninja and SellerApp specialise in search term analysis, making them ideal for sellers looking to optimise their keyword strategies.
How long does PPC take to work on Amazon?
Depending on your product and market, you might start seeing results in a week or two. However, it could take longer for a more mature, competitive market.