Key points
Amazon makes it easy for any person to start a business selling products online in a very short time span.
If you're considering opening an Amazon store, you should first determine what products you're going to sell, how you will source those products, and what business model you're planning to use.
Once you're ready to start your business, you will need to decide on a budget for your business, create an Amazon seller account, determine whether you can do everything on your own or need to hire helpers, and get all the necessary licenses and documents.
The next steps will be to decide what products you're going to sell, find a place to source them, order samples, decide on the branding of your products, and order stock. Once everything is ready, launch your business and start working on optimising and growing it!
Are you tired of working from 9 a.m. to 5 p.m. every day? Have you considered starting your own business selling products online? It's an idea that many people have, but few are willing to take on the risks as they don't believe they can succeed. Yes, the online retail market is a difficult place to achieve success, but there are numerous ways to go about starting your business, and some of them are more likely to give good results. One of these is Amazon, one of the largest online marketplaces for selling and purchasing products. It is the platform with millions of customers, dozens of useful tools and services, and an easy-to-use interface for running an online business. So, if you want to start a business on Amazon but don't know how it works, you've come to the right place. In this article, we will explain how to begin selling on Amazon and how to manage the entire selling process step-by-step.
Getting Started on Amazon
Before you can establish yourself as a seller, you must first decide what you want to sell, how much time you can devote to your new business, and how you will build your strategy. It will be much easier to start a business once you have answers to these questions because you won't have to stop and solve key problems along the way. Instead, you will have a steady foundation for your business.
Step 1: Set a Budget
It is critical to consider how much capital you are willing to invest in your business, as this will influence the strategy you choose and the products you sell. The key is to find a balance: don't spend all of your money on the business, and don't be too frugal.
Take into account all the expenses you will incur and determine the amount of money you can afford to spend. This will typically include inventory purchases, Amazon fees, shipping costs, marketing, and so on.
The first thing you'll need to purchase is an Amazon Seller Account plan. Amazon offers two types of plans (individual and professional) to account for the sales levels you anticipate for your business. Here are some key distinctions between the two plans:
Individual
Choose Individual if:
You have a low turnover of goods (fewer than 40 sales per month).
You are new to the Amazon business and are still developing your sales strategy.
You're not interested in advanced tools just yet.
You are unwilling to pay a monthly fee in exchange for some bonuses.
Professional
Apply as a professional, if:
You sell more than 40 items per month.
You want to have access to premium tools.
You are already confident in your business strategy and have sold products online before.
You're willing to pay $39.99 per month to receive some Amazon bonuses.
Of course, you can always begin selling as an Individual and upgrade your account to the Professional selling plan when you feel more confident about your business.
Step 2: Analyse Your Capabilities
Consider whether you want to run a business as your full-time job or as a side hustle. Do you own a warehouse where products can be stored before shipping or have experience in logistics? Do you need additional assistance with some parts of the job, or can you handle it all yourself? Consider all of these factors before deciding on a business model, as they will influence your budget and workload. For instance, if you want to spend as little time as possible on order fulfilment, you can join the Amazon FBA program.
Step 3: Start Your Own Company
While you do not need a business license to sell on Amazon if you live in the UK, it is still a smart idea to form your own corporation or LLC. Experienced sellers claim that it will make the tax process more straightforward and understandable.
Step 4: Choose Products
You should not take the process of selecting products lightly because you must consider all of the factors that will influence your products' success and profitability on Amazon. Here are some of the most popular categories on Amazon:
Products from the Home & Kitchen category account for nearly half of all sales.
The Toys & Games category accounts for 40% of total sales.
34% of sellers prefer to sell books.
The majority of other sellers work in the Health, Household & Baby, Kitchen and Dining, and Pet Supplies categories.
This is not to say that you must limit your product selection to these categories – these are simply the most popular and profitable options. You can certainly find good products to sell in a different category and make a lot of money.
No matter what category you choose, you should consider your chances of beating other sellers who are selling the same product and taking the top spot, as this will have a huge impact on your success. If you're considering highly popular categories, look for items with a Best Sellers Rank between 100 and 6,000 and try to select products that are selling well but don't face a lot of competition.
Step 5: Source the Products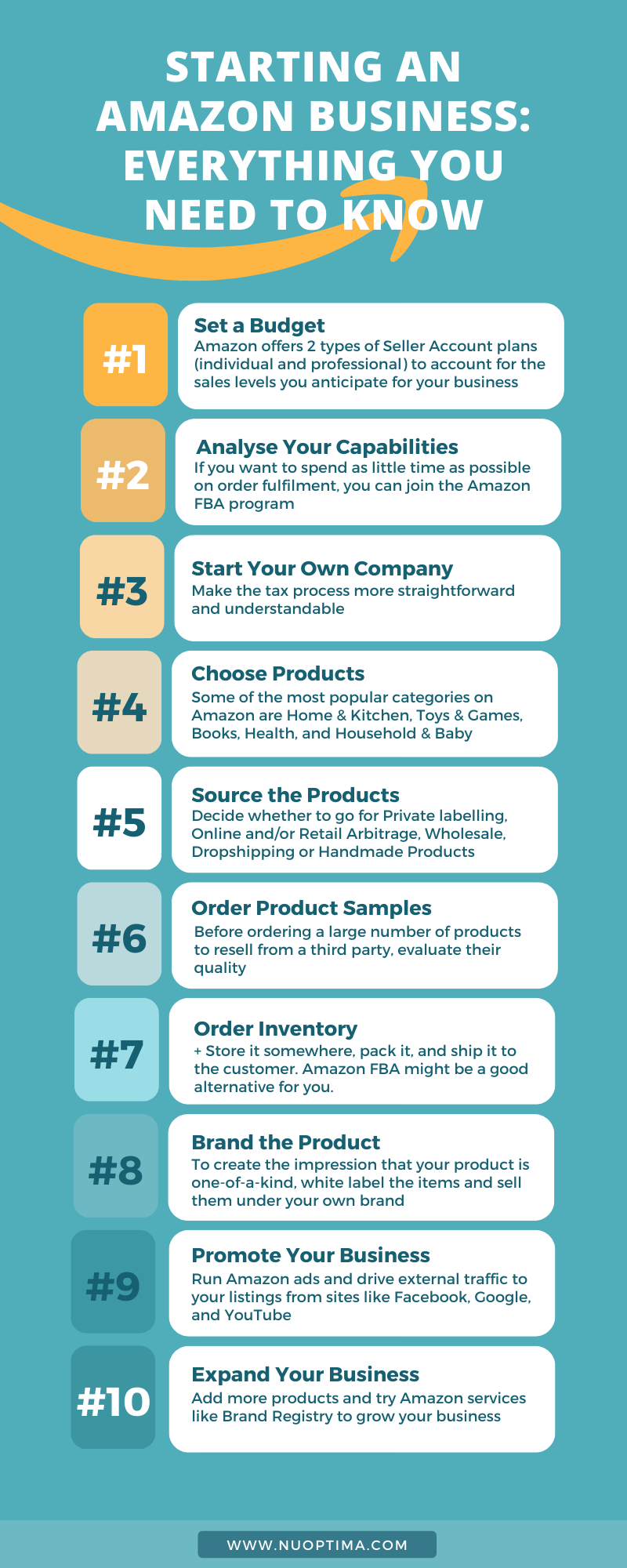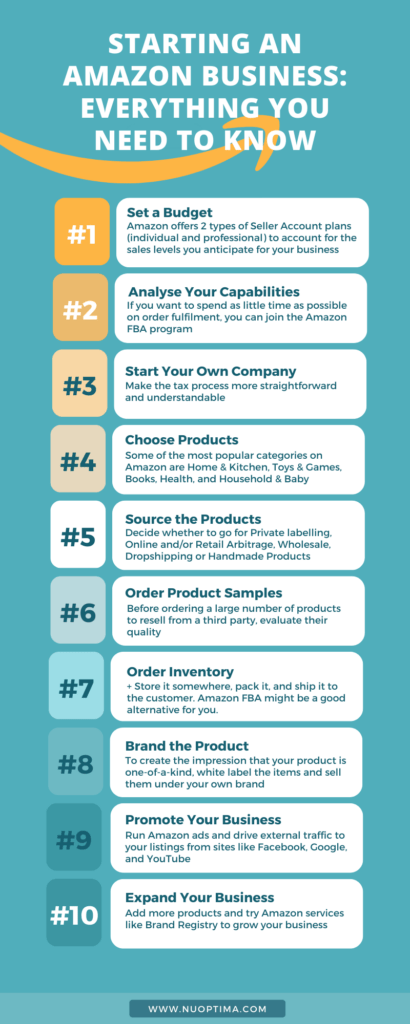 There are many business models you can choose from, and all of them influence how you will source products for your Amazon business. Each of them has its own pros and cons, so you should try to find one that fits you most:
Private labelling. Choose this option if you want to rebrand products manufactured under a white label.
Online and/or Retail Arbitrage: Sellers who use this method find discounted or bargain goods in brick-and-mortar or online stores and purchase them with the goal of reselling them on Amazon at a higher price.
Wholesale: This model is similar to the arbitrage model, but instead of finding individual units, you buy low-cost or discounted goods in bulk.
Dropshipping: Sellers who use the dropshipping method do not keep physical stock in their warehouse but instead transfer orders directly to a third-party supplier.
Handmade: Some sellers make products by hand and sell them on Amazon. You can sell jewellery, clothing, decorations, and so on.
To discover the advantages and disadvantages of different product sourcing methods in more detail, read this guide from NUOPTIMA.
Step 6: Order Product Samples
Before ordering a large number of products to resell from a third party, it is a good idea to order a few samples to evaluate their quality and determine if they are a good fit for you. You can get products from local manufacturers, but many sellers prefer to get their inventory from China because there are so many low-cost and varied items there.
In China, there are two massive shopping platforms most sellers prefer to use Aliexpress and Alibaba. So, you can go to these websites and search for manufacturers who make products you'd like to sell and ask them if you can order a few samples (2 to 3 will be enough). You can try out the items and also inquire if the manufacturers can customise the products for you, as many sellers will do so for free. Keep in mind that because these products are shipped from China, delivery can be extremely slow.
Step 7: Order Inventory
Remember that in addition to ordering inventory, you will need to store it somewhere, pack it, and ship it to the customer. All of this costs money, which is why you must decide whether it will be better for you to handle the entire process yourself or seek additional assistance.
On Amazon, sellers have two options for doing business: FBA (Fulfillment by Amazon) or FBM (Fulfillment by Merchant). Under the FBA program, Amazon handles shipping, customer service and returns, whereas the seller is responsible for doing all of this if they choose the FBM option. If you want to know more about FBA and FBM, read our article that explains all the differences in detail.
Step 8: Brand the Product
If you source products from a third-party manufacturer, you can obviously sell them as is, but it could also be a good idea to "white label" the items to make them unique and sell them under your own brand. First and foremost, it will increase the visibility of your product and create the impression that it is one-of-a-kind. As a result, you can grow your own brand, which will help you to beat the competition and create a strong and profitable company. But keep in mind that having your own brand requires more work than simply reselling products you've purchased from China. You will need to create a logo, customise the packaging, promote your brand, and so on.
Step 9: Promote Your Business
If you want to promote your products on Amazon, you will only need a few hundred dollars to get started with marketing. There are several ways to run ads, but the most popular is to use Amazon ads, which are typically the most profitable option, with conversion rates ranging between 20 to 30 per cent. Another option is to drive external traffic to your listings from sites like Facebook, Google, and YouTube. Most sellers need to market their products for one to five months before the listings start attracting enough organic traffic on their own. The duration of this time period depends on the quality of your advertisement and the type of products you sell.
Step 10: Expand Your Business
Once you've launched your first listings, you can finally start growing your company and making it profitable! The easiest way to do this is to add more products to attract more people and increase your income. Also, don't be afraid to try Amazon services like Brand Registry. Amazon Brand Registry verifies and protects registered trademarked brands. It also provides sellers with advanced tools for promoting their brands and monitoring other sellers' listings for content that infringes on their intellectual property rights.
Final Thoughts
Once you decide to enter the world of Amazon business, you open Pandora's box full of opportunities! Of course, in addition to gaining access to lots of new opportunities, you will face some challenges, as selling on Amazon is a lot of work, especially if you have no experience. It is a good idea to seek support from professionals to assist you with issues and aid you with the development of your business. And NUOPTIMA is here to help! Sign up for a free discovery call with one of our Amazon growth experts, or leave your email address so we can contact you and tell you more about what we do.
Talk to an Amazon expert
We work with 100+ businesses. Book a slot now to talk to one of our experts.
---
FAQ
How much does it cost to start your own Amazon store?
The amount of money you need to start selling products on Amazon varies depending on your intentions, but you won't need a lot of money upfront. In many cases, $500 to $1,000 is enough to get started.
Is selling on Amazon free?
You will not be charged for signing up as a seller on Amazon, but when you create your Seller Account, you will be asked to select a selling plan. The individual selling plan will only cost you $0.99 per item sold, but you will also need to pay for some services in the process.