Read NUOPTIMA's article on lead generation and book a free 15-minute consultation call with our experts if you wish to learn more about our services.
Key Points
SEO or search engine optimisation is the process of increasing both the visibility and traffic of your website through search results on search engines. It is the process of increasing both the quantity and quality of traffic to your site.
Lead generation involves capturing the interest of consumers in your product or service to procure sales. It is a vital process for both B2C and B2B companies.
SEO and lead generation are two completely separate strategies, but bringing them together can drive huge growth for your company. SEO can help with and accelerate a company's lead generation efforts.
Our SEO tips to boost lead generation include promoting and overseeing customer reviews, ensuring you have active social media channels, link building, increasing website speed, and using visual content.
Undertaking SEO for lead generation is a complicated and time-consuming process, so many companies choose to hire an expert SEO agency to help with their efforts. Book a free discovery call with qualified SEO agency NUOPTIMA to explore how our services can greatly benefit your business.
What is SEO?
SEO stands for search engine optimisation and is the process of increasing both the visibility and traffic of your website via free search results on search engines such as Google. It involves refining web pages to improve your rankings on search engine results pages (SERPs). The higher the rank of your web pages, the better the chances that search engines will display your pages to users for applicable search queries. SEO is an all-inclusive term to describe everything done to achieve higher visibility for your website and its content online to draw in suitable people through SERPs. This includes tactics such as link building, embedding keywords on your site, and social media marketing. SEO:
Increases organic search engine traffic, which steers more leads and customers and consequently leads to more sales and growth for your company
Improves website visibility and ranking to maximise your lead generation
Helps your website stand out online from other competitors
Helps portray your product or service as trustworthy to the visitor
Essentially, when conducted correctly and efficiently, SEO can give you a constant stream of qualified traffic to your site from search engines daily.
What is Lead Generation?
Lead generation involves capturing the interest of consumers in your product or service with the key aim of acquiring sales. Its purpose is to identify prospects interested in your product or service and convert them into sales. It is vital for both business-to-consumer (B2C) and business-to-business (B2B) companies in today's highly competitive online world. Lead generation achieves several things, including:
Attracts qualified leads
Assists healthy business growth
Provides a transition from consumer to customer such as by combining landing pages, paid advertising, calls to action, and applicable content (lead magnets).
How Does SEO Affect Lead Generation?
As we can see, SEO and lead generation are two completely different strategies. But, when you bring the two together, you can drive huge growth for your company. SEO focuses on adjusting and editing parts of your site to help it rank better in search engines and drive more web traffic. Lead generation focuses on increasing the amount of prospects and customers for your business.
SEO can help accelerate a company's lead generation efforts by increasing awareness of the business through organic traffic to the site. The more regularly your website shows up on the first page of Google, the easier it is for your target customers to locate you and learn more about your business solutions. SEO is deemed superior to other marketing strategies for generating leads, including PPC or pay-per-click adverts.
SEO can be efficiently used to improve your lead generation efforts in numerous ways, such as by:
Conducting keyword research
Auditing your website
Forming a backlink strategy
Updating the existing on-page content
Forming an ongoing content marketing plan
Comparing and measuring your competitor's performance
Comprehensive SEO can assist you in satisfying both website visitors and search engines themselves. It lets you optimise your site for search algorithms but without damaging your readers' experience. This helps ensure that your site is ready to generate as many leads organically as possible.
SEO Tips to Boost Lead Generation
In this section, we offer 12 SEO tips that can help to boost lead generation. While these are all strategies you can viably undertake, you may wish to consider hiring a qualified SEO company to help you in your efforts. SEO can be a difficult and time-consuming venture when undertaken alone.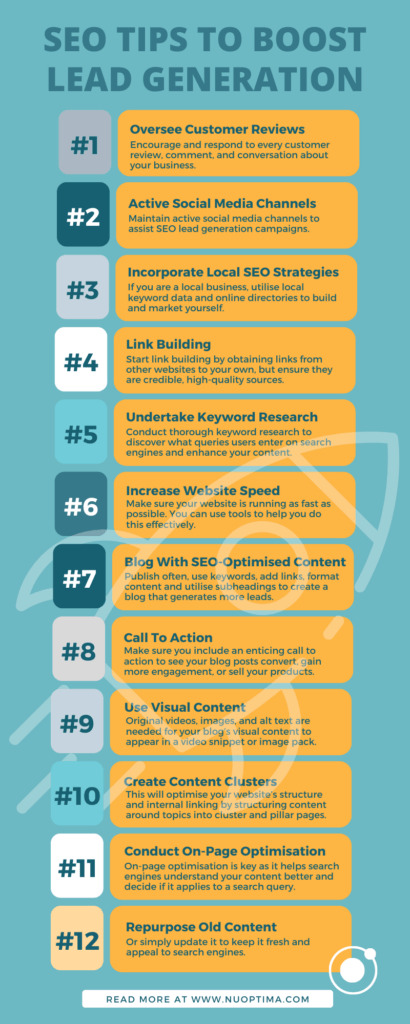 Promote and Oversee Customer Reviews
Customer reviews are a factor that positively impacts SEO and your overall rankings. Positive reviews indicate to search engines that your website is authoritative and trustworthy. Here are some tips on how to use them effectively:
Respond to reviews: Whether a customer leaves you good or bad feedback, you should take the time to respond. This indicates to customers that you care about their opinions.
Encourage customers to leave reviews: An excellent way to get reviews from customers is to ask for them. Ensure that you make it easy and convenient for people to leave a review, as this will increase the chances of them actually doing so.
Position your business in the best light: Your company's prominence digitally plays an important role in how Google ranks it. It considers your company's involvement online to decide where you should be ranked. This is why you should position your business in the best light possible to improve your SEO efforts. This can be accomplished through several means, such as by responding to all reviews, comments, and conversations about your business, ensuring all URLs affiliated with your business have helpful content and ensuring your articles are written by a trustworthy content creator.
By following these techniques, you are showing Google you put your customers first and can give you an advantage over your competition. It will also improve your SEO as more customer feedback equates to more keywords, creating more income for your business.
Takeaway: Show Google you put your customers first by encouraging and responding to every customer review, comment, and conversation about your business.
Ensure you Have Active Social Media Channels
Social media can help your website to rank better. There is a clear correlation between social signals and ranking positions. On Google, the top-ranking pages have substantially more social signals. This is partly because the more of a social media presence your business has, the more likely you will attract those who will then link to you. The links you can garner from people who see your content and link to you from other sites are important to SEO.
Takeaway: Maintain active social media channels to assist SEO lead generation campaigns.
Incorporate Local SEO Strategies
If you are a local business, incorporate local SEO strategies. The great thing about a website is that it gives you the chance to present your business to the whole online world. Local SEO focuses more on helping you to improve your rank in the area where your company operates. You can benefit enormously from using local SEO strategies by ensuring your audience is able to find you on search engines. Here are a handful of local SEO tactics:
Optimise your content for local search: Utilise local keyword data to optimise your content and inform your audience who and where your business is.
Encourage reviews: As mentioned in our first point, it is highly important to ask for reviews. Simply put, the more positive reviews you receive, the more leads you will ultimately get.
Use online directories: By using online directories, you can build and market yourself, so you have a more robust online presence.
Takeaway: If you are a local business, incorporate local SEO tactics.
Begin Link Building
Link building is the process of gaining links from other websites to your own. This helps users to navigate more easily between pages on the internet. It also allows search engine crawlers to negotiate better between individual pages on your website and between whole websites on the internet. Link building is a core element in any SEO lead generation strategy and plays a massive role in the growth and success of your site. It helps to improve the rank of your website, drive website traffic, and increase the exposure of your brand.
But, you should ensure you do it credibly to gain positive results. Therefore, you should not buy links. Ensure that you only link to sources of high quality to improve the ranking of your own domain. A good rule of thumb is to try and obtain links from websites with a higher domain authority than your website. It is also viable to manually reach out to bloggers for link placements and guest posting.
Takeaway: Start link building by obtaining links from other websites to your own, but ensure they are credible, high-quality sources. Link building is vital to any SEO lead generation strategy.
Undertake Keyword Research
Keyword research is a crucial aspect of good SEO. Keyword research involves finding search terms that users enter in search engines when looking for information, products, or services. Keyword research can assist in further enhancing your content. It can be a sturdy foundation of all your online marketing endeavours and help drive every decision you make when appropriately conducted. Numerous keyword research tools can be used to find the relevant keywords that lead to your site to increase sales, drive more traffic, and get a fantastic return on investment (ROI) from your marketing. Some of the most popular tools used for keyword research are Moz, Google Search Console, and Google's Keyword Planner.
Takeaway: Conduct thorough keyword research to discover what queries users enter on search engines and enhance your content.
Increase Website Speed
The speed of a website affects its search engine rankings. Google wants to give its users the best experience possible, and the speed of a website is a huge factor in helping them achieve this. Therefore, the quicker your website responds to a search, the higher Google will rank it. Here are a few ways you can increase your website speed:
Remove any unnecessary plugins and scripts
Optimise your scripts using a plugin such as WP Fastest Cache
Fix any broken links and delete spam comments
Use a reliable web hosting provider
Use an image optimiser plugin, such as TinyPNG
Clean up your database using a plugin, such as WP-Optimize
Enable caching by using W3 Total Cache – or MaxCDN if you do not use WordPress.
Ensure your website is mobile responsive. Over recent years, more web traffic has occurred on mobile devices than ever before. Therefore, it is imperative to ensure your site is optimised for mobiles to stay relevant and competitive. This will make it easier for users to navigate your website and improve your website usability score.
A great tool to check your website speed is Pingdom. Then, you can use its suggestions to improve your load times.
Takeaway: Make sure your website is running as fast as possible. You can use tools to help you do this effectively.
Make a Blog with SEO-Optimised Content
One of the most effective ways to use SEO to gain more leads is by building an active blog that includes optimised blog posts. A blog puts together all the elements you need for fantastic website SEO. Plus, by posting content on a constant basis, you are providing fresh content, backlinking, keywords, images, and social media engagement. Here are some ways of SEO-optimising your blog:
Publish often: You should create content consistently to get the most from your SEO efforts. The more often you post to your blog, the better your results.
Use keywords: Use keyword research — as aforementioned — to find the most important keywords in your industry. Then, embed them in your headline and throughout your blog's content. Bear in mind that you should keep it natural and do not keyword stuff, as this can lead to penalties from Google.
Add links: When you publish a blog, you must link it to other applicable content on your site. This increases usability, improves page reviews, and helps to spread link juice.
Format content: Your content should be full of value and be easy for your readers to digest. It should be easy to read and engaging to the reader.
Utilise subheadings: Use H2, H3, and H4 headings to make your content easier to scan, improving user experience. It also assists Google in understanding what your content is all about.
Takeaway: Create a blog with SEO-optimised content. This is a great way to generate more leads.
Include an Enticing Call to Action
If you want your blog posts to convert, gain more engagement, or sell a product, you need a compelling call to action (CTA). This should persuade readers to take the next step on your blog. Ensure it is easy for potential customers to find information, purchase your products or services, and get in touch with you. A clear CTA should appear on every single page of your website, regardless of whether it is an educational blog post or an informational page. A great CTA should describe precisely what the user will gain by listening to and following your instructions.
Takeaway: Make sure you include an enticing call to action.
Use Visual Content
Some keywords are worth more in Google searches when they have visuals. SERPs often feature images and videos. Original videos, images, and alt text are needed for your blog's visual content to appear in a video snippet or image pack. The alt text for your video or image greatly influences whether it appears in SERPs and how highly it ranks. Providing alt text on your website helps screen readers to provide a better experience for those who are visually impaired.
Takeaway: Include visuals in your content and include alt text.
Create Content Clusters
Content clusters are an SEO tactic designed to optimise the structure of a website and internal linking by structuring content around topics into pillar and cluster pages. Content optimisation is not just about adding keywords, as this alone will not improve your presence online. Search engines have evolved in more recent times, and they look beyond keywords to provide accurate results. Search engines look more at intent and context. This is why you need to make high-quality content within the area of your expertise. Consider your searcher's intent and what they want to find out. To plan a content strategy, use topic clusters.
Takeaway: Create content clusters to optimise your website's structure and internal linking by structuring content around topics into cluster and pillar pages.
Conduct On-Page Optimisation
On-page optimisation is key as it helps search engines understand your content better and decide if it applies to a search query. Therefore it is important to tweak what is visible to users on your website. This includes images, video, or audio content. You should also tweak the elements that search engines can view, such as structured data and heading tags. This is essential because search engines are becoming more complex and give precedence to relevant and quality content in SERPs.
Takeaway: Conduct thorough on-page optimisation to help search engines better understand your content.
Repurpose and Update Old Content
If you have a large amount of content on your website, ensure you concentrate further on it. Rather than neglecting it, you can update and refresh your existing content. This is key because search engines love new content. Therefore you should review your old content and decide how you can improve it, such as by adding new information, statistics or facts.
Takeaway: Update any old content on your website to keep it fresh and appeal to search engines.
Final Thoughts
SEO and lead generation are two completely different tactics, but using them together can lead to tremendous and consistent growth for your business. SEO can assist and speed up a company's lead generation efforts. Our SEO strategies to boost lead generation include link building, increasing the speed of your website, using visual content, and making a blog with SEO-optimised content. Many businesses find SEO for lead generation very time-consuming and complex. For this reason, it is a fantastic idea to hire an experienced SEO agency to assist you in your SEO efforts. Book a free 15-minute discovery call with NUOPTIMA's experts today to explore how we can help your website's success.
Talk to an SEO expert
We work with 100+ businesses. Book a slot now to talk to one of our experts.
---
FAQ
What is the difference between SEO and lead generation?
SEO is the process of generating organic traffic to your website through search results on search engines. On the other hand, lead generation focuses on capturing the interest of consumers in your product or service to procuring sales. In a nutshell, SEO focuses on increasing web traffic, and lead generation focuses on increasing the amount of clients and potential clients for your business.
Can SEO help lead generation?
While SEO and lead generation are two completely different strategies, SEO can complement lead generation efforts by increasing awareness for your company through organic traffic to the site.
How do I conduct SEO for lead generation?
In our article, we have listed 12 strategies for conducting SEO for lead generation, such as link building, increasing your website speed, and making a blog with SEO-optimised content. However, many companies find this work very difficult and time-consuming, so it can be a great idea to hire a qualified, expert SEO agency to help.