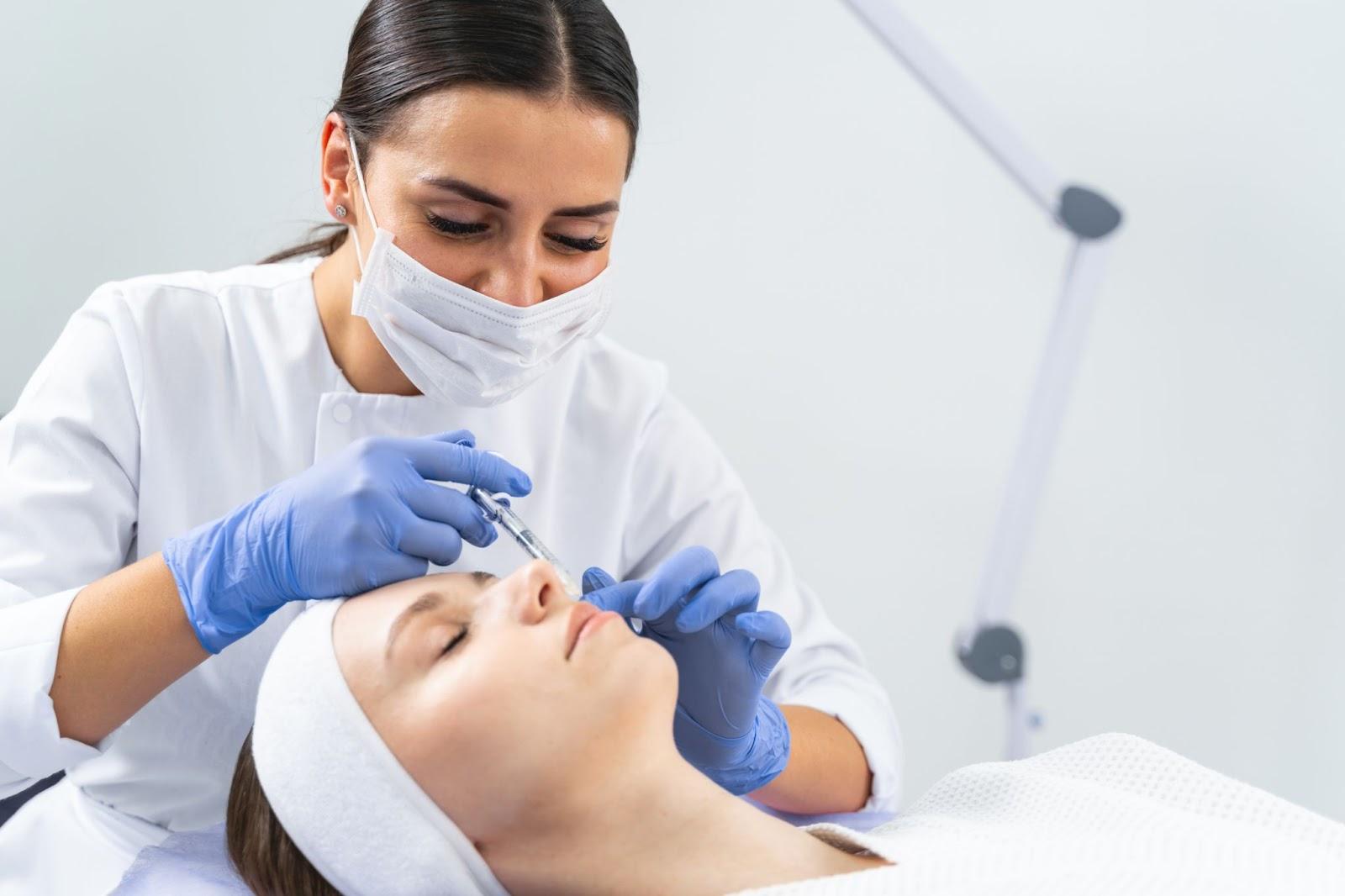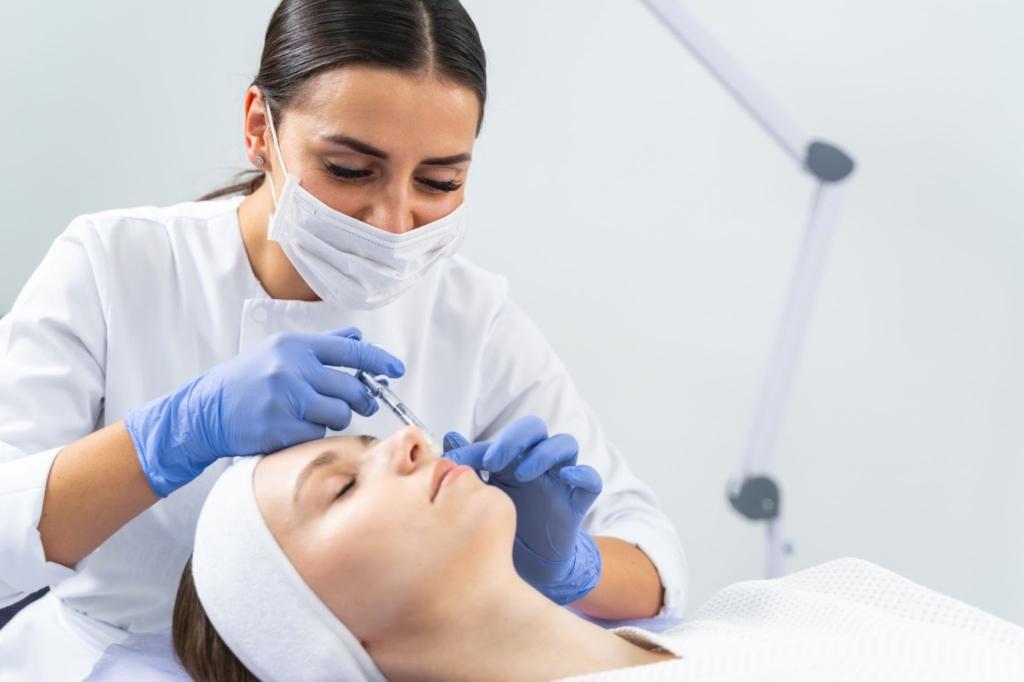 As an aesthetician, you have a wealth of knowledge and expertise. However, reaching potential clients and standing out in a crowded marketplace can be challenging. With so many websites vying for attention, it can be difficult to make your site visible and attract the right audience. That's where search engine optimisation (SEO) comes in.
Investing in SEO services can increase your website's visibility and attract more targeted traffic. In this article, we'll explore the impact of medical SEO and the results you can expect from investing in SEO consulting. Whether you're looking to improve your online presence, reach a wider audience, or drive more conversions, this is your guide to understanding the benefits of SEO for aestheticians.

Why is SEO Consulting Important for Aestheticians?
Aestheticians need to earn the trust of their audience to convince readers that they are the best option. Search engine optimisation is the most efficient way to do this for numerous reasons.
Firstly, people typically trust organic results more than advertisements, like pay-per-click (PPC), which appear at the top of a search page. Generally, this is because the top organic search results are the ones Google deems to be the most accurate, useful, and trustworthy.
Careful SEO implementation is vital to securing those positions, particularly as healthcare websites face restrictions on the information they can share. Moreover, pages that may impact one's health, happiness, or financial stability must work harder to prove their expertise to Google — these are known as 'Your Money or Your Life' (YMYL) topics. Medical aesthetic clinics are likely to fall under this category which is why SEO is essential to building a solid website and demonstrating your topic authority to Google.
SEO consulting is a cost-effective and long-term strategy to grow your website over time. By implementing technical fixes, writing content across the whole niche, and placing reliable backlinks, you'll build topical authority, increase online visibility, and prove to Google (and your audience) that you're worthy of those top positions.
Though how do you know it's worth investing in organic growth tactics? Can you reach enough people through organic search?
Search Demand for Aesthetician on Google
Below we're evaluating the search demand for the search term 'aesthetician' using an SEO software, Ahrefs. In the below image, you'll see this term has a global search volume of 35 thousand. In other words, this is the average number of people worldwide searching for aestheticians on Google every month.

The search data also tells us that 19 thousand of those searches come from the United States, 2,800 from Canada, and 2,600 from the United Kingdom. It gives you an insight into how many people are searching for your medical services every month.
Under each keyword, you'll also find suggestions for similar search terms. Below are some keyword ideas related to the topic of aestheticians.

An SEO professional would assess all these keywords to find the most appropriate for your site. However, it's worth noting that the ones you'll target might not have the most search volume because your competitors or industry giants already dominate them. For example, the term' medical aesthetician' has a search volume of 5,200. Especially if your site is newer and has less history on Google, you should target low-demand keywords to secure as many top positions as possible. This approach builds your credibility, making it easier to target more competitive search terms in the future.
It's crucial to find the right keywords for your niche and research the different opportunities to gain organic traffic. For example, you may create pages that target similar words, such as 'esthetician.' While the technical aspects of these roles differ, your audience might not know the difference. Consequently, it provides an opportunity to educate viewers at the start of their buying journey and help them discover the services they want. Compared to 'aesthetician,' the keyword 'esthetician' has a global search volume of 408,000. It'll be up to your SEO team to discover appropriate keywords to access this audience and direct the right people to your website.


Analysing search demand is a significant part of SEO as it'll help you determine whom you're targeting, what pages to create, and which backlinks are relevant. You might also review related questions during this stage, as you'll see in the image below. Not only does this show your audience's interests, but it can also help you pinpoint the search intent of different keywords.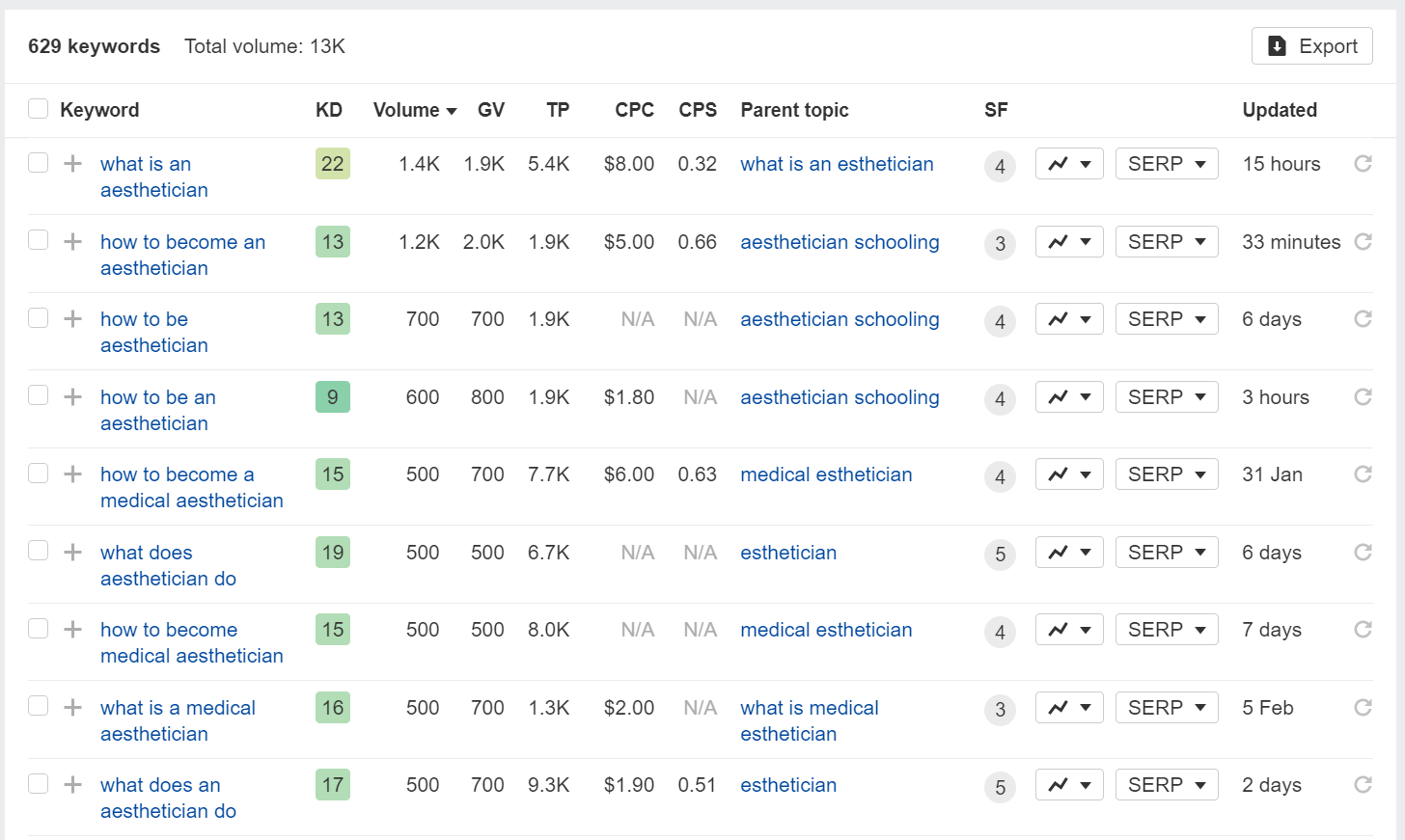 People Use Many Phrases to Find Medical Aesthetic Clinics
As mentioned above, your audience doesn't use one keyword to find services like yours. However, rather than targeting random terms, you must identify the phrases that your ideal customer uses.
As you saw with the keyword 'esthetician,' you can use hundreds of terms to target different search intents, even if they have a lower search volume. Here are some phrases your ideal clients might use to find your business:

Medical aesthetic clinics in [location] (e.g., clinics in London)
Aestheticians for [specific procedure] (e.g., aestheticians for botox)
Questions and advice about the industry (such as choosing an aesthetician, recovery advice, etc.)
Your SEO content strategy should target your audience at different stages of their customer journey, from learning about the industry or procedure to the final buying decision. Creating top-funnel and bottom-funnel pages will support numerous goals, including increasing newsletter sign-ups, product purchases, or consultation bookings. In fact, showcasing your knowledge at every stage of your customer's journey will prove your expertise and secure you as a viable option when making a purchase decision.
An SEO expert for medical aesthetic clinics can identify the right keywords for each stage and group them by search intent. This method is known as keyword clustering. It is an excellent way to create pages that cover everything your audience wants to know and avoid them leaving your site for competitors.
Furthermore, many medical clinics may also employ a local SEO strategy for their in-person services and consultations. This means using location-specific keywords to narrow your search to a super-targeted audience. Although these terms may have a lower search volume, they often have a higher search intent, meaning the person is actively looking for a clinic and is more likely to convert on that search.
Other Aestheticians Are Getting Results From SEO
You've seen why SEO can position you as an industry expert and help you secure top spots in Google search results. However, how does this translate into tangible results? Does SEO work for your industry? Let's find out.

The above image displays website statistics for glowday.com. This site attracts 67 thousand visitors from organic traffic, which equates to the number of people who have clicked on their site from a search page. Their SEO efforts have managed to secure this traffic for free since they don't pay to stay in those positions.
However, if they were to take a different approach and use PPC advertisements, it would cost the website owner an average of $34,000 per month to generate the same volume of traffic they get for free from SEO. This figure comes from the traffic value and shows us the monetary worth of their organic traffic. Therefore, thanks to their SEO investment, they are saving thousands every month and increasing their online presence in the process.
This next image shows which pages generate the most organic traffic for this website and can give a brief insight into their SEO strategy.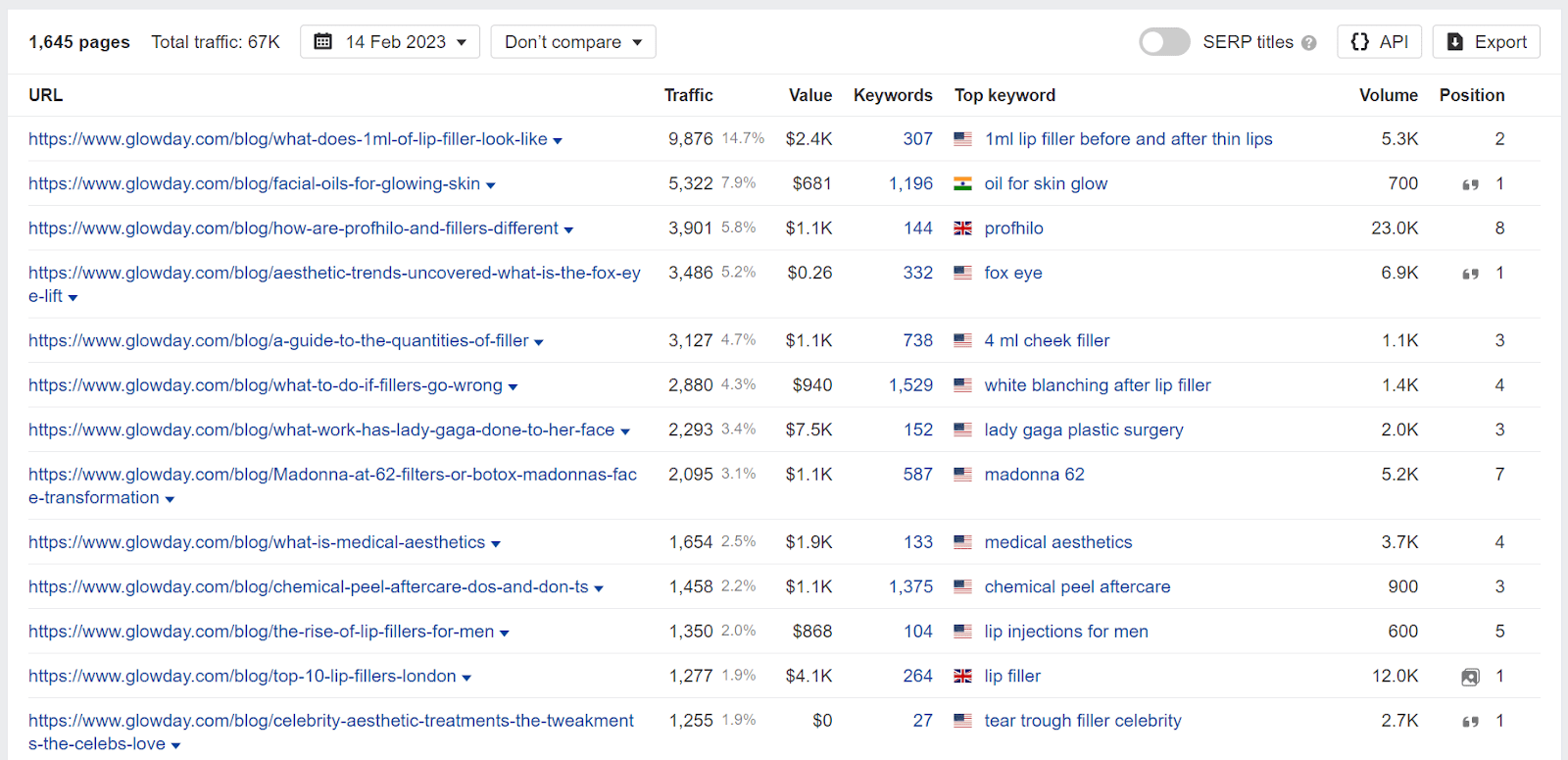 The data shows they bring in substantial traffic from top-funnel pages. For example, 'lady gaga plastic surgery' will target those interested in celebrity procedures but may not necessarily be ready to book a consultation themselves. This page alone generates $7500 worth of free traffic, which they have gained from being in the third position on the search results. Furthermore, they are ranking in top positions for other valuable keywords such as 'lip filler,' 'oil for skin glow,' and 'fox eye.' Each page has a different search intent, with some targeting those ready to purchase and others learning about specific procedures.
We can see that Glowday has an established presence in this niche and has taken a well-rounded SEO approach. However, we also want to highlight the impact of SEO on smaller sites still building their foundation.

This website brings in 7,400 visitors from organic searches, which equates to $3100 of free traffic. With their current optimisations, the website owner saves over $3000 every month, which they would have spent on PPC. Although they aren't bringing in as much traffic, SEO still saves them thousands every month while they continue to build online credibility.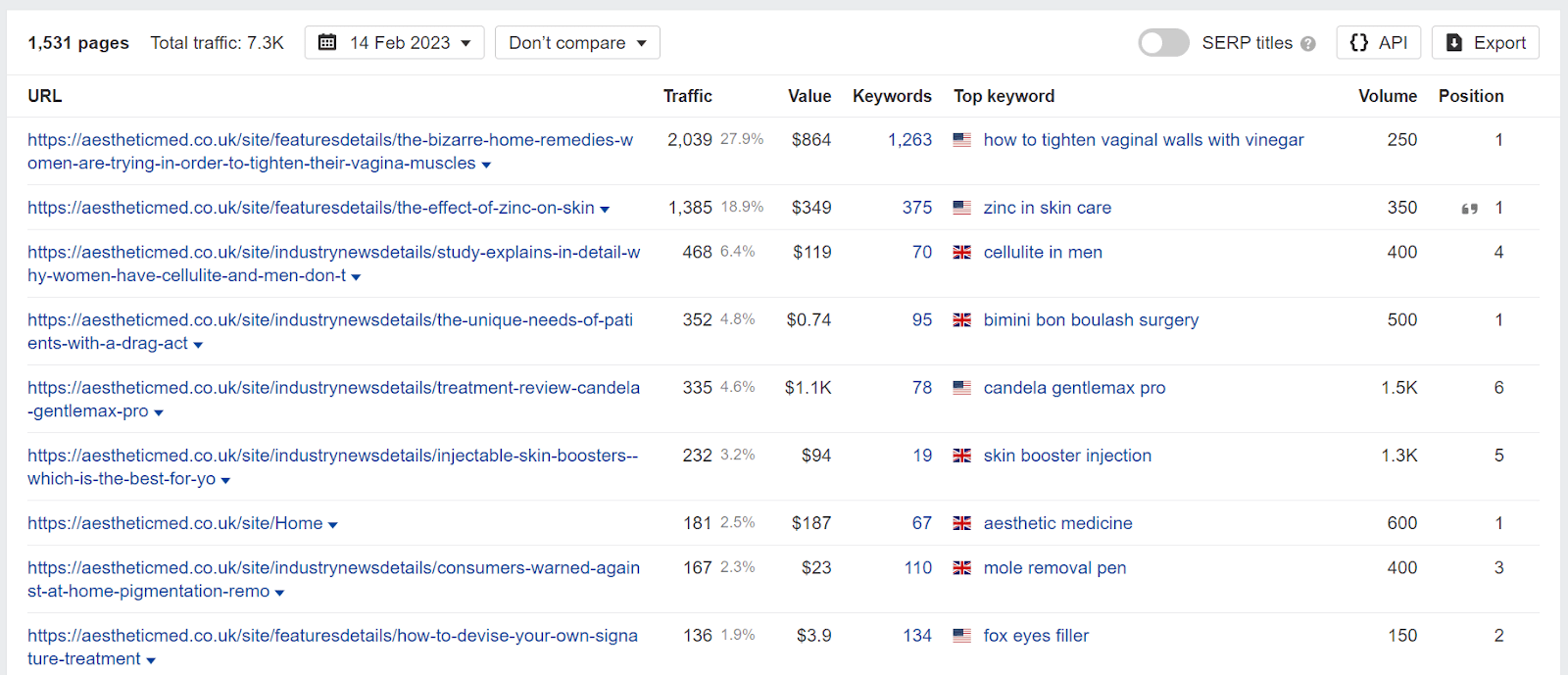 Once again, this site gets plenty of traffic from educational blog pages, many of which are ranking in position one on Google. For example, the keyword 'zinc in skincare' brings in approximately 1,385 visitors. While this page might outline the effects of zinc in various products, it might also encourage readers to sign up for an informative newsletter or view zinc-related products.
If this were your site, an SEO team would assess possible improvements for your pages, which keywords your competitors are targeting that you may benefit from, and so on. They may also run an SEO audit to evaluate technical issues or boost your site's credibility with relevant backlinks. It's important to consider optimisations from every angle as Google considers the content, the user's experience on your site (such as mobile view and site speed), and if any other relevant websites link back to yours.
SEO Consulting for Medical Aesthetic Clinics
As we've highlighted, SEO is essential for growing your website and promoting your medical aesthetic clinic. However, it's important to beware of the challenges in doing so. For instance, there are additional regulations for medical sites and quality guidelines that you must follow. For this reason, many clinics outsource SEO services or invest in SEO consulting to ensure they are on the right growth path.
Here is a brief overview of what an SEO agency will do for you:

Run an SEO audit to analyse your website from a technical and content standpoint.
Create a data-driven strategy that targets your ideal client, is appropriate for your website, and aligns with your business goals.
Research, write, and edit high-quality articles that show your topic expertise, provide genuine value, and target your customers at various stages of their journey.
Write and organise relevant backlinks to be placed on reputable sites.
Optimise your site from a technical SEO perspective and promptly address any issues that arise.
Always adhere to industry regulations and Google's quality guidelines, and keep on top of updates.
At NUOPTIMA, we pride ourselves on taking a holistic and data-driven approach. We ensure your site is credible in the eyes of Google while still providing authentic advice to your audience and getting in front of the right people. We've helped numerous brands under the YMYL category get on the first page of Google and build trust with their customers. Read our SEO case studies to see our approach in action.
We aim to help your website grow in a sustainable and cost-effective way. If you're curious about how SEO can work for your site, jump on a discovery call with one of our SEO experts, who'll guide you through the best strategies and offer advice for your business goals.
Building Trust and Credibility in the Medical Aesthetic Industry with SEO
The medical aesthetic industry is a highly competitive field, and standing out from the crowd can be a daunting task. With the rise of digital platforms, more and more people are turning to the internet to find and compare medical aesthetic clinics. SEO can be a powerful tool for your clinic, enhancing your online visibility, attracting potential customers, and establishing your brand as a leader in the industry.
At Nuoptima, we specialize in SEO for medical aesthetic clinics. Our team of experts understands the unique challenges and opportunities in the medical aesthetic sector. We employ proven strategies and innovative techniques to help our clients improve their search engine rankings, drive more traffic to their websites, and ultimately, increase their customer base. Reach out to us today to learn more about how we can help your medical aesthetic clinic excel in the digital landscape.
Talk to an SEO expert
We work with 100+ businesses. Book a slot now to talk to one of our experts.
Why is SEO important for medical aesthetic clinics?
SEO is crucial for medical aesthetic clinics as it helps in attracting potential customers and establishing a strong online presence. With effective SEO, your website can rank higher in search engine results, making it easier for potential customers to find your services.
How does Nuoptima approach SEO for medical aesthetic clinics?
Nuoptima uses a unique approach to SEO for medical aesthetic clinics, focusing on keyword research, content creation, and link building. We also optimize existing pages and create new ones to attract as much organic traffic as possible.
What kind of results can I expect from Nuoptima's SEO services for medical aesthetic clinics?
With Nuoptima's SEO services, you can expect increased traffic to your website, higher search engine rankings, and increased customer acquisition. These results can lead to a significant return on investment over time.
How does Nuoptima's SEO services for medical aesthetic clinics differ from other SEO services?
Nuoptima's services are unique because of our specific expertise in the medical aesthetic sector. We understand the unique challenges and opportunities in this field, and we tailor our strategies to meet the specific needs of medical aesthetic clinics.
What types of medical aesthetic clinics has Nuoptima worked with in the past?
Nuoptima has worked with a wide range of medical aesthetic clinics in the past, including clinics specializing in skincare, cosmetic surgery, and non-surgical treatments. Our experience spans various fields within the medical aesthetic sector, allowing us to provide tailored SEO services that meet the unique needs of each client.