Key Points:
SEO has become a fundamental component of digital marketing and key to the success of many online businesses. However, it is difficult to determine the standardised cost of SEO services as your investment will depend largely on the business objectives, current website performance, size of the company, what services you require and the service provider's expertise.
Businesses may invest in SEO by paying by the hour, per month or per-project basis. Monthly SEO packages range from £1,500 upwards to £15,000+.
A proper SEO strategy is complex and requires various skills. Services may include keyword research, competitor research, technical audits and optimisations, on-page SEO, local SEO, link building, content creation, and reporting.
SEO is an investment that sets your website up for long-term sustainable growth. Investing in a reliable company with good case studies and reviews is essential. Avoid companies that follow black hat SEO strategies that may harm your efforts in the long run. Book a free discovery call with NUOPTIMA today to discuss what SEO strategy your business will benefit from.
No matter where you are on your business journey, SEO is critical if you're serious about growing a sustainable business. This article explores the complexity of SEO pricing, what is included and how to find the right services for you.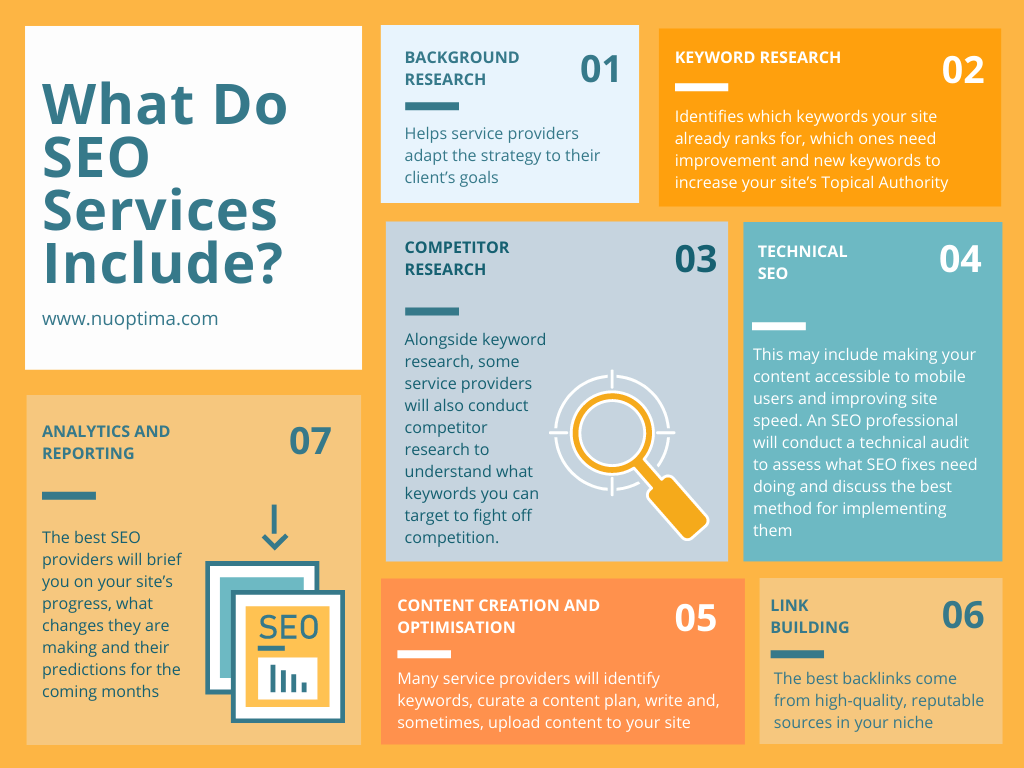 Why is SEO Crucial for Businesses?
Growing a business in today's digital climate requires a strong SEO strategy. Search engine optimisation (SEO) is the practice of optimising your website for search engines like Google. The purpose of SEO is to communicate to search engines that your site is trustworthy, relevant, reliable, authoritative and informative. This way, the algorithm can judge how well your web pages will answer the searcher's query. A good SEO professional will target specific keywords, ensuring your pages appear on the first page of Google when your ideal customer searches for something in your niche.
When your web pages rank high in search results, you will generate free, organic traffic to your website, simplifying lead generation, increasing conversion rate and opening up the opportunity to create more revenue.
However, despite SEO being crucial to the success of many online businesses, only half of small businesses claim to invest in SEO services, whereas 18% don't plan to implement SEO in the foreseeable future. Without a consistent digital marketing strategy, your site will get lost in billions of Google searches, miss out on significant traffic and drastically reduce your chances of generating revenue through your website.
Are SEO Services Expensive?
If you're new to the world of SEO, the cost of SEO services may surprise you. However, it's important to understand that the price is relative and depends on some key aspects.
Here are a few factors that may affect how much SEO services cost:
Pricing model
Type of service provider (freelancer vs SEO agency)
Service provider's experience and reputation (I.e. they are known for using the best practices and producing excellent results)
Service provider's location
The size of the client's business
The services the client requires (I.e. On-going SEO or individual projects)
SEO is an investment, and when you invest in a high-quality service with SEO experts, you will maximise your ROI over time. An agency can help you stay on top of updates, monitor the health of your site and fix any issues that arise to ensure your website is always running at its best. However, even if you stop SEO efforts and don't pay for SEO services anymore, your website will continue to rank high in search results because it is set up in a way that search engines favour.
There are incredibly cheap services that may offer fast results, but they are likely using poor techniques that will damage your site's health in the long run. On the other hand, there is no standard pricing across this sector; therefore, some businesses overcharge simply because they can. Instead, it's about finding the right option for you and assessing if the ROI is worth it for your business, alongside the brand awareness, visibility, and longevity of the SEO service.
What Do SEO Services Include?
Search engines consider numerous factors when deciding how to rank a website. Google, for instance, favours websites that it deems trustworthy, authoritative, and relevant. Knowing the ranking criteria is fundamental to understanding how to implement SEO tactics. Below are some of the services an SEO professional may offer to improve how Google ranks your website:
Background research: Taking time to understand a business, its goals, current website performance and more. This research helps service providers adapt the strategy to their client's goals.
Keyword research: Uses specialist tools and expertise to identify keywords your site already ranks for, which ones need improvement and new keywords to increase your site's Topical Authority. An SEO expert is also more equipped to help your site rank for high-competition keywords.
Competitor research: Alongside keyword research, some service providers will also conduct competitor research to understand what keywords you can target to fight off competition.
Technical SEO: The architecture of your site is an essential ranking factor; this may include making your content accessible to mobile users and improving site speed. An SEO professional will conduct a technical audit to assess what SEO fixes need doing and discuss the best method for implementing them.
Content creation and optimisation: To gain Topical Authority, written content is essential to targeting relevant keywords in your niche. Many service providers will identify keywords, curate a content plan, write and, sometimes, upload content to your site.
Link building: When another site links to your domain, this is known as a backlink. Backlinks are crucial to any SEO strategy because it signals to Google your site is authoritative. However, the best backlinks come from high-quality, reputable sources in your niche. At NUOPTIMA, we pride ourselves on having relationships with over 1,500+ high-quality domains, which we have tried and tested ourselves to ensure we acquire the best backlinks for your brand.
Analytics and reporting: This is an essential part of any SEO service because it highlights the progress of your investment. The best SEO providers will brief you on your site's progress, what changes they are making and their predictions for the coming months.
How Much Do SEO Services Cost in 2022?
The term SEO services refer to a whole spectrum of opportunities. Individuals may attempt SEO independently, learning as they go and implementing smaller, more manageable tasks. For most businesses, the DIY option isn't feasible. Despite being relatively free, you will waste a lot of time and energy trying to learn SEO basics but not producing significant results.
If you're considering investing in SEO services, it's essential to know your options and ensure you're getting good value for money. SEO freelancers are likely to cost less than an agency; however, this reflects in their limited capacity. It's possible to find experienced SEO contractors, but as they are (typically) a team of one, there's only so much they can do. What's more, it's unlikely they will be an expert in every facet of SEO, including content creation, technical implementation, on-page SEO and link building.
On the other hand, an SEO agency, like NUOPTIMA, is much more efficient as they have multiple teams of experts, including social media consultants, SEO strategists, content writers and technical teams, to name a few. They tend to understand more than freelancers because they naturally deal with more clients and have more experience with SEO; thus, they can address common issues much quicker than an individual. Furthermore, SEO agencies adapt to your business goals. If you're ready to expand or increase the budgets, they have the capacity to grow with you – whereas a freelancer may not. It's worth researching the pros and cons to consider if a freelancer or SEO agency will suit your business better.
SEO pricing models to consider:
Per hour – Paying by the hour for SEO services is usually favoured by freelancers or contractors. The fees are based on how many hours the person works on a project, and you should request a breakdown of completed work. This option may suit smaller businesses or individuals who want help with small, individual tasks, like content creation or link building. The average hourly rate could range from £75 – £200 per hour.
Per month – This is a common option if you invest in SEO services with a larger company or agency. Businesses pay a fixed price to retain their services every month. While some packages may offer specific SEO services, others might allow for customisation to tailor to your business goals. Monthly packages may be ideal if you need ongoing SEO work. The average investment for a monthly retainer is between £1,500 – £15,000 per month. However, in some cases, huge companies pay out far more depending on the business size and the scope of their needs.
Per project – This pricing model is a one-off fee in exchange for a specific project, such as a technical SEO audit or content creation. Pricing varies significantly on the time and expertise needed for the project, but it ranges from £2,000 to £30,000+.
There is no pricing standard in the digital marketing community, so it's vital to research the different services, understand the value of SEO and be realistic about the cost for your business goals.
Cheap SEO Services: Freelancers or less experienced agencies will have the cheapest costs, but we don't advise choosing a service advertised as 'cheap' because it may not deliver the desired results. Cheaper service providers are more likely to use black-hat SEO techniques which will only damage your site's rankings and could result in a penalty from search engines.
Mid-Range SEO Services: Mid-range SEO services offer more realistic packages that cover the essential SEO components while still being affordable and adapting to your business goals. Mid-range SEO packages may provide ongoing SEO services to grow your business over time. A certified SEO agency, like NUOPTIMA, only uses white hat SEO methods to promote your website and produce sustainable growth. Services in the mid-range are likely to offer multiple packages to suit various budgets and business goals.
High-Range SEO Services: SEO services at the top of the pricing range may provide more hands-on service and claim to produce drastic results as businesses can invest more capital into SEO. The most expensive SEO services tend to cover every segment of SEO, as will some mid-range agencies; however, it's essential to understand the actual cost of SEO to ensure you're not overpaying for the service. In these cases, you may wish to ask the agency for ROI predictions, reviews, and detailed case studies.
NUOPTIMA SEO Services
NUOPTIMA offers a unique skill set as our expertise spans various industries, including health, wellness, finance, and tech. We also have experts who can assist with Amazon SEO, franchise SEO, eCommerce SEO, local SEO, and technical SEO. We take a holistic approach to ensure your website covers all the fundamental areas and curate a plan that works for your unique business needs while maximising your investment to increase your ROI.
Included in NUOPTIMA SEO Services:
Project preparation (background research, monitoring current performance etc)
Technical audit
Site structure audit
Client consultations (regarding technical and speed optimisations)
Google Webmaster Tools set up
Keyword research and analysis
Website page content audit (analysis quality, relevance and meta copy)
Audit external factors (analyse backlinks, potential spam etc)
Content optimisation (create a content plan, write SEO optimised content etc)
Backlinks
Regular reports (Website positions, site health and recommendations)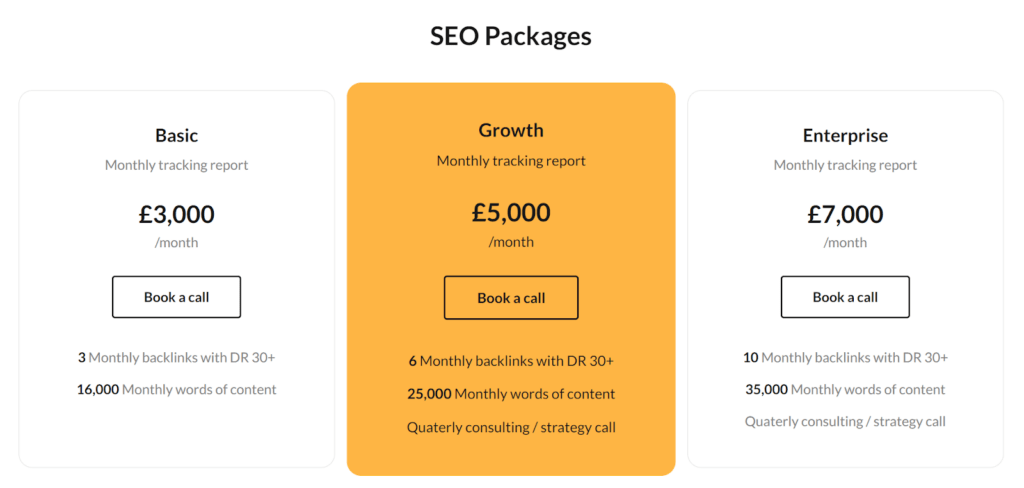 We have dedicated teams of experts in social media management, content creation, technical implementation, analysis and more. Together, we execute an SEO strategy that suits your business goals and sets your website up for long-term, sustainable growth.
Basic SEO Package – Businesses that choose this option receive the following each month, a tracking report, 3 backlinks and 16,000 words of content for £3,000 per month.
Growth SEO Package – Our Growth package takes our offer to the next level with a monthly tracking report, 6 monthly backlinks, 25,000 words of content per month and a quarterly consulting/strategy call for £5,000 per month.
Enterprise SEO Package – Our most impactful package offers a monthly tracking report, 10 high-quality backlinks per month, 35,000 words of content each month and a quarterly consulting/strategy call. The Enterprise package provides this for a £7,000 investment each month.
As you can see, even our basic SEO package benefits from a well-rounded approach to ensure we use your investment wisely. We ensure all our clients get a high-quality service, regardless of which package they choose; that's why all backlinks come from sites with a domain rating of 30+ and a monthly tracking report.
Is SEO Worth it in 2022?
SEO offers businesses a sustainable growth method because it increases search rankings, generating significant free, organic traffic and simplifying lead generation. That said, it requires a lot of work to make it successful, so is it really worth your energy, money or time?
DIY SEO may not be beneficial in the same way as outsourcing SEO because it takes experience, time and specialist tools to optimise your site. However, investing in SEO experts is smart because they have the expertise and resources to create a strategy that works for you. Moreover, it's their job to stay ahead of search engine updates, monitor your site and get your web pages to the top of the search engine results page (SERP). Choosing a service provider that fits your business needs, budget and goals is essential.
How to Choose SEO Services?
Choosing a suitable SEO service that aligns with your goals and budget is necessary. Business owners must be realistic about the cost of SEO, including software, content, acquiring backlinks, and implementing technical optimisations, to name a few. SEO is a lot of work, and agencies try to offer as much as they can in cost-effective packages that produce good ROI.
Here are some things to consider before choosing an SEO professional:
Make sure they can provide what you're looking for (I.e. content creation, technical audits, analysis etc.).
Make sure they have experience in your industry (At NUOPTIMA, we have experts in tech, wellness, finance and more).
Avoid SEO agencies that advertise "cheap" rates.
Ask for examples of their success, review case studies and read the reviews to ensure they communicate well with their clients and follow good practices.
Avoid companies that "guarantee" results.
Beware of hidden costs for additional services, such as link building. NUOPTIMA provide transparent pricing and include backlinks within our SEO packages.
Always ask for deliverables alongside pricing so you know exactly what you're paying for.
Look for customisable plans and companies that are keen to discuss your requirements.
Find an agency that tracks SEO performance and reports back, so you understand the impact of your investment and potential ROI.
Final Thoughts
SEO is crucial to growing a business in 2022, establishing an online presence and generating revenue. While it's possible to do SEO yourself or even hire a freelancer, it's unlikely to produce the results you need nor be sustainable for long-term growth. With the vast amount of SEO tasks, algorithm updates, and intense competition, a freelancer may not be able to provide ongoing SEO support to grow your site.
The most efficient method to use SEO in 2022 is to hire an SEO agency like NUOPTIMA. We have experience in various niches and teams of people dedicated to different areas of your SEO strategy. Our team knows how to use your investment to the fullest to ensure we aren't cutting corners but also not wasting valuable capital. Before investing in SEO services, stay vigilant and avoid companies that use black hat SEO techniques because these can damage your visibility and the longevity of your site.
Book a free discovery call with NUOPTIMA to discuss how we can curate a strategy that aligns with your business goals and maximises your investment.
Talk to an SEO expert
We work with 100+ businesses. Book a slot now to talk to one of our experts.
---
FAQ
Is SEO a worthwhile investment in 2022?
Yes, SEO is the best way to sustainably grow your online business, simplify lead generation and increase revenue. Good SEO is the foundation of a successful website and business; even after you stop SEO efforts, it continues to benefit site rankings. However, outsourcing to SEO experts is the most efficient investment method because they use their expertise to curate a personalised strategy for your goals and industry.
How much does an SEO agency cost?
The cost of SEO services varies depending on the services the client requires, the pricing model, the size of the client's business, and the agency's experience. It can range from £1,000 per month – up to £15,000+. Understanding the real cost and value of SEO is essential to determine what is right for you. Here at NUOPTIMA, our packages range from £3,000 to £7,000 a month, providing our clients with an expert, well-rounded approach that maximises their investment.
What is included in SEO services?
SEO is a vast area of digital marketing; to rank in SERPs, a website must be trustworthy, authoritative and relevant. Therefore, SEO services may include keyword research, competitor research, link building, content creation, technical audits, on-page SEO, and local SEO. NUOPTIMA take the research a step further to dive deeper to understand your Ideal Customer Persona (ICP), how to maximise your investment and increase ROI.