Key points
While Amazon has over 200 million customers worldwide, competition on the platform is exceptionally fierce, as there are millions of sellers.
If you want to boost your Amazon sales, you need to highlight what makes your products or brand different and convey those differences to your customers.
Other things that can help your Amazon business grow include having a large number of reviews, using a well-crafted SEO strategy for your listings, using social media to build a relationship with your audience, and buying Amazon ads to attract customers.
Ecommerce is a multifaceted process that is fraught with pitfalls. And when it comes to running a successful business, having a high-quality product isn't always enough. Instead, your promotional skills and a well-chosen platform for selling your products can determine whether your business will succeed or fail.
When looking at statistics, it is easy to notice that Amazon is far ahead of other online marketplaces, so most retailers want to sell their products on this platform. But whether you already have a successful business and are trying to further increase your sales by expanding to Amazon, or this is your first experience as a retailer, there's a learning curve that every new Amazon seller goes through. It means that once you've decided to sell your products on Amazon, you need to take time to learn how to sell on Amazon.
Today, we'll give you simple tips for increasing sales and making your business more profitable.
Be unique
It's not a secret that the easiest product to sell is a unique one because there's no competition. But not everyone can come up with a unique idea or develop a new product. So does this mean you can't make money on Amazon or in the retail business in general?
Absolutely not! You simply need to set your company apart in other ways. For instance, you can look for competitors who sell similar products and see how their businesses operate. This will help you distinguish your brand from others by highlighting the things your customers like about your company and products. It is also an excellent way to determine what aspects of your business strategy should be improved and find ways to outperform your opponents.
Another way to create a distinct brand is to put yourself in the customers' shoes. For instance, you will most likely research a product before purchasing it to find the best offer. And you will most likely choose the brand that has provided you with all of the information you were searching for as well as answers to all of your questions. Based on this notion, you can take several steps to make potential customers more likely to choose your products over similar items sold by your competitors:
Demonstrate the benefits of the product. Briefly outline the key features of your product that set it apart from the competition and demonstrate its worth. Then, figure out how to convey and highlight these benefits to buyers.
Find a place to share these benefits with customers. First, you should take time to create detailed Amazon listings that highlight all the benefits of your products to potential customers. You can also create a website for your brand where you will write blog posts, record videos on how to use the product, provide systematic feedback, or hold FAQ sessions with customers. It's also a good idea to create social media pages for your brand.
Learn about targeting. Use different sources of traffic for your website to draw attention to your company. For instance, you can create social media pages on Instagram and Facebook and share information about your products while directing people to your website and Amazon product listings. You can also use paid PPC or social media advertisements to find new customers.
Create an email marketing campaign. One downside of Amazon is that sellers can't collect their customers' email addresses. So it's very useful to have a website or social media pages where you can give out discounts to customers in exchange for their emails and then send out updates or intriguing offers to customers. Email campaigns can help you convert potential customers into buyers, get your old customers to make repeat purchases, and build a better relationship with your clients.
Work on your reviews
According to the statistics, buyers are more likely to purchase a product with a large number of reviews. Indeed, it boosts trust and provides some additional information about the product from the customers' perspective. But, unfortunately, while Amazon sends automatic emails to customers asking them to leave feedback, few people do it. So it's crucial to have a strategy for encouraging your customers to leave positive and helpful feedback about your products.
Here are some suggestions for getting customers to leave reviews: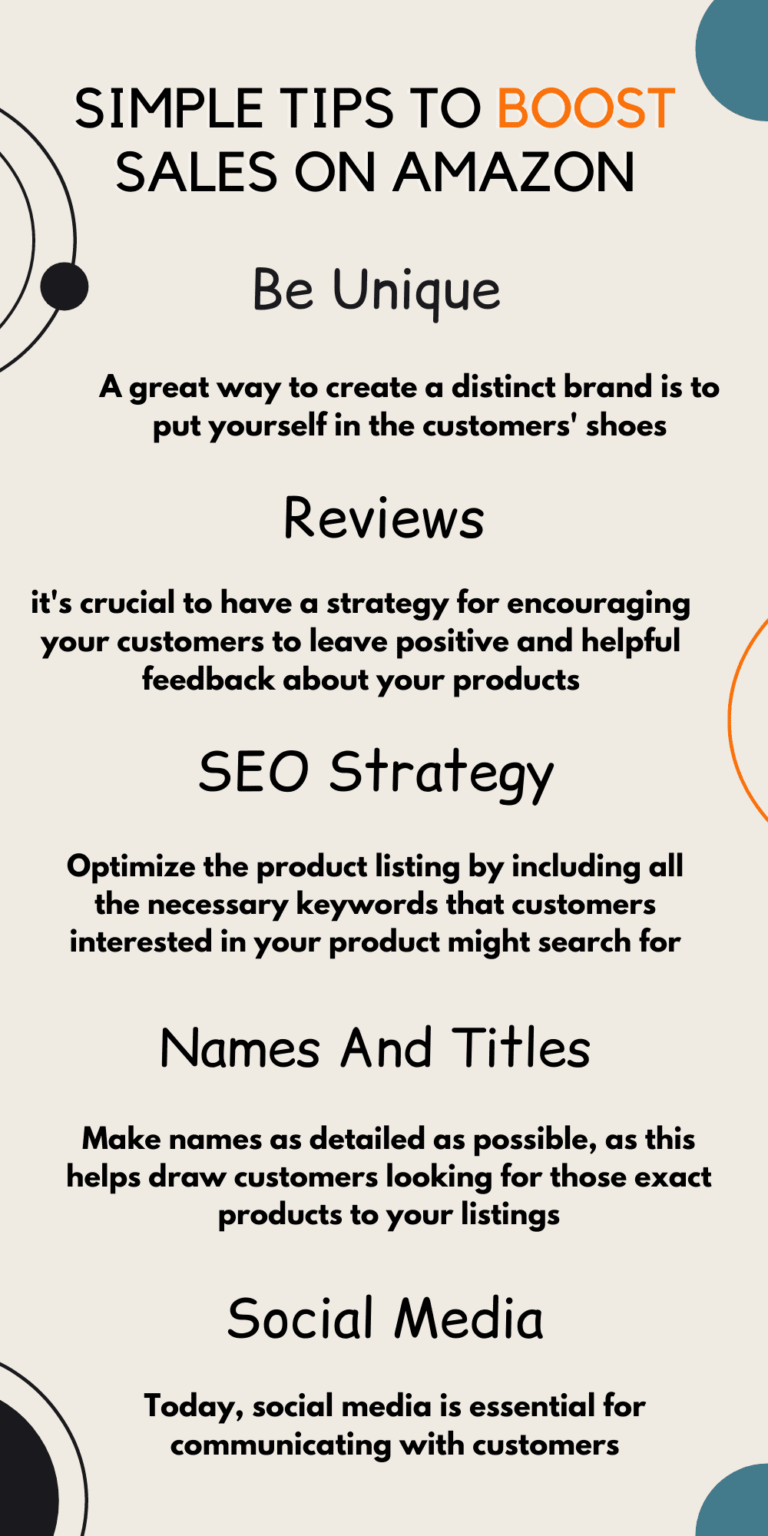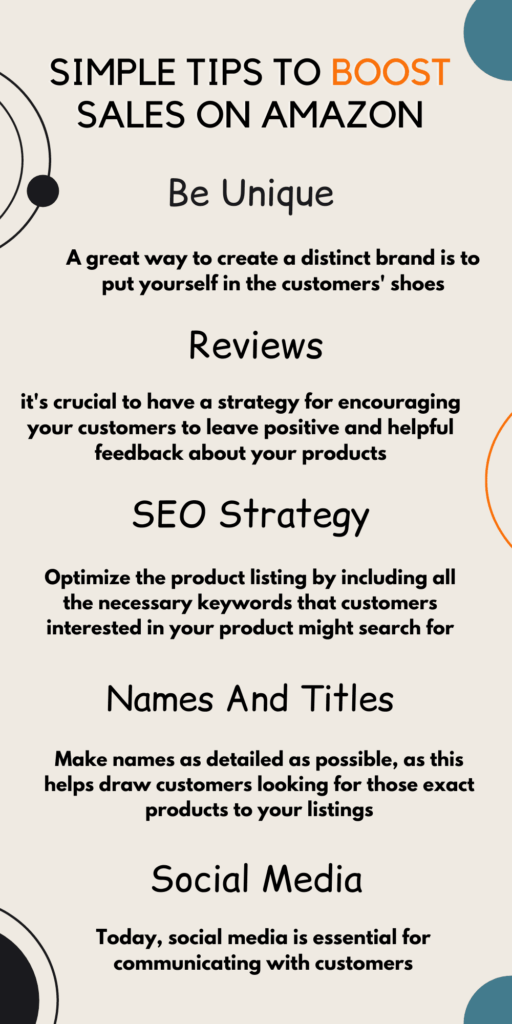 Use email tools. Again, an email campaign can be helpful for reaching out to customers after they have received their order. If you have the buyer's email, you can send them a message thanking them for the purchase and requesting that they leave feedback on Amazon. It is important to stress that the customer's opinion is critical to your company, and each review plays a significant role.
Encourage customers with small gifts. Another good idea is to add a small present to each package together with a note asking the customer to leave feedback on the Amazon listing page. You could, for example, buy small chocolate candies and write this request on them. Customers are more likely to leave positive reviews and support your company this way. However, this will only work if you ship products yourself instead of using the FBA program
Be truthful. As much as you might want your customers to leave positive feedback about your products, badgering them with constant emails and social media posts asking for 5-star reviews is a bad idea. Instead, tell people that you need unbiased and thorough feedback, which will assist future buyers in deciding whether or not they should purchase your product. Your honesty and transparency about your needs and intentions will work much better than constant begging for positive reviews.
Use an SEO strategy
A large percentage of Amazon customers know exactly what they are looking for. That is why it is crucial to use an SEO approach to help your products appear at the top of shoppers' search results. To do this, you need to optimize the product listing by including all the necessary keywords that customers interested in your product might search for. But how do you figure out which words to include? Fortunately, there are numerous keyword research tools created specifically for Amazon sellers. You can use these tools to find appropriate keywords for your listings! Then, check to see if your descriptions have all these keywords and add the missing words and phrases.
There's a lot to discover about Amazon search optimization. And if you want to use an SEO strategy that is 100 percent effective, you will need to invest a lot of time figuring out how to do so correctly. And by the time you find a good strategy, Amazon will have changed its algorithms countless times, so you will constantly need to monitor new trends and changes.
However, there is a much easier way to optimize your product listings without putting in any extra effort. Consider enlisting professional help! We recommend working with an agency that can set up your Amazon SEO correctly and perform countless other tasks to help your business grow. Request a call with one of Nuoptima's Amazon growth specialists today.
Work on product names and titles
There are some things you can do to make your products appear in more relevant search results. First and foremost, you should make product names as detailed as possible, as this helps draw customers looking for those exact products to your listings. However, there is no reason to include unnecessary keywords that may distract clients from the important information. Furthermore, keep in mind that Amazon has a 200-character title limit, and any descriptions that exceed this limit will be considered irrelevant.
While titles attract users to your product listings, descriptions convert them into buyers. As a result, product descriptions must be clear and detailed to provide a complete product overview. Take time to determine how to present this information correctly so that all potential customers can understand product features and have all their questions answered.
Utilize social media
Today, social media is essential for communicating with customers. And video is one of the most efficient formats. It's an excellent way to describe your product while incorporating visuals or animation. In addition, videos help to establish personal relationships with customers, as they can perceive you as a close friend while watching your videos. Plus, using this format can help build trust with your audience. And if you use platforms such as TikTok or YouTube, your content may even go viral and help your business explode.
Here are the most useful types of videos for commercial purposes:
Production videos. They describe the product and provide key information on how to use it.
Promotion videos. These videos demonstrate the brand's uniqueness in the market and highlight the qualities that set the brand apart from others.
Customer videos. These videos are excellent for boosting customer trust and helping potential buyers see the product from the perspective of a real customer.
Blog videos. These videos encourage customers to get to know the brand and help form personal relationships with the audience. You can use this format to tell the story of how your company came to be, interview company employees, or take a tour of your office.
Video tutorials. These are explanations on how to use the product or fix the issues that may arise.
Collaborations with influencers. You can pay influencers to review your products on video or give them free products in exchange for unpacking or reviewing videos. Customers enjoy watching reviews from reliable sources, and by seeking out these collaborations, you can significantly increase your sales.
Use extra tools for Amazon sellers
There are numerous Amazon tools that can help brands attract new buyers, but two of them are particularly effective. First of all, it is a good idea to use Amazon Sponsored Products to increase your brand's visibility. This paid advertising method allows your product to be displayed at the top of the list when consumers search for specific keywords. This method saves you time and allows you to attract more buyers to your listings. The downside of this method is that it can be expensive and quickly eat up your profit margins.
The next useful tool is the Amazon Buy Box. You have probably seen that white box located on the right side of the Amazon product page. It is one of the simplest ways to boost your sales but also one of the hardest ones to achieve. Amazon uses algorithms to rank all the sellers that carry the product in question and show only proven brands with an excellent reputation and competitive prices in the Buy Box. In addition, sellers who want to qualify for the Box should have fast shipping, a small order defect rate, and efficient customer service.
There are dozens of ways to make your brand recognizable and increase your sales on Amazon. In this article, we have included only the most effective methods that can be useful for your business. However, we advise you to seek professional assistance, particularly by hiring an agency that will oversee the growth of your Amazon business. To learn more about our agency's work, sign up for a free discovery call or leave your email address so we can contact you.
Talk to an Amazon expert
We work with 100+ businesses. Book a slot now to talk to one of our experts.
---
FAQ
Is selling on Amazon profitable?
Due to the high level of competition in the market, new brands that join Amazon cannot always meet their revenue targets as quickly as they planned. As a result, companies need to put in significant effort to differentiate their brand from thousands of others and establish a reputation among customers. But once you find the right direction for your business, your profits will grow faster, and your business will become profitable. Over 60% of new Amazon sellers start making a profit within one year.
How do I promote on Amazon?
To promote a product on Amazon using paid ads, you must log into your account and find the "Advertising" menu. Then, select "Promotions" from the menu. In this section, you'll choose the promotion type and set up the ad for your product.
What can I sell on Amazon to make money?
You can sell anything, starting with books and ending with wholesale goods. You can also sell your private label products, such as fitness equipment or self-care items. But remember to follow all the tips in our article to make your business profitable.