Explore NUOPTIMA's SEO link building services to help boost your credibility and search rankings. Our FREE 30-minute consultation call is a fantastic opportunity to talk about your business and the digital marketing solutions it needs for consistent growth.
Key Points
SEO link building is a process of getting other websites, preferably authoritative ones, to link back to your own in order to gain visibility from different audiences. This hugely enhances your pages' quality and credibility score, which are great determining factors for search ranking.
Not all link building strategies can deliver positive results. Even worse, some of them could affect your site's reputation if you're not careful. However, when link building is done right, it can be a powerful instrument for organic success.
Some of the most effective link-building tactics include guest blogging, broken link building, resource linking, public relations and many others. Likewise, there are shady link building services to avoid, including private blog networks and paid guest posting sites.
Link building is not a one-shot process that gives instantaneous results. Like any other branch of SEO, it requires you to put in a lot of consistent hard work. That's why collaborating with a dedicated link building company is highly advised.
What Is Link Building?
One of the most critical aspects of SEO is link building. This marketing strategy aims to acquire links from other websites to your own website so that their audiences can see and access your page if they find it intriguing. For instance, if you have a piece of content about your products or services that is worth sharing, other websites may link to your article's landing page to let users discover more information about a topic related to your industry. That's a fantastic way to attract new visitors and increase conversion rates, which often result in higher search rankings.
Why Is Link Building Important For SEO?
It's easy to write a compelling article, but if Google crawlers can't follow at least one link to your blog post, it will likely take ages before users can find it. You need referral links from multiple high-authority websites to help increase your chance of being crawled and indexed by search engines. Only then can crawlers see you as a popular and trustworthy source of information that just deserves a higher spot on the search results page. In fact, an analysis conducted by Backlinko shows that top-ranking pages have three times more backlinks than those in lower spots. This means that the more referrals you get from authoritative sites, the higher your likelihood of appearing in search results.
What Makes A Good Backlink?
Search engines consider not just the quantity but also the quality of links when deciding which website gets the first spot. This means the credibility of links is a major factor in determining how well a website will rank in search results. While obtaining authority links from reputable sites can bring tremendous benefits to your own website, getting involved in suspicious outbound links manipulation could damage your value in the eyes of search engines. At the very worst, Google may penalise websites that will violate its guidelines. Basically, the "Webmaster Guidelines" contains a list of rules laid out by Google to prevent any practice that attempts to manipulate search rankings.
So before you come up with a sustainable link building strategy, it's imperative that you have a clear understanding of the different types of links you can build. This helps you evaluate the quality of each link to identify which ones you should avoid or pursue. Below are the three main types of links in SEO:
Editorial Links
There are two types of editorial links, the ones you ask for and those that are given to you naturally. An example of the former is when you pitch a newsworthy topic to journalists who might find it interesting to feature on their websites. As you can see from the screenshot below, NUOPTIMA receives a link from PR Newswire in its press release about the successful launching event of the company.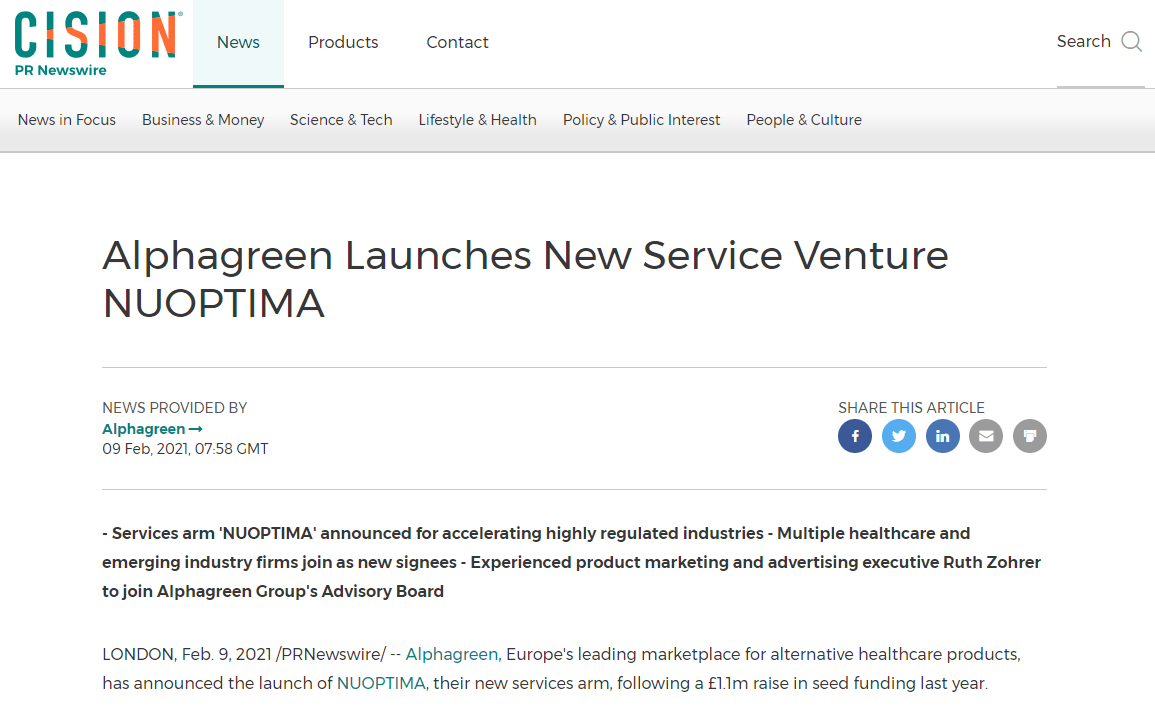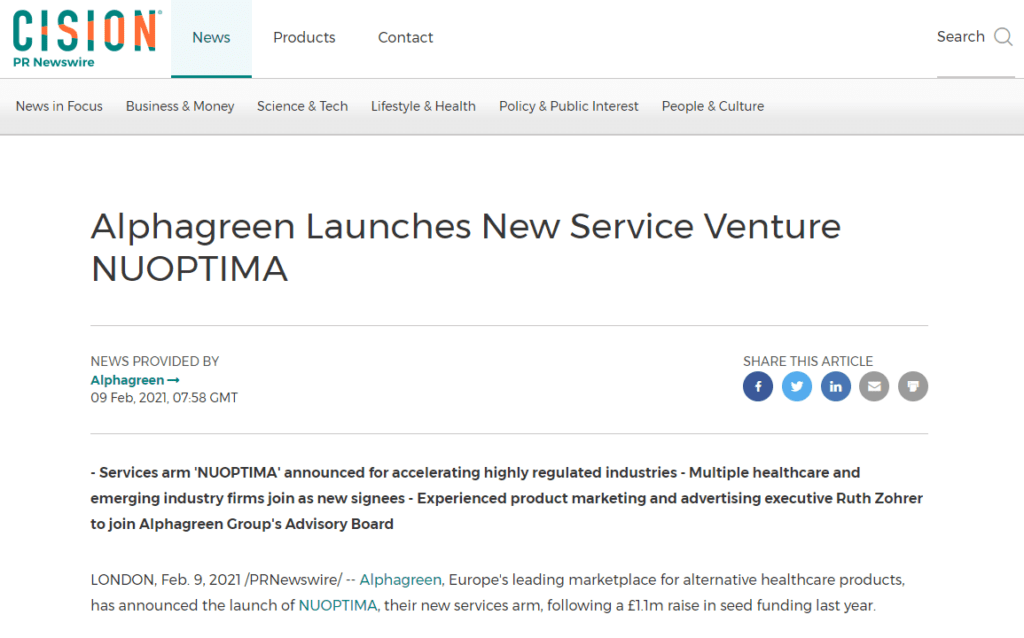 On the other hand, unsolicited editorial links are added to another website's content with the intent to offer further information about a certain topic. Many journalists and webmasters link back to research databases and/or famous brands because, well, they hold a high reputation and are just plausibly link-worthy. For example, tech giants like Apple, Microsoft and Meta don't have to ask for backlinks whenever they release a new product or make a big announcement because journalists will most likely write about it in order to add value to their websites.
Getting a natural link to your site is what you should aim for, as it gives search engines an impression that you are credible enough to rank higher in search results. This can be challenging for novice webmasters, who still lack authority. But it is absolutely feasible, as long as you keep producing quality content that's worth linking to. An ideal first step is to ask authority sites for editorial links, but try not to abuse this technique. Google may suspect press release links with overly optimised anchor texts that target the main keywords. A rule of thumb for journalists is to use brand names as the anchor text in the article.
Nofollow Links
To readers, a blog post with nofollow links may appear like a typical article. But if they try to look at the HTML tag, they will notice a "nofollow" attribute that instructs search engines to ignore its content.

User-generated content platforms, such as Quora, Wikipedia and various guest post signatures, are big fans of nofollow links. They use a nofollow attribute to link to another site without allowing Google to crawl it for ranking. The reason? These sites don't have total control over the articles and links being added to their pages by random users. Due to oversaturation, it can be difficult to moderate each post according to Google's rules and best practices. If they don't designate those links as "nofollow", search engines could sense that something fishy is happening within their websites.
Be careful when asking for nofollow links from other web admins. While they can offer instant brand recognition and traffic to your site, nofollow links won't help you achieve your desired rankings at all. Plus, it's not impossible for Google to detect any malicious feats because the sheer act of creating thousands of nofollow links can be an indicator of unsustainable link building.
User-Generated Links
Among these link types of links, user-generated ones are the easiest to manipulate. These are embedded in blog comments, forums and directories with no careful moderation. The fact that anyone who participates in a forum or writes a blog comment can create as many user-generated links as they want to promote their own websites is a major contributor to the misuse of this marketing strategy. As a result, Google targets and punishes websites for overusing such tactics that fall outside its guidelines.
How To Build Links Safely and Effectively
Now that you know the difference between a good and a bad link, it's time to share with you some of the best link building services we do at NUOPTIMA to help our clients rank as highly as possible in Google search results.
Guest Blogging
Several marketers have speculated about the death of this method. But, a 2016 survey led by a statistics portal for market research and data Statista suggested otherwise. According to it, the population of guest bloggers in the United States was set to reach up to 30 million in 2020. With that in mind, the process of guest blogging to obtain links doesn't seem to die anytime soon. It remains one of the most powerful techniques to increase brand visibility. However, there are important guidelines every guest blogger should remember:
Create unique, relevant pieces of content that other webmasters will want to use as references within their articles. Building a reputation for good content may consume a lot of time and energy, but it gives the highest reward for link building.
Only request backlinks from websites related to your industry, preferably those with higher domain authority (DA).
Avoid paid guest posting sites, private blog networks and automated link building programs that offer user-generated publishing. Google views these platforms as manipulative, black-hat SEO tactics.
An easy way to find prospective guest blogging sites is to check out those that are already linking to your competitors. The Link Intersect tool on Ahrefs will give you a list of referring domains that link back to your competitors, along with their domain ratings (DRs) so you can easily decide which ones to reach out to. The higher the DR, the better.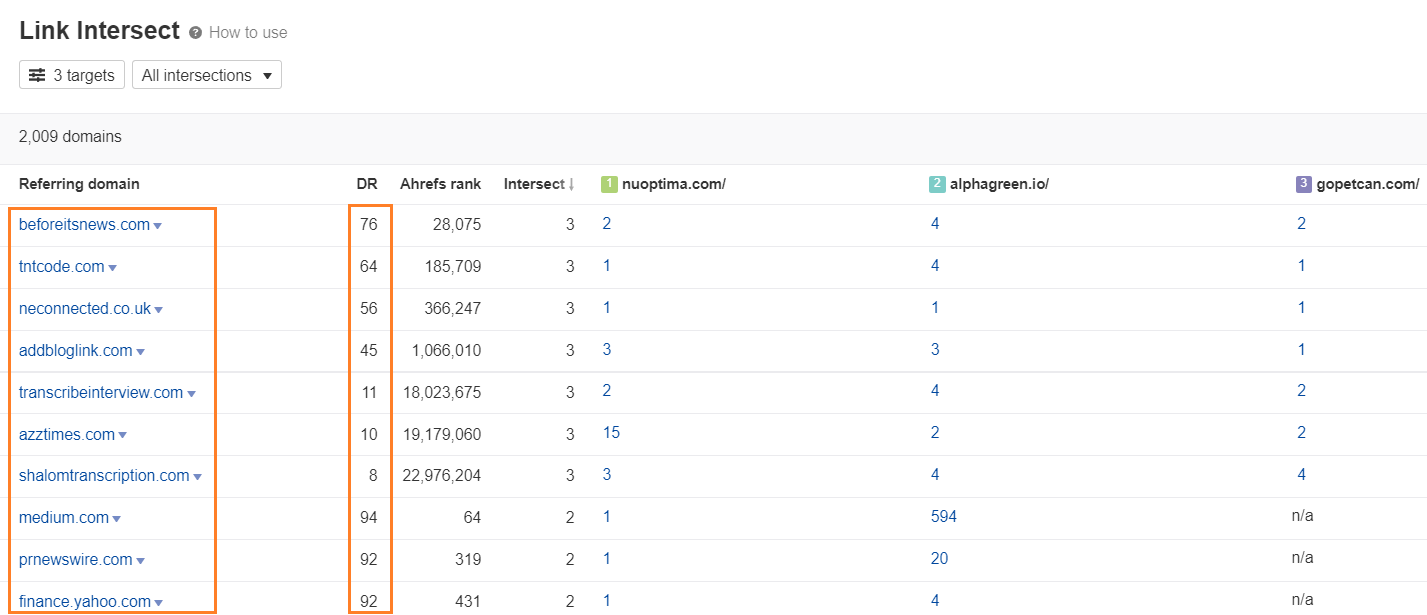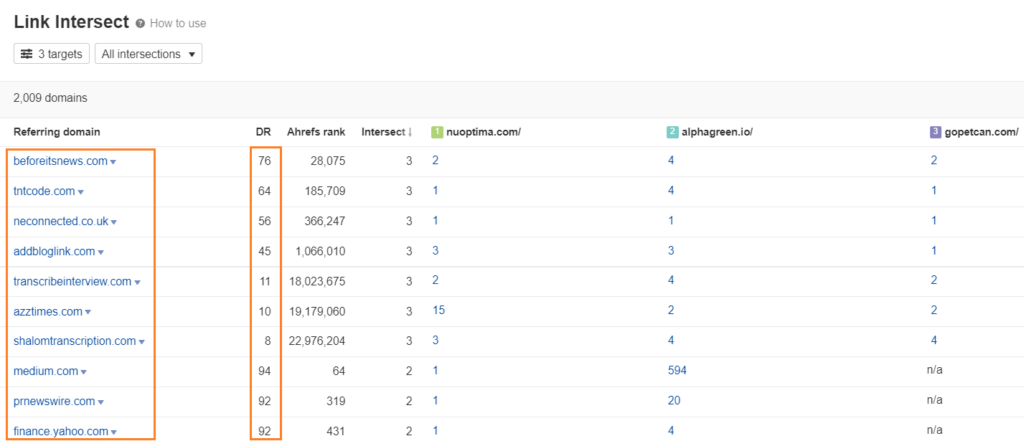 Resource Linking
Some authoritative sites create a particular page where they curate an inventory of blog posts related to their practices. This provides readers with additional pieces of information so they can quickly find what they are looking for. Resource linking is the second most popular link building strategy next to guest blogging, according to a survey conducted by MOZ. This process occurs when you obtain a backlink from another website that offers a list of external resource links.
To reap the rewards of this method, you must find resource pages relevant to your industry. For instance, if your website promotes healthy lifestyle tips, you can simply type in the word "workout" in Google's search bar, followed by a search operator that is similar to what you see in the image below.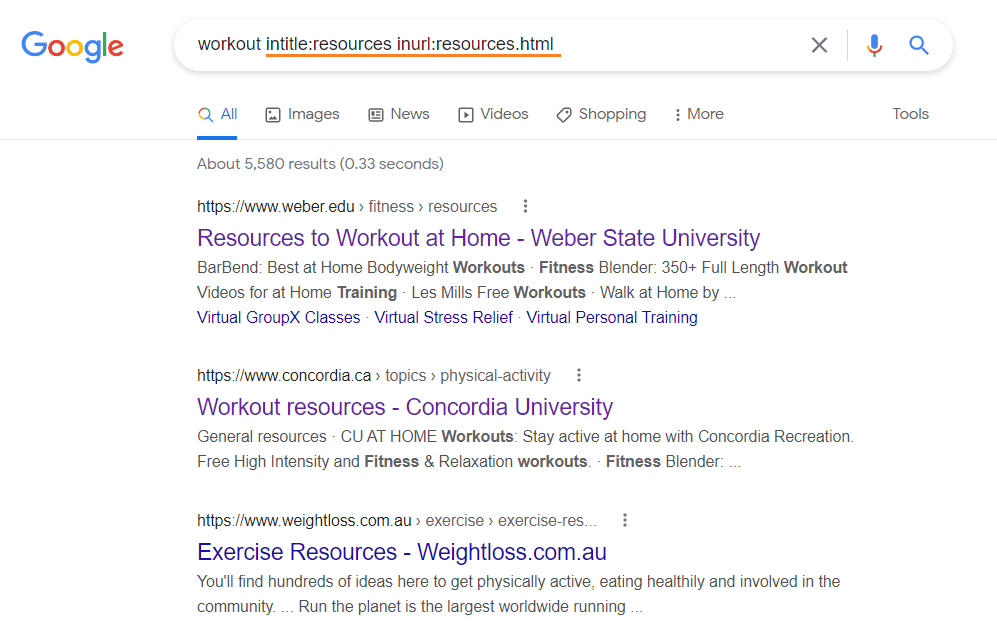 Broken Link Building
It might surprise you to know that almost half of all websites on the internet have broken internal links. And what's even more shocking is that you can actually take advantage of those dead links. They are algorithmically described as "404 not found", which means that these links no longer exist on the website's server.
If you don't have enough time and energy to write a new piece of content, broken link building can be your best alternative. All you need to do is let other web admins know about their broken links and how you can help replace them with similar (yet much better!) content that links back to your site.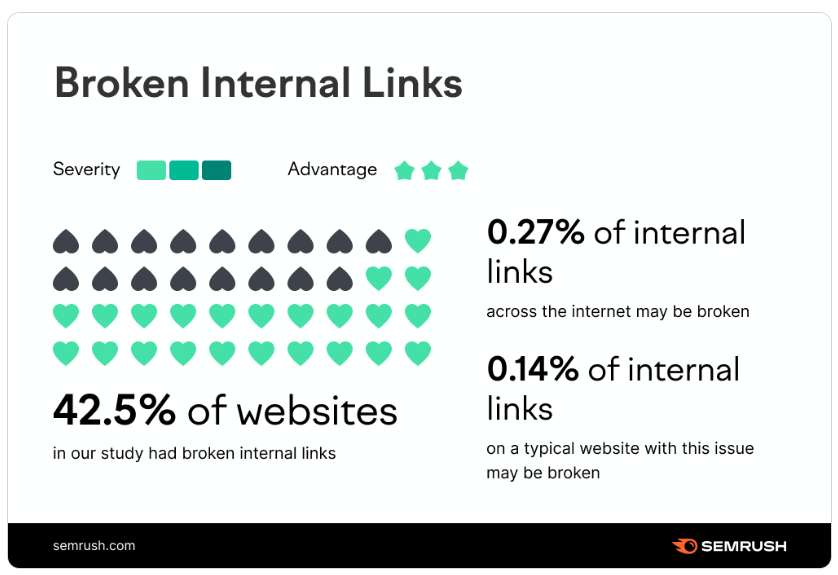 Ahref's Site Explorer can help you spot broken links on websites related to your niche. Be sure to look for relevant topics that are already published on your website and contact the web admin immediately to avoid losing the slot. Take note that some of your competitors are probably doing the same strategy and eyeing the same topics, so you don't want to waste any chance.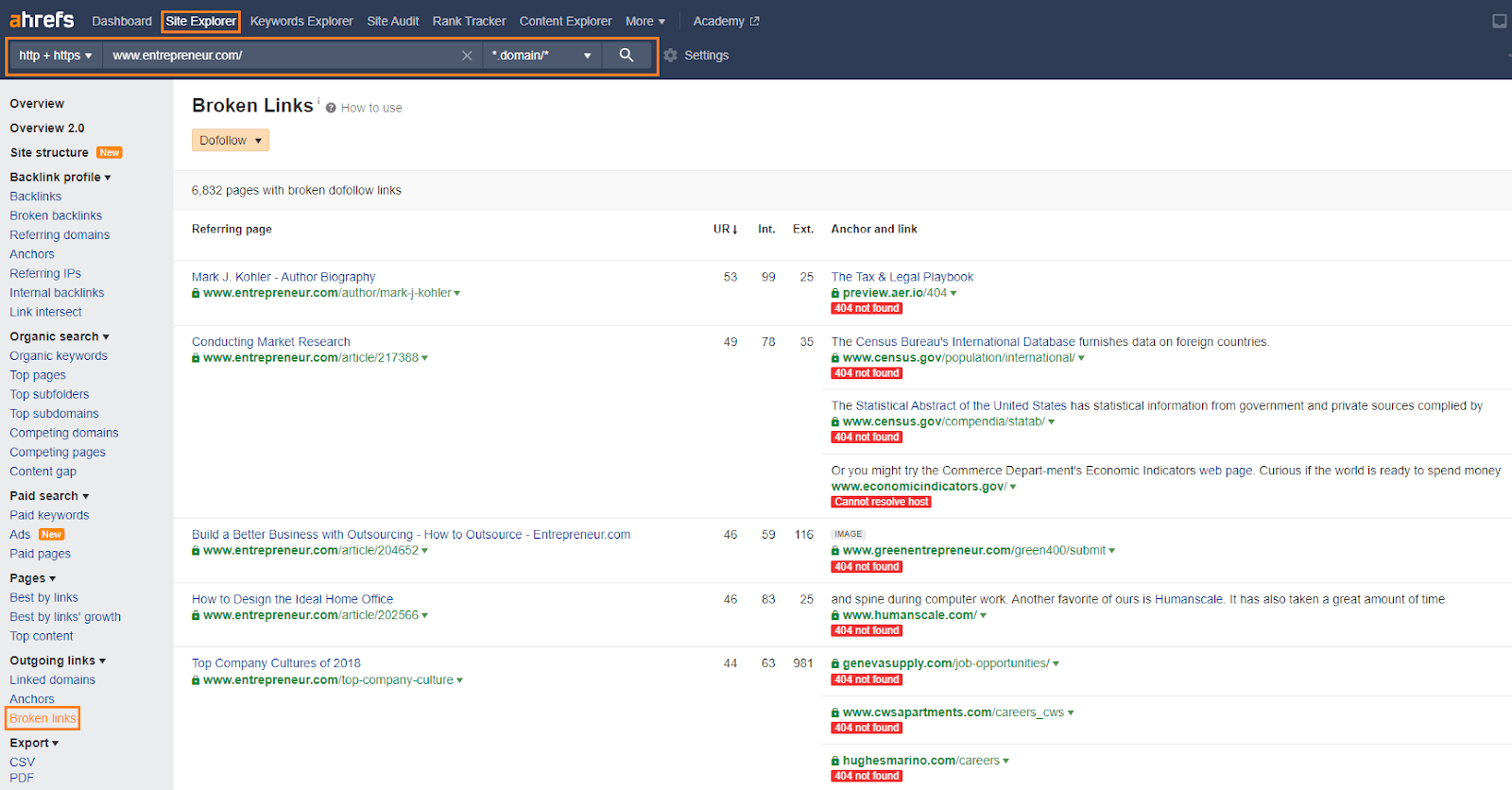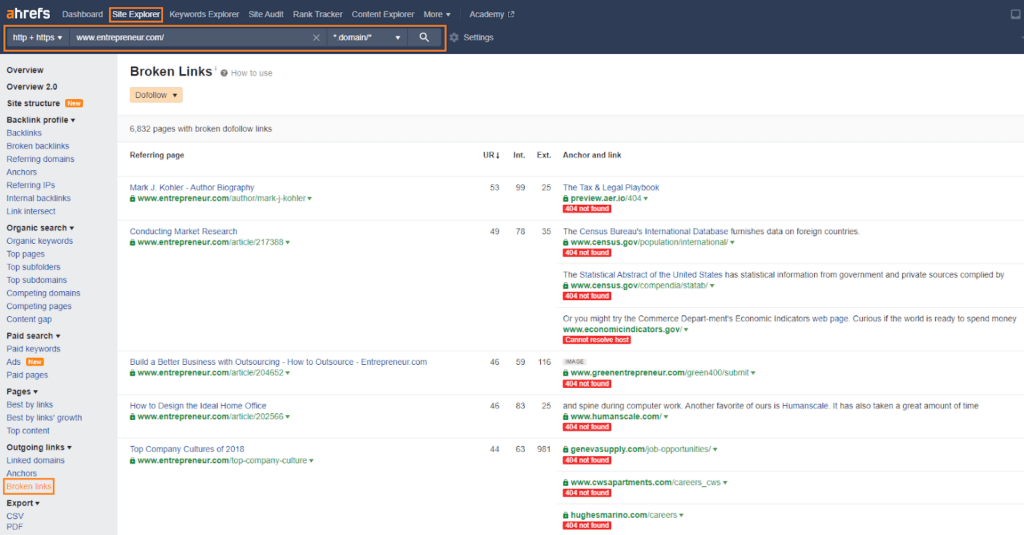 No, this is not a complete list but just a partial one, as there are other link building activities we can execute to help build your website's credibility. If you would like to find out more about our bespoke SEO services, you may reserve a discovery call with one of our well-trained SEO consultants here at NUOPTIMA.
Final Thoughts
Success in link building does not happen overnight. It is a long, tiring process that demands consistent production of high-quality content and effective implementation of link building strategies to help bring in as many backlinks as possible. So if you have a newly-developed website, it's best to start building links to your pages sooner rather than later. Anyhow, caution is vital when investing time, effort and resources in link building. The last thing you want as a business owner is to get caught up in SEO strategies that are too good to be true. Search engines are smarter than ever, and if you want to succeed in the digital world, you must carefully assess the benefits and potential risks of any marketing tactic you want to pursue.
Talk to an SEO expert
We work with 100+ businesses. Book a slot now to talk to one of our experts.
---
FAQ
What Is Link Building?
Link building is a crucial element of SEO that occurs when you receive a link from referring domains. This is a surefire strategy for boosting a website's authority and search rankings.
What Is An Example Of Link Building?
Guest blogging, resource linking and broken link building are just some of the most often-used link building techniques among digital marketers and SEO professionals.
Does Link Building Still Work?
Yes. Search engines may have become more cautious when it comes to monitoring link building activities than before. But as long as you are able to meet their current guidelines and focus on targeting quality links, you are doing link building right and may highly benefit from it.