As a marketer, your role is to promote businesses and understand their customers' needs and behaviour. But, do you do the same with your own company? Just about every business we can think of, including marketing agencies, needs to have robust marketing goals. Otherwise, how will you attract more clients and stand out from an oversaturated world of marketers?
Traditional marketing still works to an extent, but it is becoming a thing of the past. The rise of technology has enabled businesses to reach their audience like never before. Instead of going out there to find customers, digital marketing allows prospective clients to find you. Hence, it's hardly surprising that many business owners are switching over to digital media like search engines and social networks to increase their customer base.
Some of the most popular ways to promote your business online include pay-per-click (PPC) ads, social media marketing (SMM) and search engine optimisation (SEO). PPC and social media ads are forms of paid advertising, where a website owner pays a publisher every time the ad is clicked. While these methods can generate instant exposure once the ad goes live, the biggest con of using paid ads is that it can cost a fortune in the long run. Take note that you can't just launch your PPC campaigns and leave them if you want to keep seeing results. Plus, you will have to pay for every click even if those visitors don't convert into clients, which translates to potentially wasting money on low-quality leads.
The number of traffic is important, but traffic quality is what gets you sure customers! Fortunately, obtaining quality traffic via relevant organic searches is a monumental benefit of SEO. In simple terms, SEO is a process of optimising your website and its pages to boost their visibility and rankings on search engines like Google. As prospects are already searching for services related to your business, you can attract high-quality traffic without attempting to buy every visit to your website, but only if you adopt SEO.
Why Is SEO for Marketing Companies Important?
Utilising search engines to promote your business is a no-brainer in today's digital age. That makes well-optimised websites a vital piece of marketing collateral, no matter how small or traditional your business may be. Your website serves as a go-to place for current and future clients. Even if they find you on social media or by email, curious audiences will want to navigate your website and learn how you can help them. And, the best way for prospective customers to find your website easily is through SEO. In fact, people are far more likely to click links that are not ads because they think organic search results provide less spammy yet more relevant information. Not only does SEO help your website rank highly on search engines, but it also delivers an increased ROI for your business over time. Just imagine how much money you can save on paid advertising if you focus on acquiring free, quality traffic through SEO efforts.
Having said that, can marketing companies really benefit from investing in SEO? Of course! The following sections discuss all the information you need to know about SEO for marketing companies. The data are highlighted to help analyse your business' growth potential should you embrace search engine optimisation techniques for your website.
Search Demand for Marketing Companies on Google

The first image you can see contains Google search data for the keyword 'marketing company'. People around the world search for this keyword about 14 thousand times on a monthly basis. This means that you can drive thousands of quality traffic to your website every month if you start investing in SEO now.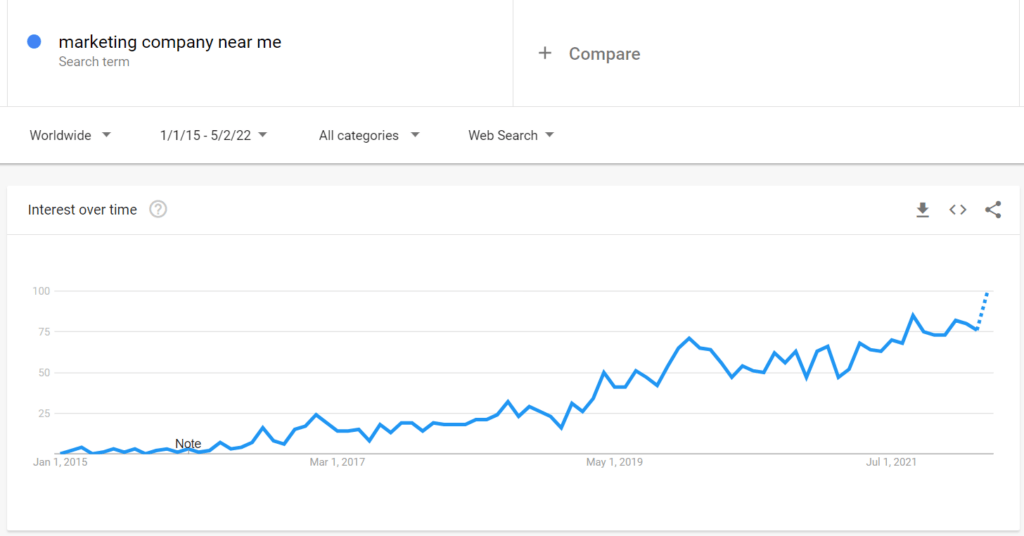 It looks like data really can't lie. The above screenshot shows a steady growth of search volume for the key phrase 'marketing company near me' from 2015 to the present. What was once in the bottom line has ascended year after year and is even expected to achieve its highest level anytime soon. We can argue that the digital marketing age has greatly influenced the currently huge spikes in search demand for marketing companies. As new technologies are definitely not slowing down, establishing an SEO-friendly website should not be understated, especially when PPC ads become more competitive and expensive over time.
People Use A Slew of Keywords to Find Marketing Companies
It is vital to know that 'marketing company' is just one of the many keywords people may use when looking for marketing services. A fundamental element of SEO is keyword research. SEO strategists use this method to discover search terms that potential clients enter into Google when looking for services related to your business. Here are just a few examples of keywords and phrases people often use to find marketing providers online:
'Marketing company near me'.
'Marketing company in…' + location: 'marketing company in London'.
Marketing companies focusing on a specific niche: 'fashion marketing agency'.
Questions about marketing services: 'what does a marketing company do'.
In addition, the following figures display the average monthly search volume for a wide range of keywords related to marketing. Thousands of people search for these keywords every month, meaning that any SEO-optimised marketing website can attract free, organic traffic simply by appearing for these keywords on Google.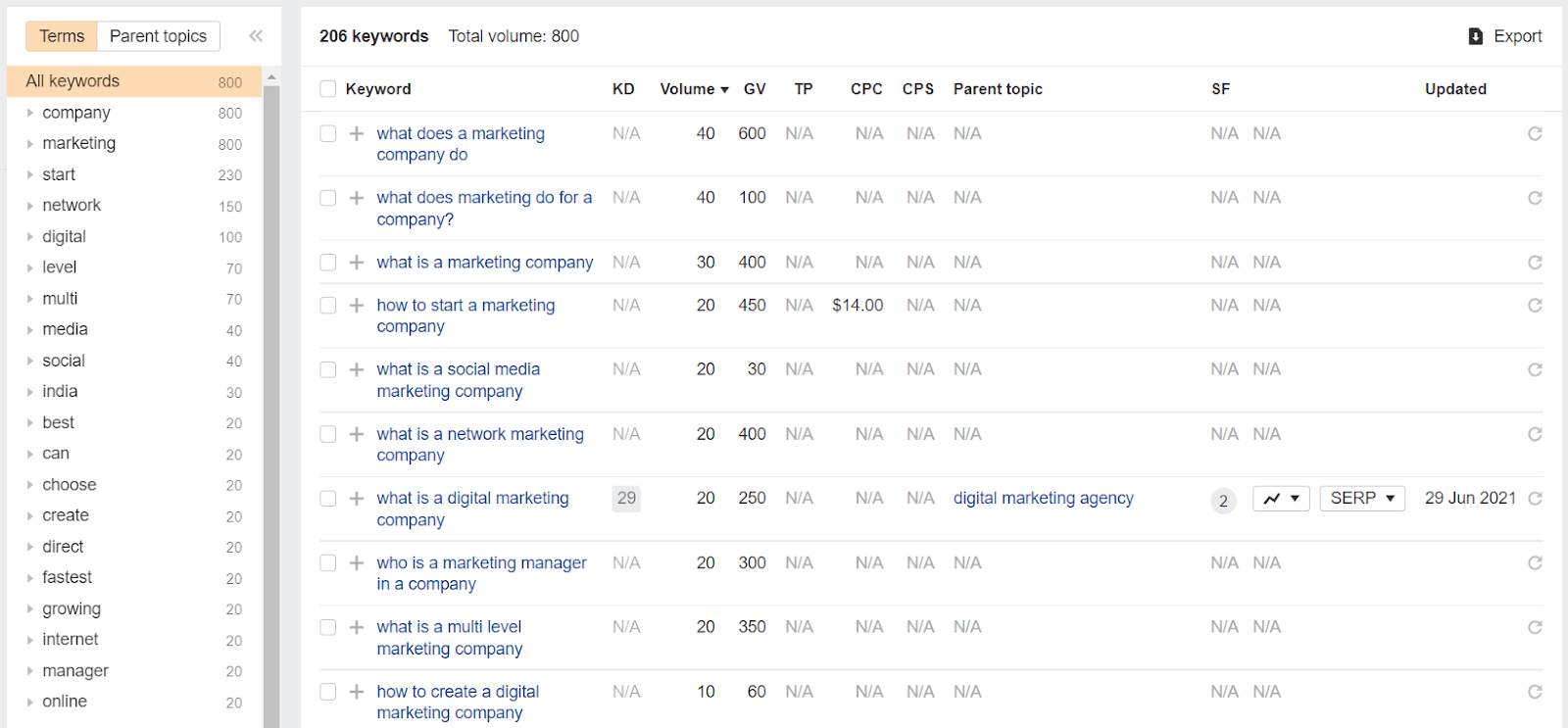 Other Marketing Companies are Already Getting Results from SEO
SEO is worth embracing if you want your marketing website to flourish in a digitally-driven world. If you think SEO works best for large companies alone, think again. SEO can be a powerful tool for businesses big and small. Take a look at these two marketing firms of different sizes equally enjoying fantastic results from their SEO efforts.

Our first example is Agency Spotter, a website designed to connect business owners with various agencies, including marketing firms across the globe. The above data shows that this website welcomes more than 30 thousand organic visitors every month. To get that similar range of traffic, the website owner will need to spend as much as $109,000 on paid ads. This means that Agency Spotter saves a great deal of money by acquiring traffic organically.
Below is a screenshot of the website's most visited landing pages. If you decide to hire an SEO company, they will analyse all the topics that draw the most traffic for your potential competitors' websites. Performing competitive website analysis is necessary to discover techniques that work for your competitors and use that knowledge in your own SEO campaigns. This is just one of the many strategies SEO experts do to promote your website.
It is only natural for larger websites like Agency Spotter to generate such impressive results on Google. Nonetheless, is SEO still a viable investment for smaller companies? The following data will explain why it definitely is!

Cheshire Cat Marketing is a website dedicated to promoting small to medium-sized businesses in the United Kingdom. For a five-year-old website, it can already garner over 700 visitors every month via organic Google search results. That's equivalent to $2,000 worth of paid traffic. The website owner can use that very money on other essential aspects of the business rather than expensive PPC ads.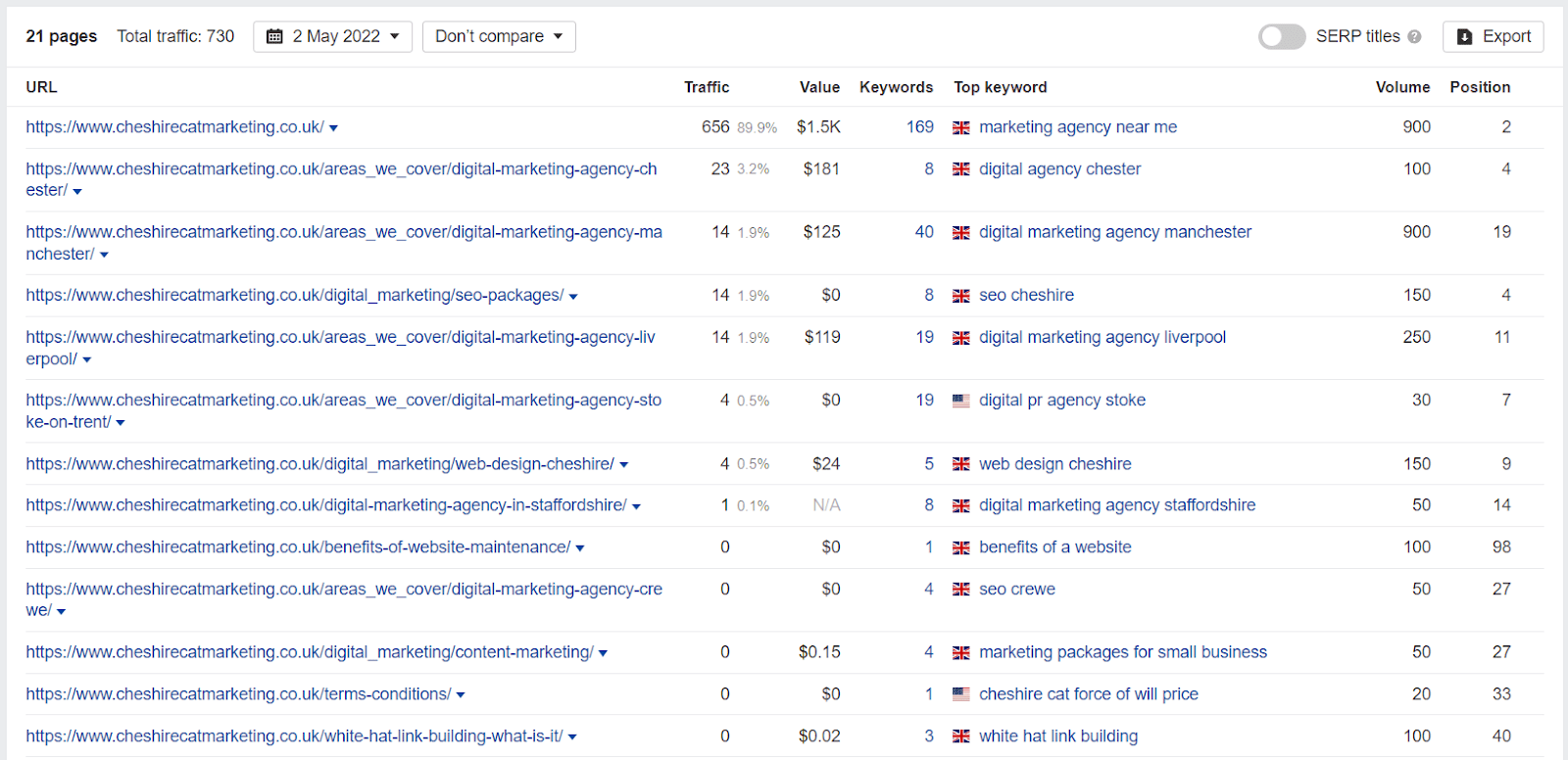 Let's now review the pages that draw the most visitors to this website. As we can see, Cheshire Cat Marketing's homepage has obtained the second spot on Google search results through its top keyword 'marketing agency near me'. This again shows that effective SEO can deliver encouraging results regardless of the size and age of your domain,
Local SEO for Marketing Companies
Finding local products and services is much easier, as Google gets a lot better at providing results tailored specifically to the searcher's location. Basically, local SEO allows your website to appear in local search results when someone in your area types in the keyphrase 'marketing companies near me'. Creating and verifying your business profile on directories like Google My Business is often the first step towards local search success. SEO experts will then use your established profile to leverage a location-based marketing campaign that helps your website be more visible in local search results and for more pertinent searches.
What Does an SEO Company Do?
SEO is a timely, lucrative investment for every marketing firm. As digital media usage constantly grows, now is the best time to get your business in front of a new pool of customers online. However, it's essential to understand that SEO is not a one-person show. It takes expertise, labour and consistency to achieve fantastic SEO results. While you're busy promoting the business and mission of other organisations, you need more than one advocate or a small team of qualified SEO specialists to establish your own web presence, traffic and revenue through organic searches.
That's where NUOPTIMA comes in! Our team has been helping various businesses obtain digital marketing success for many years. The following are just some of the many powerful methods we use to optimise your marketing website:
Add link placements on high domain authority marketing websites.
Curate SEO-friendly content to get your marketing website position for more relevant keywords.
Analyse and optimise live pages to meet Google's regulations and best practices.
Create all the essential pages to get the most out of the collected organic traffic.
Our well-experienced SEO team at NUOPTIMA is here to assist you with any SEO queries you may have. Discover how our SEO strategies can help your website accomplish exceptional results by booking your free discovery call today!